Teenage Australian motocross sensation Luke George remains in hospital after a huge crash at the final round of the Australian Motocross Championships at Coolum on Sunday.
The Kawasaki KRT Pro Lites rider suffered a heavy race fall on the first lap of the third Pro Lites moto.
Minor contact with another rider mid-air on the first andbiggest jump on the track resulted in the 19-year-old crashing heavily.
Thankfully, George was not hit or run over by any other bikes after falling.
He was taken to Nambour hospital where he was put into an induced coma to settle and alleviate the swelling and bruising to the brain sustained in the fall. George was then flown to Gold Coast Hospital that evening where he currently remains.
At this point in time, George is still in an induced coma. He is breathing on his own and his blood pressure is good.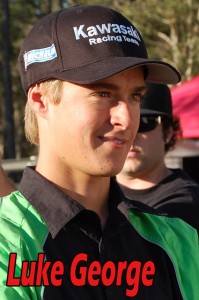 There is bruising still evident on his brain however the swelling is alleviating.
KRT Manager Brett Whale said: "Yesterday doctors tried to pull him out of the induced coma and as a typical MX racer he was kicking and thrashing. Before he woke, doctors were concerned that he would pull out monitors and suction tubes. They are going to repeat this today so I will know more tonight.
"This has gutted the whole team. I love Luke dearly. These boys are like my own. Luke is a true champion and a fantastic ambassador for our product and knowing how tough he is, I'm sure he'll be back bigger and better than ever. I just wish the family all the very best. We're all trying to stay as positive as we can."
Luke's father, Barry George, can't thank everybody enough for their support and well wishes and is blown away by just how many people love and admire his son.
Management and staff at Kawasaki are deeply saddened by the news of Luke George's accident but remain optimistic and positive that he will come through the other end fighting fit like the champion that he is.
Photos courtesy Kawasaki Australia