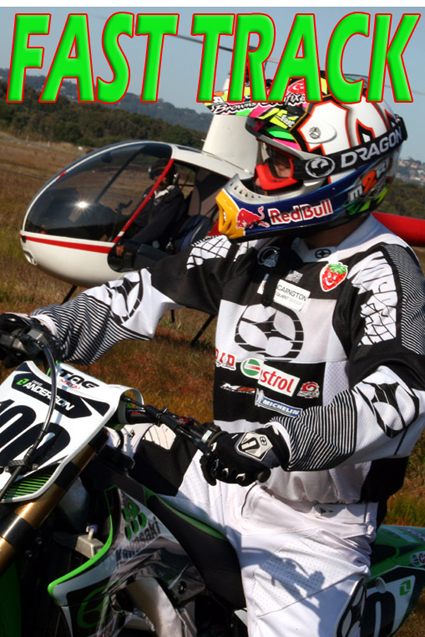 Kawasaki Racing Team's Craig Anderson proved to be the fastest man on two wheels at the Sunshine Coast Airport, Queensland, last week.
The Australian motocross ace raced his KX450F past the finish line in front of Jay Marmont, Cheyne Boyd and AndrewMcFarlane in a 1.3km drag race with a helicopter.
The event, staged in the lead up to the final round of the 2009 Australian Motocross Championships, pitted the country's fastest motocross bikes against the helicopter in front of media gathered from around the country and some very lucky spectators waiting to catch their plane inside the terminal.
Although the Robinson R22 helicopter, piloted by Graeme Gillies, just pipped Ando and his KX450F over the last 30 metres or so to win the race, Craig and his Kawasaki can still hold claim to being the fastest on two wheels for the race with a winning margin of about seven bike lengths at a clocked speed of 137 Km/h.
Craig says, "It was definitely exciting! I've never been to an airport unless I'm flying somewhere.
"That was the fastest I've ever been on a dirt bike. The KX450F proved it has a lot of top end power by getting me over the line in front of the others. It felt great!"
The speed of the Kawasaki KX450F, combined with the inroads that KRT has made to set it up perfectly for Anderson, should make for a very strong package as Ando campaigns for his 13th Australian Championship at the 2009 Australasian SuperX Championships.
Photos by Aaryn Minerds