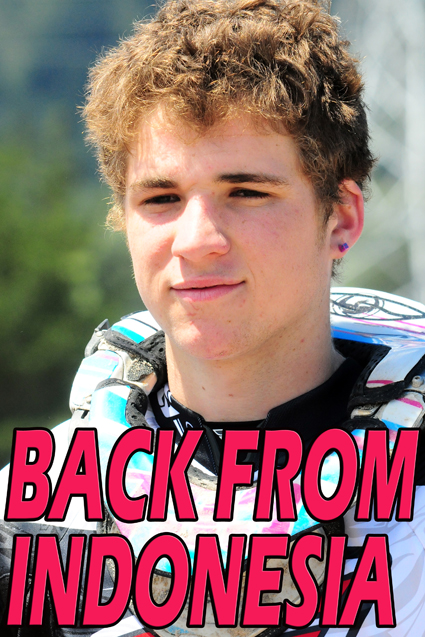 Palmerston North's Rhys Carter is back home now after his challenging motocross trip abroad.
"I have been home for a night and it's back to reality for me," he said.
"After travelling to Indonesia, it was definitely a eye-opener and good experience just to see the country and see how everyone lives over there and it was an awesome time.
"A big thanks has to go out to Bruce Wilkinson for the invitation to go over and for taking me over and sorting the bike and team out for me.
"The team I rode for was an awesome team very friendly and looked after me well, They had prepped the 2008 Honda CRF250 up for me ready to go on the day so it was just a matter of setting my suspension and getting on the track.
"The event I rode at was called the AX100 motocross and when we turned up to Jember, Indonesia, we found out it was inside a stadium, supercross design and under lights. Because they had put it under a motocross event they had to run by FIM regulations so our races were 25min +2 laps which meant it was going to be a long race with alot of laps.
In practice and qualifying, the heat was at 32 degrees and it was a bit had for me to adjust to and stay focused.
"I was having trouble getting used to the Honda as I have ridden a Kawasaki my whole life. After getting the hang of it I tried to put in some hot laps and could only do the best of 6th place which wasn't the best but only gate pick so that was ok.
"Moto one I got second. I got a mid pack start and was sort of a little bit to nice to the guys around me and lost a couple of positions in the first few laps. Once I got myself sorted and into a grove i started getting around people a lot better and a lot faster which was good. At the same time I was getting more comfortable on the bike which made it a lot easier.
"Being such a short track, the race felt like it was a long race and I was doing a lot of laps. I worked my way up to 2nd place by the end of the race and four seconds off the leader Kim Ashkenazi (former Australian champion).
"In moto two I was second again. The second race was under lights and for me it felt like it was a first for me as I haven't done it in so many years.
"I got an even worse start and was at the rear end of the pack and passing left, right and centre. Having to work my way through the pack meant the front guys got away on me and this made me work harder to get up front.
"By the halfway mark I was into second and hunting down the leader. But with the race finishing I could only get as close as 5 seconds behind the leader and nearly dying from the heat.
"Overall I was second. I was definitely struggling with the heat over there but was still good to race in a different country and with a different group of riders. Once again I need to work on my starts so I'm not wasting all my energy on getting through the pack when I should be up the front from the start. Other than the starts I felt like I rode well and had a lot of fun which was good."
Photo by Andy McGechan, www.BikesportNZ.com