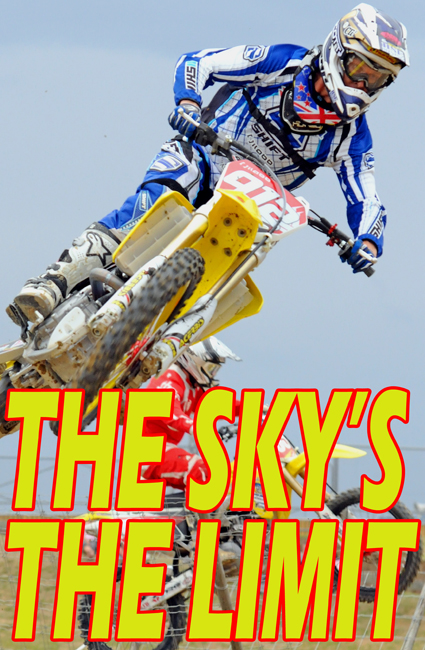 If it's true that "the sky's the limit", then Motorcycling New Zealand's (MNZ) new supercross co-ordinators are wasting no time in getting the sport off the ground.
The role of co-ordinating supercross in New Zealand, shared by Palmerston North's Neil Ritchie and Marton's Bryan Davidson, is an entirely new job, dedicated to this specific branch of motorcycle racing and expected to raise the standard and profile of supercross in New Zealand.
"One of the main drivers for this has been the news that Kiwi riders are unlikely to get overseas contracts — particularly in Australia," said Ritchie.
"Currently, we have limited quality supercross events and riders.
"At the MNZ supercross workshop, held at the AGM in Wellington in May, it was agreed that we needed a supercross season kept separate from the MNZ motocross nationals.
"Another driver was the weather. We need supercross in the summer to attract the spectators because they are the key to our growth for promoters and clubs and sponsor exposure.
"We are delighted to have 2004 MX2 World Motocross Champion and 2007 USA East Coast Lites Supercross champion Ben Townley as our ambassador. Ben is 200% behind this concept and has offered to assist with promotion and training for supercross.
"The first mind-blowing news is that the Australian Supercross champs (round six of seven in the series) is coming to our shores. It will be in Hamilton on Saturday, November 21. We have an opportunity to be presented with a world class supercross event and for Kiwi riders to race in the "Lites" class at this event.
"We hope to announce other supercross events as the summer draws near but now have some shows confirmed."
CALENDAR:
2010 MNZ NZ Supercross Champs Rd 1 – Timaru – Wednesday January 6.
2010 MNZ South Island Supercross Champs – Motueka – Saturday January 9
2010 MNZ NZ Supercross Champs Rd 2 – Motueka – Sunday January 10.
2010 MNZ NZ Supercross Champs Rd 3 – Tokoroa – Saturday January 17.
2010 MNZ NZ Supercross Champs Rd 4 (Final) – Manukau City – Saturday Jan 24.
"One of the key factors missing in our previous picture was supercross training.
"We hope to get on board with the Aussie promoters and have some pre-event training in Hamilton. The week following the Hamilton event we have the first supercross training school at Tokoroa.
"This is Saturday, November 28. Each championship venue will have some practice and or training days prior to these main events."
Stay tuned to www.mnz.co.nz for the ongoing updates of the new direction for supercross in this country.
"In the meantime, we hope to launch a dedicated website to our supercross very shortly. I hope you are excited and onboard as we launch supercross to a new level."
The new catch phase for supercross is "Sky's the Limit"!
Photo by Andy McGechan, www.BikesportNZ.com