It's mission accomplished for Adam Reeves.
The 27-year-old Pahiatua printer produced a stunning ride to win the Suzuki New Zealand Cross-country Championships outright at the fourth and final round near Ashhurst on Saturday.
And so comprehensive was the Yamaha man's win on the steep and slippery farmland course that he lapped most of the field in the three-hour race, some of them several times, on his way to the chequered flag.
Reeve's title bid had earlier been cast into doubt when he crashed out of the points and seriously injured himself while leading at the second round of four in the series, near Waipukurau last month.
But, with riders expected to discard their one worst result of the four, his win at Ashhurst on Saturday gave him the championship title by a comfortable 11 points from Te Awamutu Suzuki rider Mark Penny.
In addition to winning the senior grade outright, Reeves (Yamaha YZF450) also won his over-300cc four-stroke class.
"It's a huge relief that it's all over," Reeves said afterwards. "I was very nervous at the start of the day but, once the race started and the adrenaline was flowing, I was okay.
"I was only about 15th away at the start … it took two kicks to get the bike going … but I soon caught up."
Reeves was into second spot, behind Mokau's Adrian Smith (Yamaha WRF250), by the end of the opening lap and took over the lead soon after.
Reeves stretched out his advantage and, by the end of the three hours, was half a lap, about 12 minutes, ahead of the surprise runner-up, Pukekohe's Luke Ramsey (Kawasaki KX125).
The 20-year-old Ramsey put his 125cc bike ahead of the more powerful 250cc and 450cc bikes of many of his rivals.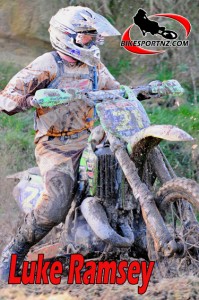 It was his best result of the series and icing on the cake for the young man who had anyway already wrapped up the under-200cc two-stroke class title at the previous round.
Saturday's result, though, meant Ramsey had also elevated himself to third outright.
Third best on Saturday was another rider saving his best for last, Napier's John O'Dea (Suzuki RM250), enabling him to lock up the over-200cc two-stroke class title and also rise up to fifth outright for the championship.
Penny (Suzuki RM-Z450) had been a contender for the outright title but, battling a serious head cold, he could not muster the strength to challenge Reeves.
Penny threatened early on but then slumped to an unaccustomed fifth on Saturday, forced to settle for the No.2 spot for the championship.
A snapped rear sub-frame on his bike ruined the day for Taranaki's Smith. With the bike collapsing under him, Smith dropped from second spot to eventually finish the day 17th.
It may be some consolation, however, that he had still done enough to take the under-300cc four-stroke class title.
Defending champion Cam Smith (Suzuki RM-Z450), of Marton, continued his disappointing roller-coaster season, finishing the day only 39th at Ashhurst as he suffered problems beyond his control.
"I had a flat tyre on the first lap and lost a lot of time getting that changed in the pits, then I burned out my clutch," said Smith (no relation to Adrian Smith)." It was just another one of those days where nothing goes right.
"I'll just have to come back stronger next year."
Meanwhile, O'Dea's younger brother, Lance (Suzuki RM-Z250), won the junior championship when he led their 90-minute race virtually from start to finish. Runner-up was Raetihi's defending champion Charles Alabaster (Yamaha YZF250), with Feilding's Jordan Wilson (KTM 125 EXC) taking third.
In the battle of the women, Alabaster's elder sister, Letitia (Yamaha YZF250), won the day at Ashhurst and snatched the title from early leader Kylie Dorr (Suzuki RM250), the 19-year-old travelling all the way from Tapanui, just outside Gore.
The best performed junior 85cc rider was Rotorua's Cameron Vaughan (Suzuki RM85), winning the title ahead of Kawasaki pair Stacy Smyth, of Dannevirke, and Scott Sowry, of Pahiatua.
The series was sponsored by Suzuki New Zealand but also supported by Castrol, DRD magazine, Hydraulink and Trophy Specialists in Palmerston North.
Leading final overall standings:
Senior:
1. Adam Reeves (Pahiatua, Yamaha) 72 points
2. Mark Penny (Te Awamutu, Suzuki) 61
3. Luke Ramsey (Pukekohe, Kawasaki) 53
4. Adrian Smith (Mokau, Yamaha) 49
5. John O'Dea (Napier, Suzuki) 47
6. Kevin Hermansen (Norsewood, Kawasaki) 46
7. Steven Bird (Palmerston North, Honda) 43
8. Ross Bird (Eketahuna, Honda) 41
9. Rory Mead (Whitby, Yamaha) 40
10. Morgan Dransfield (Palmerston North, Honda) 37.
Junior:
1. Lance O'Dea (Napier, Suzuki) 50 points
2. Charles Alabaster (Raetihi, Yamaha) 44
3 Jordan Wilson (Feilding, KTM) 38
4. Boyd Carlson (Tuakau, Suzuki) 36
5. Thomas Fraser (Pahiatua, KTM) 29
Words and photos by Andy McGechan, www.BikesportNZ.com
Full story and more photos in your next issue of KIWI RIDER magazine.