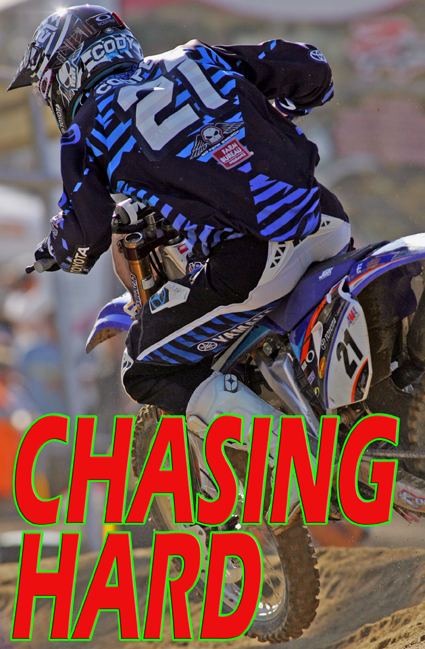 Suzuki's Mike Alessi cruised to his second consecutive 1-1 clean sweep in the AMA motocross nationals in the United States at round three in Texas at the weekend.
That puts him now 31 points ahead of next-best rider Andrew Short (Honda).
New Zealand riders Cody Cooper (Yamaha) (pictured above) and Justin McDonald were also in the points at the Freestone Raceway circuit, Mount Maunganui's Cooper coming home 6-13 in his two outings, while Christchurch rider McDonald finished 20th and 19th, earning himself three more valuable points.
Cooper has moved up from 10th overall in the series standings after round two to now settle into eighth spot, while McDonald remains in 27th position overall.
Alessi grabbed the holeshot in both moto one and moto two and never looked back, quickly gapping the field and winning by double-digit margins in each.
"I knew it was going to be hot and I prepared myself," explained Alessi. "I think today was really awesome. We still need to take it one race at a time. After the race I was getting undressed and I was already watching tape from High Point for next week. "
Honda Red Bull Racing's Andrew Short, of Smithville, Texas, garnered his first podium finish (2-3) of 2009 in front of his home state crowd while Rockstar/Makita Suzuki's Chad Reed, of Australia, assumed third overall (5-2) for the second week in a row.
Meanwhile, Suzuki's Ryan Dungey took top step of the podium in the 250 class at Freestone.
Dungey's second win of the season came on the heels of an impressive moto two victory, which followed up a second-place finish in the first moto. The Minnesota native has claimed the second moto in each of the three races in 2009.
"It is my third year and I'm still at the beginning of my career the way I look at it," said Dungey. "I feel like I belong here and thinking like I feel that I need to step up. There aren't any excuses and I can't expect anything less. I need to take every opportunity and grab a hold of it. They did an awesome job today with the whole track. They left the ruts and I really thought it would be one lined, but it was great."
Monster Energy/Pro Circuit/Kawasaki's Christophe Pourcel, of France, won moto one and brought home fourth in the second moto to take second overall and keep the points battle close.
GEICO Powersports Honda's Trey Canard, of Shawnee, Okla., rounded out the podium in third (3-2).
In the WMX Class, Honda Red Bull Racing's Ashley Fiolek, of St. Augustine, Fla., stayed perfect through three rounds in 2009, sweeping the day's motos. Cernic's Suzuki's Sherri Cruse, of Bakersfield, Calif., brought home second (3-2) while Muscle Milk/MDK/KTM's Sarah Whitmore finished third (4-4).
"Obviously I got a good start, but I made some mistakes," said Fiolek. "(Jessica Patterson) was riding great and she got by me but I just kept riding and used a line that I found in the last lap of practice that I knew was faster. It worked out. I try not to think too much about (the pressure). My (bike) is unbelievable but there are a lot of talented girls out there so I just go out there and do the best I can."
The championship continues with round four next Saturday, June 13 from Mt. Morris, Pa. for the Monster Energy National at High Point Raceway.
RESULTS, Round 3 of 12
450 Class (moto results)
Mike Alessi, Victorville, Calif., Suzuki (1-1)
Andrew Short, Smithville, Tex., Honda (2-3)
Chad Reed, Australia, Suzuki (5-2)
Ivan Tedesco, Tallahassee, Fla., Honda (4-9)
Ricky Dietrich, Menifee, Calif., Kawasaki (7-6)
Daniel Reardon, Australia, Honda (12-4)
Michael Byrne, Australia, Suzuki (8-7)
Cody Cooper, New Zealand, Yamaha (6-13)
Weston Peick, Wildomar, Calif., Honda (9-11)
Justin Brayton, Murrieta, Calif., KTM (8-10)
450 Class championship standings
Mike Alessi, Victorville, Calif., Suzuki, 142
Chad Reed, Australia, Suzuki, 111
Josh Grant, Riverside, Calif., Yamaha, 94
Andrew Short, Smithville, Tex., Honda, 93
Ivan Tedesco, Tallahassee, Fla., Honda, 70
Dan Reardon, Australia, Honda, 68
Thomas Hahn, Decatur, Texas, Kawasaki, 68
Cody Cooper, New Zealand, Yamaha, 60
Justin Brayton, Murrieta, Calif., KTM, 57
Ryan Villopoto, Poulsbo, Wash., Kawasaki, 55
250 Class (moto results)
Ryan Dungey, Belle Plaine, Minn., Suzuki (2-1)
Christophe Pourcel, France, Kawasaki (1-4)
Trey Canard, Shawnee, Okla., Honda (3-2)
Blake Wharton, Pilot Point, Texas, Honda (7-3)
Brett Metcalfe, Australia, Honda (4-7)
Tommy Searle, Great Britain, KTM (6-5)
Tyla Rattray, South Africa, Kawasaki (5-6)
Broc Tickle, Holly, Mich., Yamaha (9-8)
Darryn Durham, Wildomar, Calif., Yamaha (8-12)
Kyle Cunningham, Fort Worth, Texas, Kawasaki (13-9)
250 Class championship standings
Ryan Dungey, Belle Plaine, Minn., Suzuki, 133
Christophe Pourcel, France, Kawasaki, 127
Trey Canard, Shawnee, Okla., Honda, 117
Tyla Rattray, South Africa, Kawasaki, 101
Brett Metcalfe, Australia, Honda, 95
Blake Wharton, Pilot Point, Texas, Honda, 86
Tommy Searle, England, KTM, 79
Broc Tickle, Holly, Mich., Yamaha, 72
Jake Weimer, Rupert, Idaho, Kawasaki, 66
Justin Barcia, Ochlocknee, Ga., Honda, 54
WMX Class (moto results)
Ashley Fiolek, St. Augustine, Fla., Honda (1-1)
Sherri Cruse, Bakersfield, Calif., Suzuki (3-2)
Vicki Golden, El Cajon, Calif., Honda (5-3)
Jessica Patterson, Tallahassee, Fla., Honda (2-7)
Sarah Whitmore, Cheboygan, Mich., KTM (4-6)
Elizabeth Bash, Riverside, Calif., Kawasaki (6-5)
Penni Cyrus, Queens Creek, Ariz., Kawasaki (8-9)
Sara Price, Canyon Lake, Calif., Kawasaki (15-4)
April Zastrow, Kuna, Idaho, Honda (10-10)
Kim Kocher, Paris, Ohio, KTM (7-13)
WMX Class standings
Ashley Fiolek, St. Augustine, Fla., Honda, 147
Jessica Patterson, Tallahassee, Fla., Honda, 123
Sherri Cruse, Bakersfield, Calif., Suzuki, 114
Vicki Golden, El Cajon, Calif., Honda, 114
Sara Price, Canyon Lake, Calif., Kawasaki, 87
Elizabeth Bash, Riverside, Calif., Kawasaki, 87
Penni Cyrus, Queens Creek, Ariz., Kawasaki, 71
Kim Kocher, Paris, Ohio, KTM, 55
Tatum Sik, Temecula, Calif., Suzuki, 54
Jacqueline Strong, Sedona, Ariz., Honda, 52
Photo by Joe Bonnello, www.BikesportNZ.com