FLYING KIWI AT ISLE OF MAN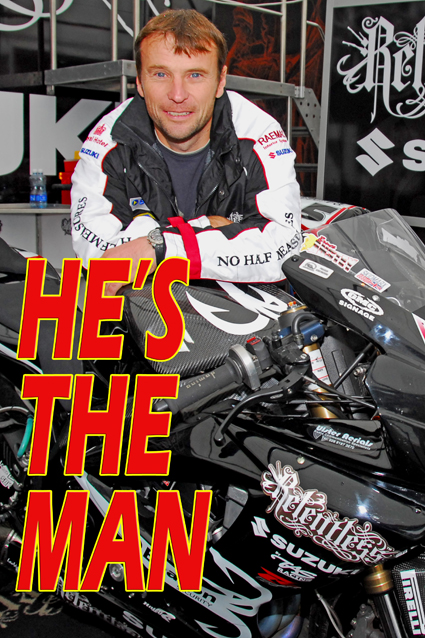 New Zealand's Bruce Anstey is now the fastest ever rider around the Isle of Man TT Circuit on a Supersport machine.
The Wellington rider recorded a lap of 126.549mph on his GSX-R600 Suzuki in the Relentless Supersport race yesterday.
Unfortunately, both Anstey and the Relentless Suzuki team suffered cruel luck in the same race, when a broken rectifier cable forced a retirement at Brandywell after 146 miles of racing. He was less than five miles away from TT win number eight and win number 16 for the TAS Racing team.
In Tuesday night's Superstock race, Anstey retired at the end of the opening lap after struggling with machine settings.
"My GSX-R600 was faultless in the Supersport race until it stopped on the last lap," said Anstey.
"I'd settled into my rhythm early on and was comfortably in the lead when I got caught up with other riders on the last two laps, but I had the race in the bag. I just felt the bike starting to cut out at the Bungalow and it eventually stopped at Brandywell. I will be doing my best to win the second Supersport race tomorrow."
The team boss, Philip Neill, agreed it just wasn't Anstey's day.
"What can we say; it just wasn't our day today at the TT. You need a lot of luck around here with the nature of the races and today we didn't have any. What is pleasing was watching Bruce recording the fastest lap on our Relentless Suzuki GSX-R600.
"He was leading comfortably in the Relentless Supersport race, but due to a minor failure with a broken wire on the last lap, we lost out on the win.
"In the Superstock class, Bruce never quite found the set-up he required on his GSX-R1000 and we all know if he is not fully confident, he will not race. This is the first time TAS Racing has been beaten in the Superstock class at the TT, but we still have tomorrow's Supersport race and Friday's Senior Superbike TT to make our mark on this year's event."
Main photo by Andy McGechan, www.BikesportNZ.com
Photo below courtesy Suzuki