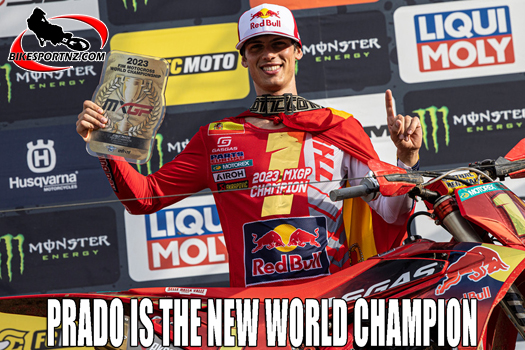 The premier MXGP title was secured by Spain's Jorge Prado at the penultimate round of the 2023 FIM Motocross World Championships at the spectacular Maggiora circuit in Italy at the weekend.
The factory GasGas rider has been the class of the MXGP pack since the first round of the world series and cemented that position earlier on – he was crowned world champion at the weekend with three races to spare.
The championship was the first for the GasGas MC 450F bike.
Prado clinched his world title via a brilliant victory in the first moto – he took the lead from early in the race and he controlled proceedings from that point on.
A minor fall in the second moto robbed him off the overall victory – he eventually ended sixth and lost the win via a tiebreak – but the grand prize was firmly within his grasp.
Ten pole positions, 219 laps led, 16 Grand Prix podiums and 14 moto wins underline the dominant campaign that resulted in him being crowned champion. The statistics that Prado compiled will become a benchmark for years to come.
Jorge Prado: "I am so happy! It is a pity about that mistake in the second moto, but I am the new world champion. So much hard work has gone into this, from myself and the team, and I knew that I could make this happen. I have held the red plate since round one – I cannot ask for anything better. This is a dream."
There is a single fixture left on the 2023 FIM Motocross World Championship calendar – The Grand Prix of Great Britain, round 19, will be held on September 24.
Photo courtesy Juan Pablo Acevedo & GasGas
Find BikesportNZ.com on FACEBOOK here
RESULTS & STANDINGS AFTER ROUND 18 of 19:
MXGP – Grand Prix Race 1 – Top 10 Classification:
1. Jorge Prado (ESP, GASGAS), 35:26.988; 2. Jeremy Seewer (SUI, Yamaha), +0:01.309; 3. Alberto Forato (ITA, KTM), +0:02.884; 4. Calvin Vlaanderen (NED, Yamaha), +0:26.251; 5. Ruben Fernandez (ESP, Honda), +0:36.013; 6. Pauls Jonass (LAT, Honda), +0:37.716; 7. Glenn Coldenhoff (NED, Yamaha), +0:39.330; 8. Benoit Paturel (FRA, Yamaha), +0:42.810; 9. Tim Gajser (SLO, Honda), +0:44.649; 10. Valentin Guillod (SUI, Honda), +0:57.489
MXGP – Grand Prix Race 2 – Top 10 Classification:
1. Romain Febvre (FRA, Kawasaki), 34:48.254; 2. Tim Gajser (SLO, Honda), +0:01.628; 3. Ruben Fernandez (ESP, Honda), +0:06.011; 4. Jeremy Seewer (SUI, Yamaha), +0:07.604; 5. Alberto Forato (ITA, KTM), +0:09.310; 6. Jorge Prado (ESP, GASGAS), +0:29.315; 7. Pauls Jonass (LAT, Honda), +0:33.442; 8. Valentin Guillod (SUI, Honda), +0:34.900; 9. Glenn Coldenhoff (NED, Yamaha), +0:35.514; 10. Alessandro Lupino (ITA, Beta), +0:42.756
MXGP – Grand Prix Top 10 Classification: 
1. Jeremy Seewer (SUI, YAM), 40 points; 2. Jorge Prado (ESP, GAS), 40 p.; 3. Ruben Fernandez (ESP, HON), 36 p.; 4. Alberto Forato (ITA, KTM), 36 p.; 5. Tim Gajser (SLO, HON), 34 p.; 6. Pauls Jonass (LAT, HON), 29 p.; 7. Calvin Vlaanderen (NED, YAM), 28 p.; 8. Glenn Coldenhoff (NED, YAM), 26 p.; 9. Romain Febvre (FRA, KAW), 25 p.; 10. Valentin Guillod (SUI, HON), 24 p
MXGP – World Championship Top 10 Classification:

 
1. Jorge Prado (ESP, GAS), 890 points; 2. Romain Febvre (FRA, KAW), 807 p.; 3. Jeremy Seewer (SUI, YAM), 719 p.; 4. Glenn Coldenhoff (NED, YAM), 655 p.; 5. Ruben Fernandez (ESP, HON), 612 p.; 6. Calvin Vlaanderen (NED, YAM), 565 p.; 7. Alberto Forato (ITA, KTM), 490 p.; 8. Jeffrey Herlings (NED, KTM), 456 p.; 9. Valentin Guillod (SUI, HON), 334 p.; 10. Maxime Renaux (FRA, YAM), 314 p