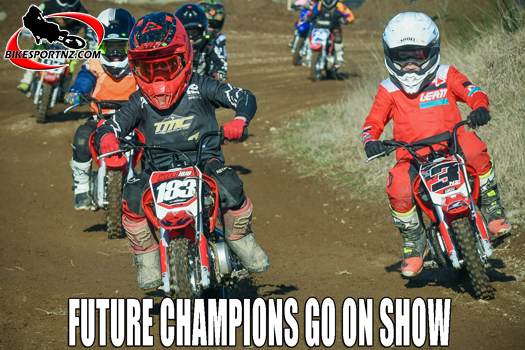 The future of Kiwi motocross goes on show in Canterbury this coming weekend and that's where we may see the next world champions created.
Nearly 200 riders are entered and they will all be keen to excel at the two-day 2023 New Zealand Mini Motocross Nationals at the Brookhaven Training Facility, 190 Boundary Creek Road, in Leeston, just south of Christchurch, on Saturday and Sunday (Sept 30-Oct 1).
Hosted by the Christchurch Off-Road Motorcycle Club, the championships are sponsored this season by BCC (Baird's Collision Centre), Un4Seen Decals and The Honda Hub.
Riders aged between four and 11 – and riding bikes with engine capacities anywhere between 50cc and 140cc – will bash handlebars in a series of high-intensity races and there is no doubt that some of the riders who feature this weekend will go on to carve national or even international careers for themselves in the future.
Some of the rising stars to look out for possibly include individuals such as Pegasus rider Rayne Scheepers, Carterton's Vinnie Edwards, Kaiapoi's Corban Patterson, Masterton's Braxton Prentice, Ohoka's Nico McMaster, Helensville's Eli Hankins, Waimate's Nicholas Oakshott, Invercargill's Harlen Bothamley, Te Awamutu's Jai Gibson, Kumeu's Cameron Travers, Helensville's Adam Bockett, Christchurch brothers Jesse and Ryder Baird, Waiau's Henry Lott, Hamilton's Hunter Cowie and Palmerston North's Colton Whibley, to name just a few.
There are plenty of top senior racers who kicked off their stellar careers at the New Zealand Mini Motocross Nationals, individuals such as Tauranga's Josiah Natzke, Mangakino's Maximus Purvis, Cambridge's Trent Collins, Ohoka's Levi McMaster, Waitoki's Cole Davies and Ngatea's Isaac Broad, among others.
Racing at Leeston this weekend could throw the spotlight on the next Kiwi international superstar, a young rider who may go on to follow in the wheel tracks of world class New Zealand riders such as Otago's Courtney Duncan, New Plymouth brothers Darryll, Shayne and Damien King, Motueka's Josh Coppins, Oparau's James Scott, Christchurch's Dylan Walsh, Tauranga's Brodie Connolly, Mount Maunganui's Cody Cooper or West Auckland's Hamish Harwood, for example.
Motorcycling New Zealand motocross commissioner Lindsey Heileson said he was really looking forward to the weekend.
"The mini nationals is a steppingstone for those starting out in motocross. It is great to see that record numbers will be turning up to this year's event, with so many individuals listed for the first time.
"We can see there is a really good depth of talent in the mini ranks and this is where the sport begins. It shows the sport is in really good shape for the future.
"I'm sure it will be another great event."
Many current senior grade stars can trace their beginnings to the mini motocross ranks.
Even current superstars on the motocross and supercross scene in the United States, Australian brothers Hunter and Jett Lawrence, will no doubt look back fondly on their fledgling years when they raced the New Zealand Mini MX Nationals at Huntly in 2010.
International pathways can certainly begin at the New Zealand mini motocross nationals.
© Words and photos by Andy McGechan, BikesportNZ
Find BikesportNZ.com on FACEBOOK here