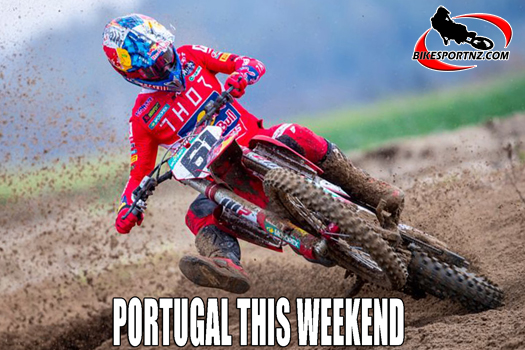 The FIM Motocross World Championships are this weekend going to Portugal for the second year in a row, this time to mark the fifth round of the 2023 campaign.
The circuit of Agueda is historic and has been on the calendar for a long time, since 1985. The 2023 MXGP of Portugal will mark the 24th MXGP event of the circuit and will be held on April 29 and 30.
Over the years, some amazing riders put their name on the winning list in Agueda such as Stefan Everts, Antonio Cairoli, Gautier Paulin, Red Bull KTM Factory Racing's Jeffrey Herlings, Team HRC's Tim Gajser and last year Red Bull GasGas Factory Racing's Jorge Prado (pictured here).
However, to spice things up the circuit will have a variation this year as the direction will be inverted which is going to add to the challenge for every rider as this will feel like a new circuit.
Last Sunday 10 riders were invited during a press day to test the new layout and all the changes made in the jumps throughout the circuit.
Amongst them was Team HRC's Ruben Fernandez, currently fifth in the Motocross World Championship and Portuguese riders invited by the organiser who will race this weekend. The excellent feedback showed that the circuit of Agueda will be even faster and more spectacular this weekend.
The MXGP of Portugal will also host the third round of the EMX250 and EMX125 presented by FMF Racing with Hutten Metaal Yamaha Racing Team's Andrea Bonacorsi and MJC Yamaha Official EMX125's Janis Martin Reisulis leading their championships respectively.
The MXGP of Portugal in 2022 marked the fourth stop of the season and it was Prado who won the first GP of his 2022 season with a great 1-2 to stop Gajser from winning four GPs in a row at that time, which showed how much Prado likes this circuit.
This year, Prado arrives in Portugal with the Red Plate, 201 points and he is full of confidence after winning his first GP of the season in Trentino. He has been incredibly solid as he never missed a podium so far this year. Prado also won three times in Agueda over his career which places him as a big favourite.
However, the competition will be tough as we saw four different GP winners over the first four GPs of the season which says much about the level of rivalry in 2023.
Prado is leading Monster Energy Yamaha Factory MXGP Team's Maxime Renaux by 17 points who also comes in Agueda with a back-to-back podium and a GP win in Switzerland showing that the Frenchman is getting into his rhythm to fight for the lead.
Herlings is third in championship after an amazing performance in Trentino as he won his first race of the season in an incredible manner. Without a struck of bad luck on the first race in Trentino when he got caught in the multi-rider collision, Herlings could have obtained even more points as he starts to show incredible speed recently.
He also has already won in Portugal which will give even more of an edge over his rivals.
Fourth in the championship standings is Kawasaki Racing Team's Romain Febvre who has won the qualifying race in Trentino rewarding an excellent start of the campaign although he also was involved in the collision on the first turn of race one in Trentino hindering his chances to get top points.
However, Febvre has shown he is capable to win this season and will be determined to join the GP winner list of 2023.
Fernandez is fifth overall so far and he is the other GP winner this season. After a performance dip in Sardinia the Spanish has bounced back by getting a 6th and 4th overall finish in Switzerland and Trentino respectively.
Coming in Portugal will be like going to compete at home for him and Prado with many home fans cheering for Spanish riders. This could be an amazing opportunity to get back up to the podium for Fernandez.
The other riders like Team Gebben Van Venroy Yamaha Racing's Calvin Vlaanderen and Monster Energy Yamaha Factory MXGP Team's Glenn Coldenhoff 6th and 7th are also consistently in the top 10 and performing very well.
Vlaanderen has been fighting for the top five many times so far in the season which demonstrates his abilities to ride for the top points. He went 6-12 in Trentino for a 9th overall. Coldenhoff got second on the podium in Sardinia with a race win and got 6th overall in Trentino with 8-6 after a dip in form in Switzerland which demonstrates that we can count on the 'Hoff' to chase podiums.
Red Bull GASGAS Factory Racing's Mattia Guadagnini and Monster Energy Yamaha factory MXGP Team's Jeremy Seewer are 8th and 9th respectively with 108 and 107 points in Championship standings and have different dynamics.
Guadagnini just clinched his equalled best MXGP finish in his home GP in Trentino with a fifth place overall.
Seewer has been quite unlucky so far with few crashes that unable him to get where he should be in term of his speed.
With two 11th overall finish in Switzerland and Trentino, the vice world champion is ready to convert his well-known speed into big points on a circuit where he won in MX2 in 2017.
SM Action Racing Team Yuasa Battery MXGP's Alberto Forato has been a very good performer so far and is 10th in the series. The Italian is consistent and this could help him to get some opportunities to get even higher on the leader board.
Tenth overall in Trentino with a 5-15, Forato sits in 10th and showed the potential to get even higher.
STANDINGS AFTER ROUND FOUR:
MXGP Championship Standings:
Jorge Prado (ESP, GAS), 201 points,
Maxime Renaux (FRA, YAM), 184 p,
Jeffrey Herlings (NED, KTM), 175 p,
Romain Febvre (FRA, KAW), 166 p,
Ruben Fernandez (ESP, HON), 136 p,
Calvin Vlaanderen (NED, YAM), 125 p,
Glenn Coldenhoff (NED, YAM), 120 p,
Mattia Guadagnini (ITA, GAS), 108 p,
Jeremy Seewer (SUI, YAM), 107 p,
Alberto Forato (ITA, KTM), 98 p.
MX2 Championship Standings:
Jago Geerts (BEL, YAM), 205 points,
Andrea Adamo (ITA, KTM), 183 p,
Thibault Benistant (FRA, YAM), 182 p,
Kay de Wolf (NED, HUS), 173 p,
Simon Laengenfelder (GER, GAS), 158 p,
Roan Van De Moosdijk (NED, HUS), 147 p,
Liam Everts (BEL, KTM), 140 p,
Kevin Horgmo (NOR, KAW), 119 p,
Lucas Coenen (BEL, HUS), 102 p,
Jan Pancar (SLO, KTM), 85 p.
Photo courtesy MXGP
Find BikesportNZ.com on FACEBOOK here