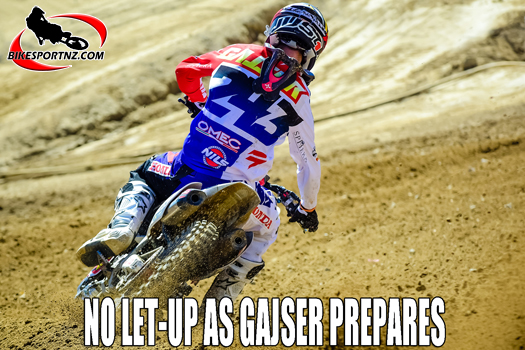 The 2023 MXGP season is just weeks away now and work by the factory Honda team never stops as they prepare Slovenian Tim Gajser for his title defence.
After a couple of very stressful seasons, involving last-race championship battles, one-day formats, title-wins and COVID-19 affected travelling, the 2023 MXGP championship has the possibility of getting things back to some sort of normality.
And if that 'new normal' means that reigning champion Gajser is able to win his sixth title in nine years, HRC general manager Marcus Pereira de Freitas would be very pleased indeed.
The opening round of the 2023 season is in Argentina on March 12.
Meanwhile, here is an interview with the likeable Brazilian manager, giving an update on what's been happening with Team HRC these past few months
How has the off-season been for the team so far?
"Even though we haven't had any races, there is still a lot of working going on, making sure we are in the best position possible for the 2023 campaign. There are always things to improve, to organise and things we learnt from last year that can be implemented this coming season. Right now, there is a bit of a hold up, as we don't have a finalised calendar, so we can't fully nail down how we will approach the first few rounds, but once that comes out, it will be all systems go."
And how are things looking for 2023?
It's all very positive! We have a great group of sponsors who are a pleasure to work with, and we had good productive meetings for this year, which is always an important part of the process of running a successful team.
"And then on-track, both Tim (Gajser) and Ruben (Fernandez) have both been doing their training over the winter, on and off the bike. They are very impressed with the improvements we've made with the CRF450R and are excited for the season to begin. Obviously, they are still working their way into race-shape, having had a bit of a break but overall, they are doing exactly what they need to be doing to come into the season at the highest possible level."
Ruben is new to the team, so how has he been adapting to the new environment?
"So far it has been very easy for him, and for us! He rode for Team Honda 114 Motorsports last year, so he already had a good relationship with some of our team and that made the transition to Team HRC easier.
"Things run a little bit differently, and he has some extra things that he didn't have to do before, but overall, it's been smooth and he has adapted and learned very quickly. He is very happy with the bike and we can't wait for him to show everyone what he's capable of.
"Last year was a bit of a learning experience for him, he had some ups and some downs but it was good for those to happen and I believe he will come into this year a lot stronger."
And what about Tim Gajser's preparations?
"For Tim, he is so focused and prepared that we don't have to worry that he is doing what he needs to do. We keep an eye on everything, of course, but he is a model professional and we know to trust him and let him do figure out what works and what doesn't work.
"Having Tiga243land was such a big step for him, because he is fully in control of when and when he rides. He doesn't have to worry about any other riders, or if tracks will be open or not. He is able to do exactly what he needs to do, and is completely focused on making it happen.
"He has had a busy off-season with the trip to Japan and various awards that come with being a five-time world champion, but we are proud of how he has handled it, and know that when the first gate drops, he will be in exactly the right position."
Last weekend was the first Supercross, is this something you pay attention to?
"Of course, I think everyone in the team watches as much as they can, certainly the first few rounds. We like to support our fellow Team HRC guys, and see how they are doing and how the bike is performing and also because we are fans of the sport.
"It was great to see Jett winning, and Chase leading for a little while, and also new rider Colt Nichols doing well on his Honda debut. While Supercross is a different discipline from motocross, it is still important for Honda and we always want to support their efforts."
Photo by Andy McGechan, BikesportNZ
Find BikesportNZ.com on FACEBOOK here