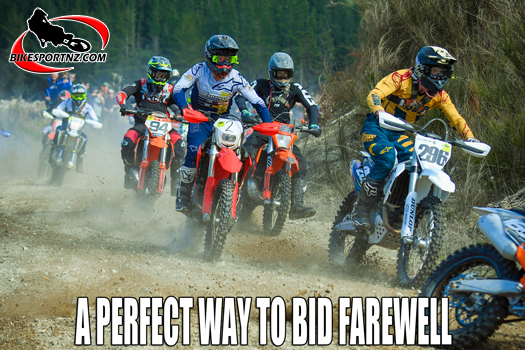 South Waikato rider James Scott had an absolute blast in dominating his final big domestic race before he boards a plane for France in a week's time.
Round two of the popular Forestland Cross-Country Series near Atiamuri on Saturday was expected to be a solid work-out for the fearless Honda rider from Oparau before he jets off with the rest of the New Zealand contingent to compete at the annual International Six Days Enduro (ISDE), this year set for southern France between August 29 and September 3.
The 20-year-old – the current national No.2 in the senior MX2 motocross class and also outright senior national No.1 in the New Zealand Cross-country Championships – is no stranger to international competition, having previously competed in the European Motocross Championships as a 14-year-old in 2016 and also, as recently as last year, contested several rounds of the World Enduro Championships in Europe.
So it probably came as no surprise therefore that Scott (Honda CRF250RX) should dominate Saturday's two-hour senior race in forestry at Ohakuri, about halfway between Tokoroa and Taupo.
It wasn't without some degree of difficulty, however, because the starting grid order on Saturday was based on the riders' finishing positions at round one of the series last month and that's when Scott had failed to finish after running out of fuel while on the charge in second place.
"That meant I was 25th on the grid and so had a bit of traffic to cope with at the start," shrugged Scott, who is pictured above, on bike No.2, stuck in traffic soon after the start of Saturday's senior race.
But Scott was already into fourth position by the end of the start straight, as the 132-rider field of competitors disappeared into the trees for the first time.
"I was in the lead about halfway through the first (20-kilometre) lap," he said.
Two hours and another four laps later and Scott had stretched his advantage to more than two minutes over eventual runner-up rider Blake Wilkins (Whitianga, Husqvarna FE250), with Tauranga's Damon Nield (KTM 250SX) claiming third overall.
Wainuiomata's Jake Whitaker (KTM 250 SX-F) and Palmerston North's Paul Whibley (Yamaha YZ450FX) rounded out the top five on Saturday.
"I struggled to get away from Blake (Wilkins) on the first two laps. He was riding really well. But then I got a bit of a gap and never saw him again after that," said Scott afterwards.
"This was my last big race before I go to France. I'm really pumped to be going. There are a lot of Kiwis going, so perhaps it won't seem so alone in a foreign country this time around.
"I managed to get a couple of top-10 finishes in my class at the World Enduro Champs in Estonia and Sweden in 2021 and I'll be riding again with help from the same Honda outfit that helped me out last time. It's called Red Moto, an Italian factory Honda team.
"I'll have a Honda CRF250RX bike waiting for me in France, the same as the model I raced at Ohakuri, so I will be pretty comfortable with that."
The winner of round one of the Forestland series, staged closer to Tokoroa last month, was Taupo's Wil Yeoman and, while he will also be part of the Kiwi team in France, he was a notable absentee from the starting grid at Ohakuri on Saturday.
Scott and Yeoman will be joined at the ISDE by Cambridge's 2022 national enduro champion Dylan Yearbury, Helensville's Tommy Buxton, Howick's Liam Draper, Whanganui's Seth Reardon, Wairoa's Tommy Watts, Oratia's Callan May, Waitoki's Ben Cottrill, Helensville's Josh Jack and Rangiora's Ben Dando.
The third and final round of the Forestland Cross-country Series is set for August 27, but by then the ISDE stars will be away in Europe and up to their elbows in fierce international action, therefore leaving the way clear for a third, different rider to claim the win and also possibly take outright honours for this series.
Meanwhile, the top three finishers in the 90-minute junior race staged earlier on Saturday were Auckland's Millen Cargill, Taupo's Josh Yeoman and Auckland's Leo Copping.
The Forestland Cross-country Series is supported by Forbes and Davies, Kiwi Rider magazine, Forest Trail Events, Satco Logging Equipment, O'Neal apparel, Ogio, Arai helmets, Metzeler tyres, Muc-Off, Maxi Grip, Maxima Oils and Husqvarna motorcycles, while the New Zealand ISDE team is supported by Motorcycling New Zealand, Ward Demolition, New Plymouth Underwater, Macaulay Metals, SignBiz, MJH Engineering and MotoMuck.
Forestland Cross-country Series calendar:
Round 1, Tar Hill, July 16-17 (race Saturday and then trail ride the following day);
Round 2, Ohakuri, August 13-14;
Round 3, Ohakuri, August 27-28 (race Saturday and then trail ride the following day).
© Words and photos by Andy McGechan, BikesportNZ
Find BikesportNZ.com on FACEBOOK here