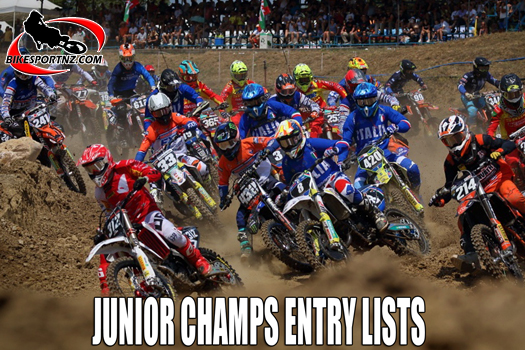 Here below are the pre-entry lists for the 2022 FIM Junior Motocross World Championships taking place on August 26-28 at the Lavanko track in Finland, in the famous motocross city of Vantaa.
The event will bring together riders from more than 20 different countries, including riders who will be making the trip over from Australia, Canada and USA, will go head-to-head for the overall nation classifications as well as the Junior World Champion and 65cc World Cup crowns.
Three classes will take part in the event which includes the 65cc, 85cc and 125cc categories.
Take a look at the full entry lists below to see who will line-up for the biggest junior motocross race of the year.
125cc ENTRY LIST:
| | | | | | | |
| --- | --- | --- | --- | --- | --- | --- |
| Nr | Last Name | First Name | Federation | Nationality | Bike | |
| | | | | | | |
| 2 | Skovbjerg | Nicolai | DMU | DEN | Yamaha | |
| 5 | Almagor | Ben | IMSF | ISR | KTM | |
| 12 | Petersen | Bryce | MSA | RSA | KTM | |
| 23 | Dennis | Byron | MA | AUS | GASGAS | |
| 27 | Tzemach | Ofir Casey | HMS | ISR | KTM | |
| 29 | Garcia | Francisco | RFME | ESP | GASGAS | |
| 42 | Forsgren | Hugo | SVEMO | SWE | Yamaha | |
| 43 | Lusis | Roberts | LAMSF | LAT | KTM | |
| 44 | Young | Blake | MSA | RSA | KTM | |
| 46 | Scott | Tanner | CMA | CAN | Husqvarna | |
| 47 | Reisulis | Karlis Alberts | LAMSF | LAT | Yamaha | |
| 49 | Kanakis | Marios | BMF | BUL | KTM | |
| 66 | Minear | Kayden | MA | AUS | KTM | |
| 71 | Burbridge | Dustin | CMA | CAN | Husqvarna | |
| 73 | Zanchi | Ferruccio | FMI | ITA | Yamaha | |
| 74 | Gregersen | Magnus | DMU | DEN | GASGAS | |
| 76 | Kongmany | Ben | CMA | CAN | Yamaha | |
| 77 | Melman | Erez | IMSF | ISR | KTM | |
| 88 | Russi | Matteo Luigi | FMI | ITA | KTM | |
| 89 | Townsend | Kyle | MSA | RSA | KTM | |
| 96 | Osinalde Mayrata | Mauro | RFME | ESP | KTM | |
| 97 | Mancini | Simone | FMI | ITA | KTM | |
| 102 | Allen | Collin | AMA | USA | Yamaha | |
| 103 | Cochran | Casey | AMA | USA | Husqvarna | |
| 110 | Paat | Richard | EMF | EST | KTM | |
| 120 | Lehtinen | Eliel | SML | FIN | KTM | |
| 123 | Peklaj | Jaka | AMZS | SLO | Husqvarna | |
| 155 | Verburgh | Troy | FMB | BEL | GASGAS | |
| 172 | Valk | Cas | KNMV | NED | Fantic | |
| 177 | Menna | Aaro | SML | FIN | KTM | |
| 225 | Nordbø | Marius | NMF | NOR | KTM | |
| 226 | Carlsen | Sebastian Marcus | NMF | NOR | GASGAS | |
| 275 | Rakow | Eric | DMSB | GER | KTM | |
| 285 | Valbjorn | Patrick | NMF | NOR | GASGAS | |
| 309 | Oinonen | Santeri | SML | FIN | GASGAS | |
| 317 | Valin | Mathis | FFM | FRA | GASGAS | |
| 324 | Salvador | Carlos | RFME | ESP | GASGAS | |
| 342 | Oven | Zan | AMZS | SLO | Yamaha | |
| 358 | Stenberg | Nico | SML | FIN | KTM | |
| 373 | Canet | Edgar | RFME | ESP | GASGAS | |
| 418 | Mansikkamäki | Saku | SML | FIN | Husqvarna | |
| 432 | Van Erp | Ivano | KNMV | NED | Yamaha | |
| 450 | Grundy | Luke John | MSA | RSA | KTM | |
| 451 | Mikula | Julius | ACCR | CZE | KTM | |
| 461 | Peippo | Eero | SML | FIN | Husqvarna | |
| 474 | Persson | Linus | SVEMO | SWE | KTM | |
| 478 | Bolviken | Adrian | NMF | NOR | Yamaha | |
| 480 | Hindersson | Kasimir | SML | FIN | KTM | |
| 487 | Auclair | Elias | NMF | NOR | Yamaha | |
| 515 | Fredsoe | Mads | DMU | DEN | KTM | |
| 543 | Alm | Laban | SVEMO | SWE | Husqvarna | |
| 560 | Akerlund | Liam | SVEMO | SWE | Yamaha | |
| 633 | Frandsen | Jakob | DMU | DEN | KTM | |
| 641 | Saicans | Tomass | LAMSF | LAT | KTM | |
| 655 | Pikand | Romeo | EMF | EST | Husqvarna | |
| 684 | Freibergs | Uldis | LAMSF | LAT | Husqvarna | |
| 690 | Uiga | Tristan | EMF | EST | KTM | |
| 716 | Zanocz | Noel | FMI | HUN | KTM | |
| 717 | Fueri | Alexis | FFM | FRA | Yamaha | |
| 744 | Leok | Sebastian | EMF | EST | Husqvarna | |
| 772 | Reisulis | Janis Martins | LAMSF | LAT | KTM | |
| 836 | Kruuse | Robin | EMF | EST | KTM | |
| 905 | Sarre | Colin | DMSB | GER | Husqvarna | |
| 919 | Ernecker | Maximilian | AMF | AUT | GASGAS | |
| 961 | Frisk | August | SVEMO | SWE | KTM | |
85cc ENTRY LIST:
| | | | | | | |
| --- | --- | --- | --- | --- | --- | --- |
| Nr | Last Name | First Name | Federation | Nationality | Bike | |
| | | | | | | |
| 7 | Mannini | Niccolo | FMI | ITA | KTM | |
| 8 | Toshev | Vencislav | BMF | BUL | Husqvarna | |
| 14 | Gardiner | Freddie | ACU | GBR | KTM | |
| 18 | van der Vyver | Neil | MSA | RSA | Husqvarna | |
| 28 | Gregoire | Dean | KNMV | NED | KTM | |
| 37 | Cox | Trey Andrew | MSA | RSA | KTM | |
| 47 | Fisher | Heath | MA | AUS | Husqvarna | |
| 61 | Solovjevs | Emils | LAMSF | LAT | Husqvarna | |
| 80 | Varga | Peter | MAMS | HUN | KTM | |
| 88 | Salomaa | Max | SML | FIN | KTM | |
| 94 | Albers | Lukas | DMSB | GER | GASGAS | |
| 96 | Tsankov | Dani | BMF | BUL | Yamaha | |
| 101 | Dennis | Seth | AMA | USA | KTM | |
| 102 | Mantovani | Filippo | FMI | ITA | GASGAS | |
| 103 | Kettlitz | Martin | DMSB | GER | Husqvarna | |
| 104 | Gibson | Landon | AMA | USA | KTM | |
| 109 | Weinberg | Itay | IMSF | ISR | KTM | |
| 117 | Izaguirre | Juan | RFME | ESP | KTM | |
| 141 | Berrington-Smith | Christian Dieter | MSA | RSA | GASGAS | |
| 142 | Bialy | Noam | IMSF | ISR | KTM | |
| 157 | Nyman | Rene | SML | FIN | KTM | |
| 161 | Knapis | Alberts | LAMSF | LAT | Husqvarna | |
| 200 | Correia | Matthew | MSA | RSA | KTM | |
| 228 | Utech | Gennaro | FMI | ITA | GASGAS | |
| 253 | Väg | Luca | SML | FIN | KTM | |
| 254 | Deveson | Jack | MA | AUS | Husqvarna | |
| 295 | Faure | Mano | FFM | FRA | KTM | |
| 299 | Sommerlee | Sander | SVEMO | SWE | Husqvarna | |
| 308 | Velez | Mario | RFME | ESP | KTM | |
| 310 | Maindru | Amaury | FFM | FRA | KTM | |
| 333 | Mari | Ot | RFME | ESP | KTM | |
| 383 | Badenas Tejada | Enzo | RFME | ESP | Husqvarna | |
| 404 | Miettinen | Matias | SML | FIN | KTM | |
| 411 | Johansen | Ailo Andre | NMF | NOR | KTM | |
| 412 | Bloch | Jacob | DMU | DEN | KTM | |
| 415 | Brøvik-Kristiansen | Jone | NMF | NOR | KTM | |
| 425 | Pesonen | Eemil | SML | FIN | KTM | |
| 431 | Nokleby | Markus Sommerstad | NMF | NOR | KTM | |
| 454 | Frisagård | Erik | SVEMO | SWE | KTM | |
| 456 | Reinikainen | Topias | SML | FIN | KTM | |
| 474 | Ampoorter | Ian | FMB | BEL | KTM | |
| 478 | Vail | Josh | ACU | GBR | KTM | |
| 479 | Marek | Vitezslav | ACCR | CZE | KTM | |
| 494 | Lara | Pablo | RFME | ESP | KTM | |
| 499 | Heitink | Dani | KNMV | NED | Husqvarna | |
| 503 | Bervoets | Jarne | FMB | BEL | KTM | |
| 505 | Lindmark | Casper | SVEMO | SWE | KTM | |
| 518 | Van Mechgelen | Douwe | FMB | BEL | Husqvarna | |
| 522 | Vrh | Miha | AMZS | SLO | Husqvarna | |
| 528 | Baksetersveen | Jesper | NMF | NOR | KTM | |
| 531 | Bergqvist | Hugo | SVEMO | SWE | KTM | |
| 574 | Doensen | Gyan | KNMV | NED | Husqvarna | |
| 589 | Van de Poel | Tyla | FMB | BEL | KTM | |
| 592 | Bartlett | Freddie | SVEMO | SWE | KTM | |
| 598 | Engelin | Isak | NMF | NOR | KTM | |
| 601 | Hartus | Lari | SML | FIN | KTM | |
| 623 | Cepulis | Eimantas | LMSF | LTU | KTM | |
| 637 | Paju | Jan-Marten | EMF | EST | Husqvarna | |
| 669 | Ashkenazi | Shay | IMSF | ISR | KTM | |
| 717 | Uibu | Kaspar | EMF | EST | Yamaha | |
| 719 | Laicans | Raivo | LAMSF | LAT | Husqvarna | |
| 732 | Mardo | Tristen | EMF | EST | Husqvarna | |
| 737 | Galcins | Ricards Alens | LAMSF | LAT | GASGAS | |
| 740 | Leok | Travis | EMF | EST | Husqvarna | |
| 747 | van Wyk | Jordan | MSA | RSA | KTM | |
| 789 | Andrukh | Ostap | FMU | UKR | KTM | |
| 793 | Kuusk | Gregor | EMF | EST | Husqvarna | |
| 799 | Spila | Ralfs | LAMSF | LAT | KTM | |
| 811 | Tanneberger | Mark | DMSB | GER | Husqvarna | |
65cc ENTRY LIST:
| | | | | | | |
| --- | --- | --- | --- | --- | --- | --- |
| Nr | Last Name | First Name | Federation | Nationality | Bike | |
| | | | | | | |
| 5 | Frost | Evan | MSA | RSA | KTM | |
| 10 | Laaksonen | Eeka | SML | FIN | GASGAS | |
| 22 | Spires | Marty | ACU | GBR | KTM | |
| 24 | Ginov | Georgi | BMF | BUL | Husqvarna | |
| 41 | Korpela | Miko | SML | FIN | Yamaha | |
| 61 | Gyles | Brian | ACU | GBR | KTM | |
| 65 | Assini | Francesco | FMI | ITA | GASGAS | |
| 67 | Caudet Ruiz | Pau | RFME | ESP | KTM | |
| 94 | Kretzmann | Trenton | MSA | RSA | GASGAS | |
| 96 | Hytönen | Severi | SML | FIN | KTM | |
| 100 | Morgan | Tayce | AMA | USA | KTM | |
| 102 | Temmerman | Maddox | AMA | USA | Husqvarna | |
| 111 | Leok | Lucas | EMF | EST | Husqvarna | |
| 118 | Barrow | Riley Ray | ACU | GBR | KTM | |
| 200 | Morette | Louis | FFM | FRA | Husqvarna | |
| 202 | Martin | Cruz | MSA | RSA | Husqvarna | |
| 234 | Bogdanovs | Denijs | LAMSF | LAT | KTM | |
| 280 | Ledwaba | Kabelo Madimetja Jnr | MSA | RSA | GASGAS | |
| 295 | Thomas | Seth | MA | AUS | KTM | |
| 298 | Bauer | Ricardo | AMF | AUT | KTM | |
| 300 | Valsecchi | Trent | MSA | RSA | KTM | |
| 315 | Pons | Jaume | RFME | ESP | Yamaha | |
| 316 | Rodriguez Casillas | Celso | RFME | ESP | KTM | |
| 353 | Uccellini | Andrea | FMI | ITA | Husqvarna | |
| 385 | Salvador | Jorge | RFME | ESP | GASGAS | |
| 391 | Martín Jimenez | Carlos | RFME | ESP | KTM | |
| 397 | Novak | Alex | AMZS | SLO | KTM | |
| 402 | Karstrom | Casey | DMU | DEN | Yamaha | |
| 418 | Van Mechgelen | Torre | FMB | BEL | KTM | |
| 422 | Mezzavilla | Noam | FMB | BEL | KTM | |
| 464 | Thorius | Bertram Elias | DMU | DEN | Yamaha | |
| 480 | Spijkerman | Teunis | KNMV | NED | GASGAS | |
| 520 | Zimmerman | Maxim | SMF | SVK | Husqvarna | |
| 521 | Keskikallio | Mauno | SML | FIN | KTM | |
| 527 | Brant | Hugo | ACCR | CZE | KTM | |
| 577 | Leppälä | Viktor | SML | FIN | KTM | |
| 578 | Wilson | Leo | ACU | GBR | KTM | |
| 589 | Villanen | Elias | SML | FIN | KTM | |
| 602 | Allas | Aston | EMF | EST | KTM | |
| 610 | Birkitt | Ollie | MA | AUS | KTM | |
| 671 | Moore | Arthur | ACU | GBR | KTM | |
| 711 | Hudolejs | Jekabs | LAMSF | LAT | Yamaha | |
| 712 | Grasis | Rainers | LAMSF | LAT | KTM | |
| 715 | Mennillo | Rafael | FFM | FRA | KTM | |
| 720 | Puller | Leslie | EMF | EST | Husqvarna | |
| 742 | Lustus | Enri | EMF | EST | Husqvarna | |
| 757 | Dankerts | Toms | LAMSF | LAT | KTM | |
| 775 | Raud | Marten | EMF | EST | Husqvarna | |
| 783 | Vinters | Arturs | LAMSF | LAT | KTM | |
| 810 | Vidovic | Tai | AMZS | SLO | Husqvarna | |
| 911 | Marttila | Jimi | SML | FIN | Yamaha | |
| 929 | Ernecker | Moritz | AMF | AUT | GASGAS | |
Photo Infront Moto Racing
Find BikesportNZ.com on FACEBOOK here