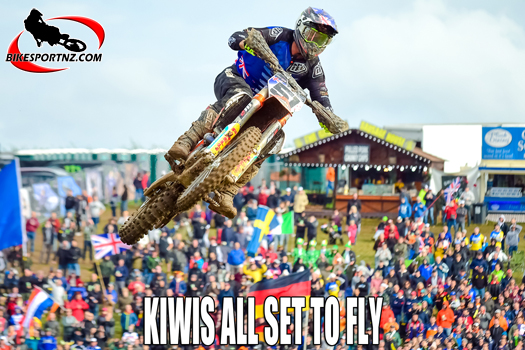 With a squad now named, Team New Zealand will begin in earnest their preparations to tackle the 2022 Motocross of Nations at Red Bud, in Michigan, in the United States this September.
The Kiwi contingent will be West Auckland's Hamish Harwood (MX1, pictured here competing at the MXoN in the UK in 2017); Tauranga's Brodie Connolly making his MXoN debut (MX2) and Tauranga's Josiah Natzke (Open Class).
The reserve rider will be Waipukurau's Rhys Carter.
Team co-managers Bevan Weal and Shayne King said they were spoiled for choice in naming the team this week.
They said: "With a record number of expressions of interest this year it was a difficult team to put together and, especially due to the COVID-19 vaccination rules entering the USA, but we both feel we have selected one of the strongest teams to represent our country."
Motorcycling New Zealand general manager Mike Kerrisk said: "We are delighted to be able to support these riders and the management through this campaign after such an absence through 'global challenges' over the past two seasons."
"The team shows a great blend of youth, experience and obvious ability, we wish them all the very best and know they will represent well."
The last time New Zealand was represented at this "Olympic Games of Motocross" was at Assen, in the Netherlands in 2019 and the Kiwi team that year (Wyatt Chase, Dylan Walsh, Maximus Purvis) finished 19th overall.
New Zealand has been on the MXoN podium on three memorable occasions over the years – at Foxhills, in England, in 1998 (with Darryll King, Shayne King and Josh Coppins waving the silver fern flag), at Namur, in Belgium, in 2001 (Daryl Hurley, Josh Coppins, Shayne King) and at Matterley Basin, in England, in 2006 (Josh Coppins, Cody Cooper, Ben Townley).
This year's edition of the MXoN is set for Michigan, in the United States, on the weekend of September 24-25.
More than $13,000 was raised by the Battle of the Teams fundraiser motocross in Taupo a week ago.
Meanwhile, the video below gives some idea of the sort of terrain the teams will be facing at the MXoN event.
© Words and photos by Andy McGechan, BikesportNZ.com
Find BikesportNZ.com on FACEBOOK here