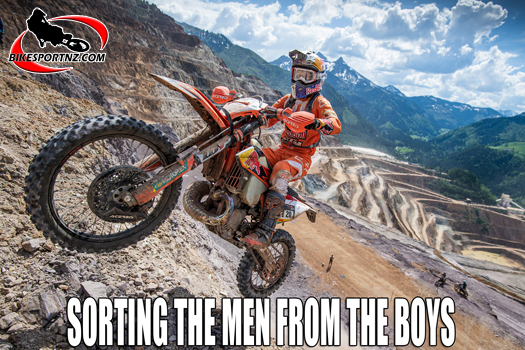 It's race week in Austria and the 2022 Red Bull Erzbergrodeo is finally all set to go this weekend on the "Iron Giant Mountain".
Manuel Lettenbichler was on another planet on his comeback ride in Serbia last time out, Billy Bolt is injured (again), Trystan Hart is over from Canada or can Graham Jarvis do it yet again?
It seems hard to believe that we were last at the Erzbergrodeo in 2019.
That lifetime ago saw Britain's Jarvis take his fifth win at Erzberg in what was then the WESS championship which has since been replaced by the FIM Hard Enduro World Championship.
In the intervening years the old Iron Giant Mountain in Eisenerz hasn't been resting, the quarry has been busy and changed shape in places meaning some of the familiar sections of the course will not be the same this week – notably the infamous Green Hill which riders will enter from flat ground, higher up and no longer from under a bridge, making it easier. That's "easier", not easy.
One of the most notorious sections, Carl's Dinner, the loooong stretch of brutally hard rocks which the riders pass through then U-turn back for another go, hasn't changed.
We've seen the race won and lost here in the past as energy management becomes crucial by that part of the race.
Riders who've conserved energy and a rear tyre, make easy pickings while others hit a wall.
Bolt, Jarvis, Lettenbichler, Hart, Teodor Kabakchiev, Mario Roman, Wade Young, Alfredo Gomez, Michael Walkner, possibly Taddy Blazusiak and even David Knight – pick a winner from that lot – face a number of changes to the course and rules including no more outside assistance, anywhere, and no refuelling.
Famous riders have come from all corners of the world to pit their skills against the Iron Giant.
Dakar Rally stars like Alfie Cox, two-time winner Cyril Despres, Matthias Walkner and Laia Sanz. Record-breaking stunt rider Chris Pfeiffer was a four-time winner and FMX stars Travis Pastrana, Ronnie Renner and Robbie Maddison have all flown in. MotoGP legend Dani Pedrosa has also joined the fun.
Photo courtesy Red Bull
Find BikesportNZ.com on FACEBOOK here
It all starts with the Iron Road Prologue where the 1500 riders get two attempts, one on Friday and one on Saturday (Saturday and Sunday NZ time). The last rider to win the prologue was a certain Josep Garcia (warning, this video is nuts):