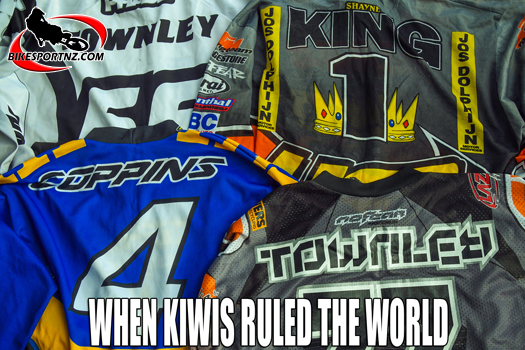 It has been 25 years since a New Zealander first reached the summit of the motocross world and now that probably seems like a lifetime ago.
In more recent times, in fact only a few weeks ago, we celebrated another Kiwi reaching the sport's pinnacle, Otago's Courtney Duncan making it three women's world motocross championship title wins in a row, but today we are focussing our lens on the "pioneer" Kiwi riders from a couple of decades earlier.
Here we offer a tribute to those men who were the first to fly the Silver Fern flag highest on the motocross world stage in the 1990s and early 2000s (this feature actually already published in full in the latest issue of popular on-line magazine Kiwi Rider).
Taranaki's Shayne King was the first Kiwi to win a motocross world championship crown, wrapping up the 500cc world title for the KTM factory at Gaildorf, in Germany, on September 8, 1996.
He was, interestingly, also the last man to win this title on a two-stroke bike, a 360cc KTM, and from the following season onwards it was dominated mostly by 450cc four-stroke machinery, with the 1995 champion and King's great rival in 1996, Belgian Joel Smets, riding a Husaberg to reclaim the 500cc title in 1997. The class was relabelled MX1 in 2004.
King is now aged 51 and so that world championship-winning event close to 25 years ago, actually just one day (yes, just 24 hours) before his 26th birthday, is most certainly half a lifetime ago for him.
King, along with his brothers Darryll and Damien, were really the pioneers, the pathfinders for Kiwi talent wanting to head to Europe, a place that was then, and still is, the cauldron of the sport's ultimate competition, the FIM senior motocross world championships.
Other New Zealand riders such as Ivan Miller, Craig Coleman, Bryan Patterson, Greg Brinck, Gary Goodfellow, Chris Maindonald, Hugh Anderson and (honorary Kiwis) Steve and Paul Harrison (ex UK) and Tim Gibbes (ex Australia) had tested the European scene before the King siblings and there were also those who followed, of course, riders such as Daryl Atkins, Cam Negus, Danny Marshall, Corrie Sargent, Josh Coppins, Ben Townley and Scott Columb and, in more recent times, James Scott, Josiah Natzke, Dylan Walsh and Courtney Duncan, for example, but not many of them were ever able to truly crack the big time and bring home the ultimate prize.
Bay of Plenty's Ben Townley was the only other Kiwi rider besides Shayne King to claim a key motocross world championship, winning the MX2 (250cc) world crown in 2004, while Motueka's Josh Coppins came extraordinarily close in 2007 to winning the MX1 title (what is now called MXGP), only to be frustratingly denied by freakish bad luck.
Shayne King first went to Europe in 1993, two years after his elder brother Darryll had already flown across to test the waters in 1991.
Darryll King has had a glorious 10-year run at the 500cc world titles – he finished 49th in 1991, 34th in '92, 6th in '93, 11th in '94, was 3rd in '95, 5th in '96, was twice runner-up, in '97 and '98, and finished a disappointed 15th, after crashing, in 1999.
He made a brave comeback from neck injury to finish 5th in 2000. His last four seasons in Europe were as a team rider for the Husqvarna factory.
He abandoned the GP scene in Europe at the end of 2000 and concentrated on the Australian domestic circuit in 2001 and he immediately struck gold by running away with both the Australian open class and Thumpernats titles (for four-stroke bikes).
It was a similar story for his younger brother Shayne King. He struggled to earn points on his debut year in Europe, in the 125cc world championships in 1993 ("I rang home at 4am to tell everyone that I'd scored a point, for 15th place, after one GP. I was on a high for a week") and he actually only raced six GPs.
In 1994 he finished 24th in the 500cc class (after injuring himself) and, the following year, he was 9th.
By the end of 1996, remarkably just three years after his first privateer foray into Europe, Shayne King was a full factory rider for KTM and had achieved his childhood dream of becoming 500cc world champion.
He was 3rd equal in 1997, 8th in 1998 and 5th in 1999.
Shayne King took a break from Europe in 2000 and instead raced motocross and supercross in the United States, with mixed results, but returned to Europe and the 500cc class in 2001 where, despite unexpected difficulties, he finished the year ranked No.7 in the world.
The trailblazing sibling rivals were among the first Kiwis to truly embark on professional motocross careers across the globe.
They can certainly be credited with paving the way for the handful who followed, individuals such as Atkins, Coppins, Townley, Negus, Columb, Daryl Hurley, Michael Cotter, Andrew Hardisty, to name a few, and their own younger brother Damien King.
Tomorrow we will continue with the story of Ben Townley.
© Words and photos by Andy McGechan, BikesportNZ
Find BikesportNZ.com on FACEBOOK here