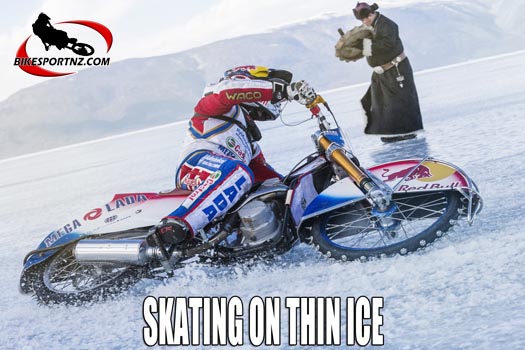 How about this for insane bike action on the ice? Daniil Ivanov cuts loose on his bike at Lake Baikal in Russia.
Two-time ice speedway world champion Ivanov dreamed for years of taking his bike for a ride over the frozen waters of Lake Baikal, the deepest and oldest lake in the world.
And now he's done exactly that while the cameras were rolling as he filmed Circle of Shaman. When faced with the danger of falling through the thin ice, Ivanov asked for the help of a local shaman to bless his risky endeavour.
"I always wanted to visit Lake Baikal," Ivanov said. "I was lucky not only to see the incredible lake, but to come here with my racing bike. I've always wanted to get out of the race track and try the big ice with no fences and protective bags."
The moto racer arrived at the lake at the most dangerous time when the ice begins to melt and big cracks appear on the surface of the ice making racing on it extremely dangerous.
Oh yeah, and there's some wake-board stuff on this video clip too.
Photos courtesy Will Gadd, Red Bull Content Pool
Find BikesportNZ.com on FACEBOOK here