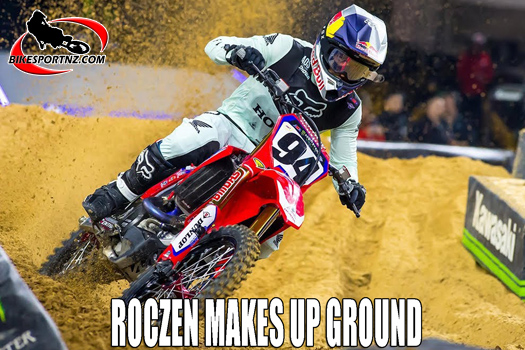 The fourth and final SuperTuesday race of the 2021 Monster Energy AMA Supercross was a wild one with Ken Roczen taking the premier 450SX class win last night.
The Honda star from Germany also scored a significant points gain in the title chase under the lights at the Atlanta Motor Speedway.
Earning second place and his second ever 450SX class podium was Roczen's team-mate Chase Sexton, with Jason Anderson earning a hard-fought third place in front of the limited-capacity, pod-seated fans across the speedway grandstands.
The Western Regional 250SX class main event was hard to believe, but when the chequered flag flew, Justin Cooper notched his third win of the year to stretch his points lead to nine.
When the racers emerged from the first corner in the 450SX class main event, points leader Cooper Webb darted into the lead at the holeshot stripe.
But Roczen, down 22 points and second in the title chase, got around Webb immediately and was never challenged for the lead as the Honda rider steadily stretched out a gap on the field. Webb was slightly off the pace and steadily fell back in the early laps, allowing his points lead to shrink with each pass in the 20-minute plus one lap race.
Anderson, who started outside the top five after a trip through the Last Chance Qualifier left him with a less than ideal gate pick, was aggressive and wasted little time moving through the pack.
With just over three minutes off the race clock, Anderson broke into the top five, cut under Webb and into fourth less than two minutes later, and at the race's midpoint got around Justin Barcia to reach his finishing position of third.
Barcia, who'd gotten around Webb in the early laps, found himself under attack by the KTM rider in the final minutes of the race. Gas Gas rider Barcia was aggressive holding his position and after a few close calls he and Webb made contact; Webb went down.
Fortunately it was a gentle crash and Webb remounted with the loss of only one position, to Eli Tomac. It was a dramatic race and a big points swing in Roczen's favour with three races remaining on the schedule.
Find BikesportNZ.com on FACEBOOK here
RESULTS & STANDINGS:
450SX Class Results:
Ken Roczen, Clermont, Fla., Honda
Chase Sexton, Clermont, Fla., Honda
Jason Anderson, Rio Rancho, N.Mex., Husqvarna
Justin Barcia, Greenville, Fla., GASGAS
Eli Tomac, Cortez, Colo., Kawasaki
Cooper Webb, Newport N.C., KTM
Marvin Musquin, Corona, Calif., KTM
Aaron Plessinger, Hamilton, Ohio, Yamaha
Dean Wilson, Murrieta, Calif., Husqvarna
Joey Savatgy, Clermont, Fla., KTM
450SX Class Championship Standings:
Cooper Webb, Newport N.C., KTM (313)
Ken Roczen, Clermont, Fla., Honda (300)
Eli Tomac, Cortez, Colo., Kawasaki (278)
Justin Barcia, Greenville, Fla., GASGAS (246)
Aaron Plessinger, Hamilton, Ohio, Yamaha (215)
Jason Anderson, Rio Rancho, N.Mex., Husqvarna (211)
Malcolm Stewart, Haines City, Fla., Yamaha (192)
Dylan Ferrandis, Lake Elsinore, Calif., Yamaha (183)
Marvin Musquin, Corona, Calif., KTM (168)
Joey Savatgy, Clermont, Fla., KTM (166)
Western Regional 250SX Class Results:
Justin Cooper, Menifee, Calif., Yamaha
Hunter Lawrence, Wesley Chapel, Fla., Honda
Cameron McAdoo, Sioux City, Iowa, Kawasaki
Nate Thrasher, Livingston, Tenn., Yamaha
Garrett Marchbanks, Coalville, Utah, Yamaha
Mitchell Harrison, Murrieta, Calif., Honda
Coty Schock, Dover, Del., Honda
Pierce Brown, Sandy, Utah, GASGAS
Seth Hammaker, Temecula, Calif., Kawasaki
Jalek Swoll, Belleview, Fla., Husqvarna
Western Regional 250SX Class Championship Standings:
Justin Cooper, Menifee, Calif., Yamaha (157)
Cameron McAdoo, Sioux City, Iowa, Kawasaki (148)
Hunter Lawrence, Wesley Chapel, Fla., Honda (141)
Seth Hammaker, Temecula, Calif., Kawasaki (121)
Jalek Swoll, Belleview, Fla., Husqvarna (121)
Garrett Marchbanks, Coalville, Utah, Yamaha (120)
Nate Thrasher, Livingston, Tenn., Yamaha (101)
Kyle Peters, Greensboro, N.C., Honda (93)
Chris Blose, Phoenix, Ariz., GASGAS (86)
Coty Schock, Dover, Del., Honda (86)