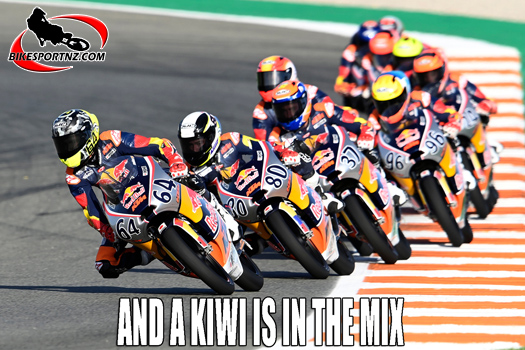 The provisional entry list for the 15th edition this season of the Red Bull Rookies Cup competition has been announced with a total of 26 riders from 16 nations set for battle, including Kiwi hero Cormac Buchanan.
Here's all you need to know:
The 2021 Red Bull Rookies Cup season kicks off at Autódromo Internacional do Algarve, in Portimão, Portugal, on April 17-18.
Even though last year's 14th edition was a shortened affair, it still saw excellent racing on equal KTM 250cc 4-stroke Moto3 bikes over 12 races in Spielberg, Aragon and Valencia double-headers with Acosta seeing off the likes of David Muñoz and Ivan Ortola for victory.
Bike riders such as Johann Zarco, Brad Binder and new 2020 MotoGP champion Joan Mir before him, Spaniard Pedro Acosta heads to the Moto3 World Championship in 2021 as does compatriot Izan Guevara who fought so valiantly to bank fourth place in the Valencia season finale.
Mir was a rookie in 2013 and 2014, the second year finishing second to Jorge Martín with both becoming Moto3 World Champions and Martín winning the Moto2 race ahead of the Portimão season finale.
This season racing as a rookie in the MotoGP class, former Red Bull Rookie rider Martín qualified fastest and led most of the way at round two of the 2021 series in Qatar, before eventually finishing the race third.
The Online Selection Process provided an impressive list of talent to consider and the Selection Committee reviewed all factors in coming up with a rider list with three riders promoted by Dorna from the British, Asia, Northern and European Talent Cups also included.
Invercargill 14-year-old Cormac Buchanan will make his Red Bull Rookies debut this year. He successfully defended his Supersport 150 title in this year's New Zealand Superbike Championships and, for the first time, he won the NZ Supersport 300 class crown as well. In all, Buchanan qualified fastest in both classes at every round and also won all but one race in the 2021 series, 16 wins from 17 starts.
List of invited riders for 2021
Harrison Voight (Australia)
Freddie Heinrich (Germany)
Jakob Rosenthaler (Austria)
Soma Görbe (Hungary)
Eddie O'Shea (Great Britain)
Cormac Buchanan (New Zealand)
Filippo Farioli (Italy)
Demis Mihaila (Italy)
Diogo Moreira (Brazil)
Riders invited to return from this year's Cup
Tatchakorn Buasri (Thailand)
Daniel Muñoz (Spain)
Sho Nishimura (Japan)
Scott Ogden (Great Britain)
Alex Millan (Spain)
Iván Ortolá (Spain)
Matteo Bertelle (Italy)
Mario Aji (Indonesia)
Bartholomé Perrin (France)
Gabin Planques (France)
Noah Dettwiler (Switzerland)
Luca Lunetta (Italy)
David Muñoz (Spain)
David Alonso (Colombia)
Marcos Uriarte (Spain)
Collin Veijer (Netherlands)
Daniel Holgado (Spain)
© Main photo by Gold and Goose
Buchanan photo by Andy McGechan, BikesportNZ
Find BikesportNZ.com on FACEBOOK here