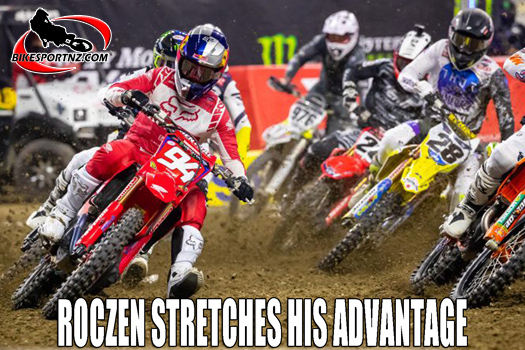 The fifth round of the AMA Supercross Championships thrilled the limited fans inside Lucas Oil Stadium in Indianapolis overnight.
And that's where Germany's Ken Roczen backed up his 450SX class win from the previous event at the same venue.
Opening round winner Justin Barcia held off defending champion Eli Tomac to fill out a podium of 2021 race winners.
Meanwhile, action in the Eastern Regional 250SX Class presented plenty of drama, but when the dust settled it was Colt Nichols grabbing his third straight win to extend his points lead.
After four rounds with four different winners, the first repeat victor emerged when Roczen, who easily won his heat race, jumped into the lead shortly past the holeshot stripe and gapped the field on the rutted, technical track.
Holeshot winner Barcia was comfortably in second until the race clock ticked down to the eight-minute mark in the 20-minute plus one lap race when Tomac reached his rear wheel. Barcia managed to fend off Tomac's repeated attacks without losing much time on the leader, who'd stretched the lead to nearly ten seconds.
Tomac spent a night fighting forward, seeming to get caught up in other riders' paces as he'd reach them. He still managed third place points for the night, keeping him squarely in the title hunt. The 2019 champion and round three winner, Cooper Webb rounded the first lap mid pack; he climbed up through the field a notch slower than Tomac, reaching fourth before the checkers flew on the second of three Indianapolis races.
"I don't know what to say," Roczen said from the podium. "I haven't gone back-to-back in a really long time. I had a blast out there, luckily I just rode my own race and that was really key with this kind of track. I had some really creative lines and just made it happen."
Second place sees Barcia has now moved up to fourth overall in the championship standings.
"The last round was really tough but tonight we put ourselves in a much better position," Barcia said. "I got a good start and Kenny rode an amazing race, I tried to give him a little battle in the beginning but that's all I had tonight. I'm glad to be back up here on the podium, we've been searching a little bit with set-up but we're getting there and feeling good, ready to get back to winning."
Former champion Jason Anderson was a non starter pulling out with a dislocated finger.
With the second-ever SuperTuesday race in the books, the riders will line up on a brand-new track inside Lucas Oil Stadium this Saturday, February 6 for the final event of the Indianapolis triple-header.
Find BikesportNZ.com on FACEBOOK here    
450 Main Event – Round 5:
Ken Roczen – Honda
Justin Barcia – GasGas
Eli Tomac – Kawasaki
Cooper Webb – KTM
Aaron Plessinger – Yamaha
Adam Cianciarulo – Kawasaki
Zach Osborne – Husqvarna
Joey Savatgy – KTM
Dylan Ferrandis – Yamaha
Malcolm Stewart – Yamaha
Marvin Musquin – KTM
Broc Tickle – Honda
Benny Bloss – Honda
Martin Davalos – KTM
Kyle Chisholm – Yamaha
Justin Bogle – KTM
Brandon Hartranft – Suzuki
Carlen Gardner – Honda
Vince Friese – Honda
Alex Ray – Kawasaki
Cade Clason – Kawasaki
Justin Brayton – Honda
450 Standings – After Round 5:
Ken Roczen 112 Points
Cooper Webb 99 Points
Eli Tomac 98 Points
Justin Barcia 92 Points
Adam Cianciarulo 87 Points
Dylan Ferrandis 81 Points
Malcolm Stewart 76 Points
Zach Osborne 74 Points
Marvin Musquin 73 Points
Aaron Plessinger 70 Points
Justin Brayton 63 Points
Joey Savatgy 53 Points
Jason Anderson 50 Points
Broc Tickle 42 Points
Dean Wilson 35 Points
Martin Davalos 29 Points
Kyle Chisholm 29 Points
Benny Bloss 26 Points
Vince Friese 25 Points
Brandon Hartranft 19 Points
250 Main Event – Round 5:
Colt Nichols – Yamaha
Christian Craig – Yamaha
Michael Mosiman – GasGas
Jo Shimoda – Kawasaki
Grant Harlan – Honda
Jeremy Hand – Honda
Joshua Varize – KTM
Josh Osby – Honda
Logan Karnow – Kawasaki
Kevin Moranz – KTM
Wilson Fleming – Honda
Lane Shaw – KTM
Devin Harriman – KTM
Lorenzo Camporese – Kawasaki
Curren Thurman – KTM
Hunter Schlosser – Yamaha
Luke Neese – Kawasaki
Vincent Luhovey – KTM
Thomas Do – KTM
Mitchell Oldenburg – Honda
Max Miller – KTM
John Short – Suzuki
250 Standings – After Round 5:
Colt Nichols 122 Points
Christian Craig 111 Points
Michael Mosiman 97 Points
Jo Shimoda 96 Points
Jett Lawrence 83 Points
Josh Osby 71 Points
Joshua Varize 57 Points
Mitchell Oldenburg 54 Points
John Short 54 Points
Grant Harlan 52 Points
Thomas Do 51 Points
Jeremy Hand 48 Points
Max Vohland 46 Points
Kevin Moranz 45 Points
Austin Forkner 40 Points
Logan Karnow 37 Points
RJ Hampshire 32 Points
Hunter Sayles 28 Points
Wilson Flemi Points