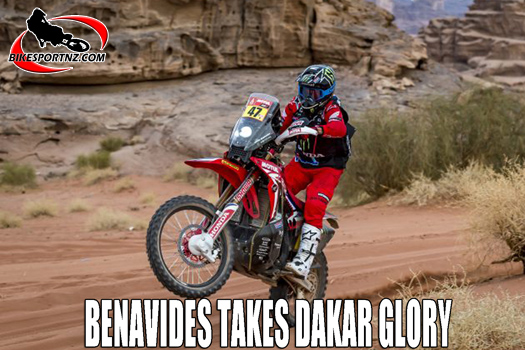 The Monster Energy Honda Team has done it again at the 2021 Dakar Rally, snatching the overall win with a one-two finish for the team who dominated throughout.
Argentinean rider Kevin Benavides (pictured here) saw a dream come true as he becomes a Dakar champion, while his American team-mate Ricky Brabec was runner-up overall and took the spoils on the final special stage.
Thirteen gruelling days came to a close in Jeddah on the shores of the Red Sea, with Benavides emerging the winner of the 2021 Dakar Rally and team-mate Brabec taking second place overall. Brabec won the final special of the rally in an intense 202-kilometre thriller.
Monster Energy Honda Team ruled the roost throughout the world's toughest race for a second consecutive year, as the squad proved to have greater riders and superior mechanical firepower, winning 10 stages and leading nine of the thirteen days of racing. Benavides made history to become the first South American rider ever to hold aloft the winner's heavy bronze Touareg.
The Argentinean, whose consistency turned out to be the decisive factor, claimed two stage wins in the rally. Honda's success was rounded out with runner-up spot going to Brabec. The winner of last year's edition finished with a final tally of four stage wins.
The last time Honda managed a one-two in the Dakar Rally was back in 1987 at the hands of Cyril Neveu and Edi Orioli. "The final stage of this Dakar 2021 was very difficult," said Benavides.
"I started third so I thought that it would be easier, but it was not like that. At kilometre 50 all the riders in front got lost, so I began to open the track. The stage has been very difficult to navigate so I stayed very focused on doing things well. I gave everything to achieve this win which is a dream come true for me. I am very happy and thrilled about it.
"I crossed the finish-line thinking about many things, with great emotions … Paulo Gonçalves also crossed with me … It was a great moment. I am really pleased and I'm living this moment.
"I want to thank the whole team, starting with my mechanics, for the great job they have all done this difficult year. Thanks also to Honda for giving us such a great bike which made it possible to achieve the dream."
Find BikesportNZ.com on FACEBOOK here
Results Stage 12
| | | | | | | |
| --- | --- | --- | --- | --- | --- | --- |
| Pos. | Rider | | Nation | Team | Bike | Time/Gap |
| 1 | Brabec Ricky | | USA | Monster Energy Honda Team | Honda | 02:17'02 |
| 2 | Benavides Kevin | | ARG | Monster Energy Honda Team | Honda | +00:02'17 |
| 3 | Walkner Matthias | | AUT | Red Bull KTM Rally Factory Team | KTM | +00:04'13 |
| 4 | Howes Skyler | | USA | BAS DAKAR KTM RACING TEAM | KTM | +00:05'49 |
| 5 | Sanders Daniel | | AUS | Red Bull KTM Rally Factory Team | KTM | +00:07'11 |
| 6 | Santolino Lorenzo | | SPA | Sherco TVS Rally Factory | Sherco | +00:10'31 |
| 7 | Pedrero Joan | | SPA | Rieju Dakar Team | Rieju | +00:10'40 |
| 8 | Rodrigues Joaquim | | POR | Hero Motorsports Team Rally | Hero | +00:12'18 |
| 9 | Betriu Jaume | | SPA | FN Speed Team | KTM | +00:12'35 |
| 10 | Bühler Sebastian | | POR | Hero Motorsports Team Rally | Hero | +00:13'06 |
Final Overall, Rally Dakar 2021
| | | | | | | |
| --- | --- | --- | --- | --- | --- | --- |
| Pos. | Rider | | Nation | Team | Bike | Time/Gap |
| 1 | Benavides Kevin | | ARG | Monster Energy Honda Team | Honda | 47:18'14 |
| 2 | Brabec Ricky | | USA | Monster Energy Honda Team | Honda | +00:04:56 |
| 3 | Sunderland Sam | | GBR | Red Bull KTM Rally Factory Team | KTM | +00:15'57 |
| 4 | Sanders Daniel | | AUS | Red Bull KTM Rally Factory Team | KTM | +00:38'52 |
| 5 | Howes Skyler | | USA | BAS DAKAR KTM RACING TEAM | KTM | +00:52'33 |
| 6 | Santolino Lorenzo | | SPA | Sherco TVS Rally Factory | Sherco | +00:58'30 |
| 7 | Quintanilla Pablo | | CHI | Rockstar Energy Husqvarna Factory Racing | Husqvarna | +01:26'39 |
| 8 | Svitko Stefan | | SLO | Slovnaft Team | KTM | +01:43'07 |
| 9 | Walkner Matthias | | AUT | Red Bull KTM Rally Factory Team | KTM | +02'32'12 |
| 10 | Michek Martin | | CZE | Orion Moto Racing Group | KTM | +02:42'37 |