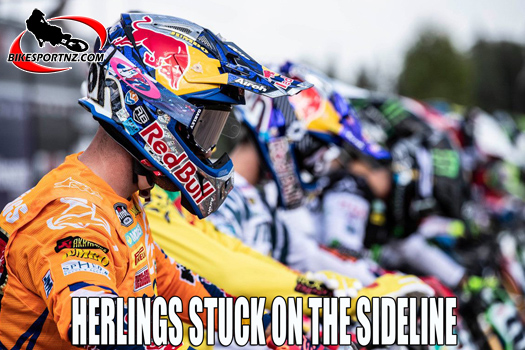 MXGP world championship leader Jeffrey Herlings will sit out this weekend at Faenza, in Italy, and the Grands Prix of Lombardia, Citta di Mantova and Europe from September 27-October 4.
He is to undergo another MRI scan in the wake of his crash during free practice for the Grand Prix of Citta di Faenza last Wednesday and he will miss the next four rounds of the series.
The Red Bull KTM Factory Racing team rider and winner of four rounds from seven so far in 2020 fell and suffered a large impact to his neck and shoulders at the Monte Coralli circuit on Wednesday morning. The soon-to-be 26-year-old was taken to a hospital in Bologna and then to Herentals in Belgium where he was examined by renowned and trusted surgeon Dr Claes.
While Herlings was fortunate to escape serious injury, the hard landing means he needs to rest and monitor the state of his upper torso in the next two weeks. He is due to have another MRI on September 29. The Mantova circuit will stage a triple header in one week at the end of this month.
Dirk Gruebel, Team Manager and Technical Co-Ordinator: "While it was a scary crash we have to be thankful that Jeffrey was not badly hurt. The first scans are positive when you consider the injuries he could have picked up. He is a really tough guy and has been through this process before.
"It is frustrating because of the good work he'd done in the championship standings but it is the negative part of the sport we have to accept. Hopefully the scan in a few weeks will show his recovery is going in the right direction. All the team will miss him until he's back on the bike and doing what he does best."
Find BikesportNZ.com on FACEBOOK here    
MXGP standings after 7 rounds:
Jeffrey Herlings (NED, KTM), 263 points; 2. Antonio Cairoli (ITA, KTM), 241 p.; 3. Tim Gajser (SLO, HON), 237 p.; 4. Jeremy Seewer (SUI, YAM), 217 p.; 5. Arminas Jasikonis (LTU, HUS), 210 p.; 6. Glenn Coldenhoff (NED, GAS), 204 p.; 7. Jorge Prado (ESP, KTM), 197 p.; 8. Gautier Paulin (FRA, YAM), 179 p.; 9. Romain Febvre (FRA, KAW), 172 p.; 10. Clement Desalle (BEL, KAW), 168 p.; 11. Mitchell Evans (AUS, HON), 122 p.; 12. Jeremy Van Horebeek (BEL, HON), 122 p.; 13. Jordi Tixier (FRA, KTM), 76 p.; 14. Michele Cervellin (ITA, YAM), 73 p.; 15. Arnaud Tonus (SUI, YAM), 71 p.; 16. Brian Bogers (NED, KTM), 65 p.; 17. Calvin Vlaanderen (NED, YAM), 64 p.; 18. Ivo Monticelli (ITA, GAS), 56 p.; 19. Henry Jacobi (GER, YAM), 55 p.; 20. Alessandro Lupino (ITA, YAM), 47 p.; 21. Benoit Paturel (FRA, HON), 45 p.; 22. Shaun Simpson (GBR, KTM), 31 p.; 23. Pauls Jonass (LAT, HUS), 26 p.; 24. Evgeny Bobryshev (RUS, HUS), 20 p.; 25. Pascal Rauchenecker (AUT, KTM), 16 p.; 26. Karlis Sabulis (LAT, KTM), 16 p.; 27. Petar Petrov (BUL, KTM), 15 p.; 28. Dylan Walsh (NZ, HON), 13 p.; 29. Tanel Leok (EST, HUS), 12 p.; 30. Harri Kullas (EST, HON), 11 p.; 31. Adam Sterry (GBR, KTM), 10 p.; 32. Lars van Berkel (NED, HUS), 9 p.; 33. Valentin Guillod (SUI, HON), 9 p.; 34. Thomas Covington (USA, YAM), 7 p.; 35. Brent Van doninck (BEL, HUS), 5 p.; 36. Nicholas Lapucci (ITA, KTM), 5 p.; 37. Samuele Bernardini (ITA, YAM), 2 p.; 38. Anton Gole (SWE, HON), 2 p.; 39. Tom Koch (GER, KTM), 1 p.