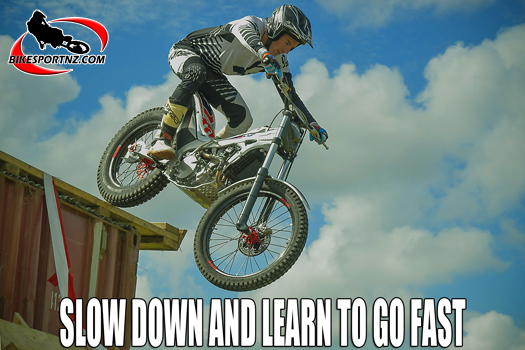 You need to slow down so that you can go fast. Sounds crazy, but that's actually pretty good advice when you think about it.
If you haven't had the chance yet, or perhaps didn't ever consider you'd be interested, you should get yourself along to a national-level trials event sometime soon.
What trials riders can't do with a motorcycle is not worth knowing. We've been amazed over the years by what we have seen when observing at trials events (not in any official capacity, you understand, they have actual 'observers' to count the scores).
And boy have we been impressed.
These guys can put a motorcycle where you could barely walk, or climb. We figure you'd need compass, ropes, a Tibetan guide and even have to set up a base camp before you'd reach the spots these guys can ride their weird-looking bikes.
Trials riding is not about speed but it is about balance, throttle control and it is about intestinal fortitude (that's good old-fashioned guts to you and me).
Even the also-rans in this sport are pretty incredible.
In torrential, driving rain recently, we could not believe where we saw these trials supermen put their bikes … up impossibly steep banks, leaping bikes from rock to rock … and these boulders were wet and covered in slippery slime and lichen. On hands and knees, we couldn't even climb over some of this stuff.
Anyway, it occurred to us that this sort of balance and control of a motorcycle is a set of skills that would be quite handy in every other code of motorcycle competition. And how right we were.
Most of us know that Tauranga's Stefan Merriman was once the world junior trials champion (in 1989) and, in the years that followed, he tried road-racing, supermotard, supercross, motocross, cross-country and enduro racing … all with outstanding success.
How many of you knew that this four-time former senior world enduro champion and outright International Six Days Enduro winner was once a New Zealand road-race champion? Yes, in 1995 he was New Zealand 600cc supersport road-race champion and runner-up in the F2 championship. He also won the Australian trials championships that season and won the Australian enduro championships the following year. Who knew that he'd raced motocross and supercross at the top level here with quite some success?
Kilogram for kilogram, we'd have to say that Stefan Merriman is probably New Zealand's most successful all-around motorcyclist.
We were also a round of the New Zealand Enduro Championships a few years ago and chatting with the then series leader Chris Birch.
It seems Birch often rode a trials bike, just to keep him sharp and to hone his balance and throttle control. This guy races incredibly fast, over some seriously snotty terrain and always looks in total control. We reckon there might be something about this trials riding link.
Of course, there are other top enduro and cross-country riders who have also been regular trials bike riders.
We merely have to think of Wainuiomata's Jake Whitaker (main photo, above) to realise this is true.
He's a record eight time New Zealand trials champion and also won the Australian Trials Championships three years consecutively, in 2010, 2011 and 2012.
In more recent times, he has been concentrating on enduro riding, rewarded by winning his class at the enduro nationals on more than one occasion, and he is the 2019 New Zealand Extreme Off-Road Champion.
Former Wellington man Rory Mead (national enduro champion in 2011), Hawke's Bay's Warren Laugesen (a seven-time national trials champion now racing enduros) and current United States-based Howick rider Liam Draper were also damn fine trials riders in their day.
Then there's a couple of our former motocross internationals – Josh Coppins and Ben Townley – who told me they used practice on trials machinery during the days between GP motocross races.
If these men, top of the motocross and cross-country podiums in different continents, were able to use trials riding to strengthen and develop their other dirt bike skills, then the secret is out … learn to ride slowly and you'll be able to go fast.
Typically, most of us have got this thing the wrong way around. By comparison to these chaps, we ride slowly at motocross and enduro events and go very fast indeed on a trials bike … mostly downhill, out of control and with absolutely no style. Still, if we stick with it, we might one day become a well-balanced individuals. Fat chance eh?
© Words and main photo by Andy McGechan, BikesportNZ
Find BikesportNZ.com on FACEBOOK here