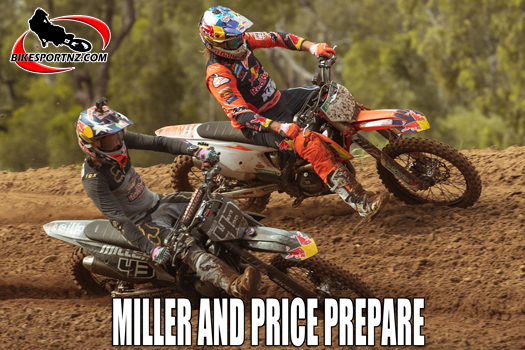 MotoGP star Jack Miller and two-time Dakar Rally winner Toby Price went head-to-head on a dirt track in their native Australia as they prepared for their respective motorbike seasons.
Here is all you need to know:
– The city of Rockhampton in the state of Queensland played host to the novel five-lap race for which there was no shortage of trash talking in the build-up.
– Over five laps of the track, it was a simple race to the chequered flag, the loser's punishment to have the winner's race number shaved into the side of their hair.
– Price joked "this is the biggest race of the year for us" and that "motocross madness day" would be "carnage".
– Meanwhile, Miller forewarned: "It's not going to be his day. He's bitten off more than he can chew. He thinks he's this big Dakar racer, but we're not in the Dakar here. He's looking forward to having a [number] 43."
– Townsville native Miller is more used to asphalt, the 25-year-old picking up five 2019 podiums on board a Ducati to finish eighth in the MotoGP championship.
– Price, 32, is more well versed to endurance racing, having finished in the top three of five of his last six Dakars, including victories in both 2016 and 2019.
– As for this five-lap race, the fellow Australians were neck and neck for much of it, Miller eventually getting the edge over the final jump to take the chequered flag, the bragging rights and the clippers for Price's hair.
– Price conceded he had lost to the better man. He said: "He's got some dirt skills – the boy can move. Jack, I'll be back for you next year. We're coming."
– As for the number 43 in his friend's hair, Miller revealed: "It's a nice addition to that crap haircut he's got going on."
Photo courtesy of Red Bull
Find BikesportNZ.com on FACEBOOK here