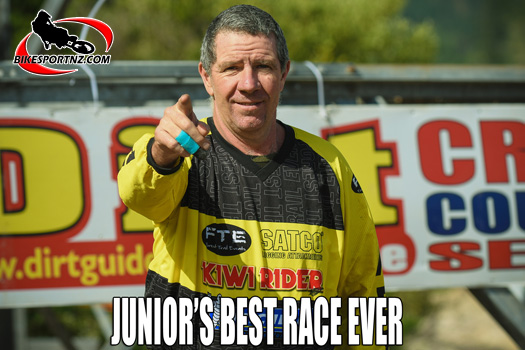 Today we bring you another edition of a special BikesportNZ.com feature that we like to call THE BEST RACE EVER.
This is where we ask a few of motorcycle sport's big guns just what was their most memorable race.
Today we're chatting with Tokoroa's Sean 'Junior' Clarke, a multi-talented dirt bike racer with international credentials and an envied reputation as a man who organises fantastic dirt bike events too.
Inducted into the Motorcycling New Zealand Hall of Fame in 2016, the now 52-year-old Clarke has been there and done that on the enduro and cross-country scene over many years and these days he can be found at the root or centre of virtually any Kiwi dirt bike event that's worth doing.
A talented dirt bike rider, he has also worked over the years at developing other skill sets and he was MNZ's enduro commissioner for a number of seasons and, with his wife Adele supporting by his side, they continue to operate the Forest And Trail Events organisation that each year runs popular North Island events such as the Dirt Guide Cross-country Series and the Husqvarna Hard Enduro.
Sean and Adele have two children, 24-year-old son Jesse and 20-year-old daughter Madison and these two siblings have also shown remarkable dirt bike riding abilities, often either competing at or helping mum and dad to organise major races.
Sean Clarke has won the national enduro champs outright on two occasions and says "I think I've won my class at the enduro nationals about 12 times" as well.
Clarke won the national hare-scramble (cross-country) championships in the open four-stroke class in 2001 and he was national thundercross (four-stroke motocross) champion in 1996.
He was a two-time ISDE gold medal winner – collecting those gold medals in Australia in 1992 (0-350cc four stroke class) and in Australia in 1998 (0-250 four stroke class) – and a two-time ISDE silver medal winner – awarded those in Slovakia in 2005 (E1 class) and Greece in 2008 (E2 class).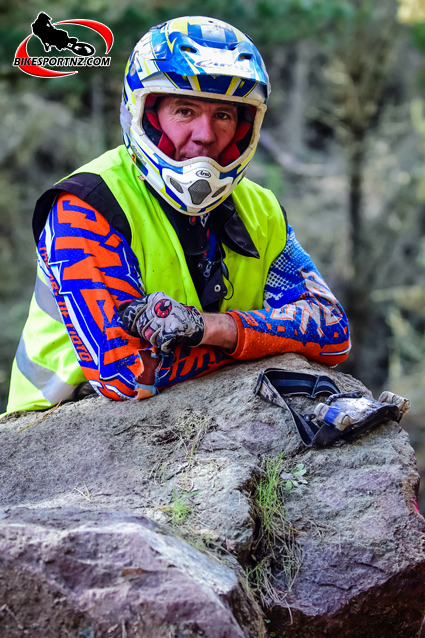 He was winner in 2000 (on a Suzuki DR-Z400) of one of New Zealand's most iconic dirt bike enduro races, the Tarawera 100, and finished overall runner-up at the Tarawera 100 on five separate occasions between 1986 and 1999, often locked in dogged battle with his most-admired and respected rival, Te Awamutu man Kevin Archer, another Kiwi legend (and, incidentally, the father of rising young international star Rachael Archer).
Sean Clarke was instrumental in the International Six Days Enduro event being held in New Zealand in 2006. He was the Event Director for that and was the FIM accredited Clerk of the Course for the event.
In addition to his ISDE experiences, Clarke has also competed at several other major events overseas – he raced the Romaniacs hard enduro in Romania seven times between 2011 and 2017, raced the Baja 1000 desert race in 2012 and 2017 and tackled the Australian Four-Day Enduro (A4DE) on 10 separate occasions.
But what was his greatest race ever?
"For me it was when I won the Tarawera 100 (cross-country marathon) in 2000. My first time racing there was in 1986 and I finished second overall (behind Hawke's Bay's Wayne McKinley). I was 18-years-old and, then 14-years later, I finally won it after getting second overall five times, a couple of thirds, a sixth, seventh, 10th and a couple of DNFs.
"Also the first 14 years I rode Honda and then swapped to Suzuki and won it.
"The race itself was pretty straight forward. Michael Gibbons led for the first two laps and Kevin Archer was hard on his tail, annoying the hell out of him.
"At the start of the third lap, I had a better pit stop than them and took the lead and never looked back, having my fastest lap on the last lap of four.
"After five runner-up results, I didn't think I would ever win it."
As for his nickname 'Junior', Clarke recalls acquiring that name during a cross-country nationals road trip to the South Island in 1984.
"I was aged only 16 at the time. We were travelling from Picton on a mail bus, bikes in the back and a handful of us riders in the front. One of the senior riders on our bus was Wayne McKinley and he just called me 'junior' because I was the youngest … it's just a name that stuck ever since."
© Words and photos by Andy McGechan, BikesportNZ.com
Find BikesportNZ.com on FACEBOOK here