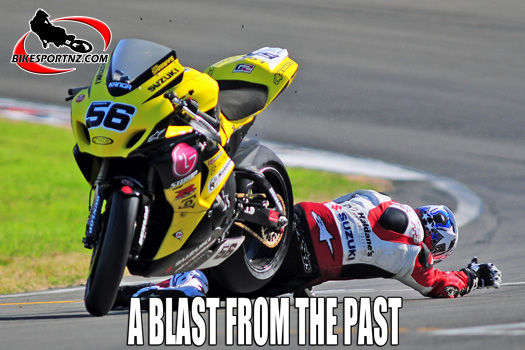 With everything in lockdown and motorcycles not heading to the race tracks any time soon, we thought it'd be a great time to dip into the BikesportNZ.com archives.
Yes, we thought we'd like to re-live some classic moments from New Zealand racing history.
Today, it's road-racing and one of our favourite stars from the past, Manawatu racer Craig Shirriffs, always good for a cover shot or maybe even a double-page spread in the newspapers and magazines.
Thanks Craig … perhaps you should have been a stuntman.
The slideshow below shows visiting Australian Robbie Bugden (Suzuki No.1) and Shirriffs (Suzuki No.56) going down in a tandem (synchronised?) crash at Hampton Downs in 2013.
© Words and photos by Andy McGechan, BikesportNZ
Find BikesportNZ.com on FACEBOOK here