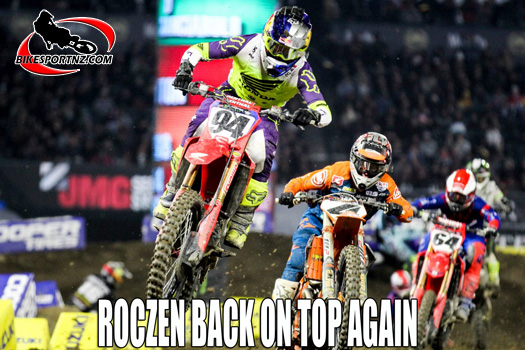 Germany's Ken Roczen has been through a lot over the past three years, but much of that became just a bad memory when he won the St Louis Supercross, in Missouri, at the weekend.
With near-career-ending arm injuries and then coping with the Epstein–Barr virus, it has been a long time between drinks for the Honda star, but the supercross win on Saturday night (Sunday night NZ time) certainly broke the drought.
He didn't have the best of starts to the 2020 season at round one in Anaheim a week ago, finishing sixth on the night after citing bike handling problems, but that was obviously rectified as he led soon after the start of the 450cc supercross main event in St Louis.
The HRC Honda rider got a good start at St Louis, made a quick pass on Zach Osborne and never looked back after that.
After waiting nearly three years since his last Supercross win, he was emotional after the victory but hopes this is the first of many race wins this year as he wants to challenge for the Supercross title.
"1092 days in the making, what a struggle it has been. That shows you the incredible things the mind and body can overcome." he said.
"I mean that for anybody. I have been in pain, I have struggled with depression and it always seems like the negative outweighs the positive. I have learned that that is only if you let it! Last night was one of the sweetest moments of my career.
"The emotions and joy from everybody is special to me! We will enjoy this today but after the race is before the race and i hope to get a bunch more of these", Roczen said.
"Last weekend, I was not comfortable at all," said Roczen when comparing Saturday's race to last round. "So I was just sticking behind everybody. I was a lot more comfortable throughout the heat race and main event. I knew if I had a clear track, I can't get stuck behind him (Osborne, who grabbed the holeshot). I stuck up front and rode my own race."
Justin Barcia cruised to a second place finish after his season opening win, with little pressure from behind as the race developed, and left the night with the points lead.
"I didn't have what it took to get the win tonight," Barcia said reflecting on the main event race. "I settled in there (in second place), but I had Jason (Anderson) behind me so I had to keep a solid pace. It wasn't an easy pace by any means. I had a little bit of juice at the beginning; I felt like I was riding really well. But then the tank kinda ran empty.
"It was an exciting ride. Tonight, for me, a second was a big win because how I think a year or two ago, I wouldn't be in this situation (leading the points)."
Photo by Rachel Schuoler
Find BikesportNZ.com on FACEBOOK here