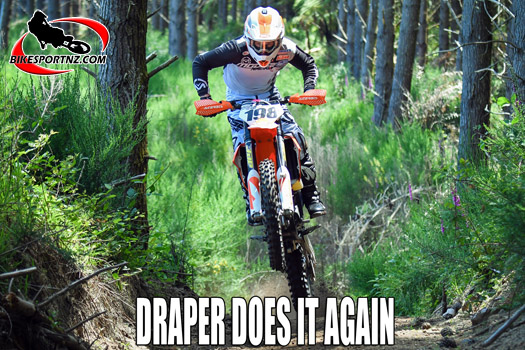 Auckland's Liam Draper doesn't like to muck around and these days he also likes to do things at full throttle.
The 23-year-old from Howick started his motorcycling career on a trials bike, mastering the techniques of fine throttle control, riding over steep rocks and balancing the bike at slow speeds, until he switched over to high-speed cross-country racing just a few years ago.
He immediately made an impact in his new sporting passion and the KTM rider now ranks among the best cross-country racers in the world.
Draper is briefly back in New Zealand following a thrilling season of cross-country racing in the United States, home to spend a little time with family and friends over Christmas before he jets back to his Pennsylvania base to begin preparations for his 2020 Grand National Cross-country Championships (GNCC) campaign there.
He wound up his 2019 season in the US with a GNCC ranking of fifth in the XC2 (250cc) class, four places better than the ranking he achieved on debut there last year. He also won the AMA National Enduro Championships in the Pro2 class, a separate US series over 10 rounds.
But he knows the 2020 season in America will be upon him before he knows it and so has been wasting no time during his "off-season holiday" in New Zealand.
Typically racing a 250cc bike, Draper marked his debut ride on a 450cc model KTM at the third and final round of the Dirt Guide Cross-country Series near Tokoroa just over a week ago, winning that two-hour race comfortably ahead of a veritable "Who's Who" of New Zealand cross-country talent.
Then on Sunday he backed that up by winning the big annual Dead Toad cross-country race in the Riverhead Forest, west of Auckland, although the victory on this occasion was slightly less comfortable for him.
Draper took his 2020-model KTM 450SFX into the lead immediately after the start and quickly built a buffer at the front, with fellow KTM rider Tom Buxton, from Helensville, chasing hard.
He led for two-thirds of the race, but, with just two of the six laps to go, disaster struck for Draper.
"I hit something, a log or something, and the axle came loose. I had to pull into the pits to get it fixed and lost a lot of time.
"Tommy got past me and was about 45 seconds in front of me when I finally rejoined the race. But I quickly caught back up to him as we started the last lap.
"I eventually took the win by about 40 seconds from Tommy.
"The incident with the axle certainly made things interesting for me. It meant I really had to push hard. I had been riding at about 80 percent, but had to lift that to 100 percent when I got left behind.
"I loved racing the KTM 450SXF again. It was also the fourth time that I have won the Dead Toad race. I won it in 2015, 2016 and 2017, but missed out last year because I was overseas, and Tommy won it instead in 2018."
Sunday's race was his last outing in New Zealand before he heads back to the US.
He explained that the GNCC series starts in the US in February and it was important that he trains with the KTM team there and gets himself back to "GNCC speed".
"The level of intensity is a lot higher in the US than here in New Zealand," he explained, "and I need to be riding at that level every day now."
Sunday's Dead Toad event doubled up also as the fifth and final round of Paul Whibley's separate NZ GNCC series.
Whanganui's Seth Reardon finished third on Sunday, about 12 minutes behind Buxton, and this was enough for him to win the NZ GNCC series outright for 2019.
In terms of the NZ GNCC competition, Reardon won ahead of Cambridge's Ashton Grey, Rotorua's Ethan Harris and Tokoroa's Jake Wightman.
Despite contesting just two of five rounds in the NZ GNCC, Draper locked down fifth overall for the series, just ahead of Eketahuna's Charlie Richardson.
Buxton, who also contested just two rounds of the NZ GNCC series, grabbed seventh overall thanks to his finishing third at round four (The Dirt Guide event at Tokoroa) and runner-up result on Sunday.
Taupo's Wil Yeoman finished ahead of Tauranga's Jack McLean and Tauranga's Max Blake-Palmer in the NZ GNCC junior grade, while Ongarue brothers Zach and Alex Davey finished 1-2 respectively in the NZ GNCC mini grade.
Whangaparoa's Nathan Refoy won Sunday's mini grade race (his only appearance in the series this year) and with that he bagged equal third overall for the series, level with Masterton's Max Williams and Palmerston North's Ayden Taylor.
Draper is supported by Kendatire, KTM USA, Ridemps, Seat Concepts, IMS Products, Twin Air, Spectro Oils, Cometic Gasket, G2 Ergonomics, VP Racing fuels, ODI Grips, Senge Graphics, XC Ggear17, Tely Energy Racing, Evans Powersport, Official Moose Racing, Motionpro, Bell Powersports, Oakley, Eline Accessories, Mojo Motosport, TM Designworks, Forma Boots USA, Live It Extreme, JPD Suspension, Wickflow, Kiwi Rider magazine, BikesportNZ.com, Pod Active and Axle Surgeons.
© Words and photo by Andy McGechan, BikesportNZ.com
Find BikesportNZ.com on FACEBOOK here