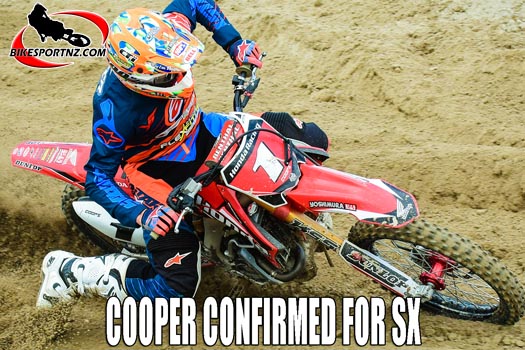 Mount Maunganui's Cody Cooper has confirmed he will battle it out against the world's best at this year's Monster Energy S-X Open Auckland at Mt Smart Stadium on November 16.
In a first for the multi-time New Zealand supercross champion, Cooper will race the premier class at the S-X Open Auckland, taking on the likes of two-time AMA and defending S-X Open FIM Oceania Supercross Champion Chad Reed, 2018 AMA supercross champion Jason Anderson, 2019 AMA numbers 8 and 10,  Joey Savatgy and Justin Brayton, plus many more.
"Going last year, I got to see firsthand how good of an event it is for Supercross and Motocross in New Zealand, so when I was asked this year I just had to be a part of it!" said Cooper.
"To be racing Supercross in front of 20,000 plus Kiwis yelling and screaming inside a Stadium like Mt Smart, it's going to be nuts, and to be given the opportunity to ride an event like this against the world's best, you just have to take it while you still can."
The seven-time New Zealand Motocross Champion is no stranger to World Class competition, having competed in the AMA Pro Motocross Championship in the US where he finished an impressive 5th overall in 2008, against some of the greatest riders of all time, including James Stewart and beating fellow countrymen Ben Townley that year.
"It would be awesome to get a result in New Zealand, I always seem to ride better when I'm at home, I have better peace of mind, I dig deep, but I know it's not going to be easy with the level of competition that is competing this year," commented Cooper.
"There are a lot of good riders coming, with a lot more experience, but I like being the dark horse so I'll watch what they are doing, learn from them early, and then hopefully get in a good flow and be able to make something of it at the end."
The seven-time New Zealand MX1 motocross champion has been hard in training with fellow Kiwi legend Townley as Cooper converts his style from Motocross into the more intense, high-risk category that is Supercross Racing.
"In Supercross, starts are key which lucky for me I'm really good at so I'll just have to make sure once I'm out front, I ride my own race and try to forget the kind of International talent that will be chasing me down."
Tickets to the 2019 Monster Energy S-X Open Auckland on November 16 at Mt Smart Stadium are now via Ticketmaster HERE
ABOUT THE S-X OPEN AUCKLAND
The record-breaking success of the 2018 event was unprecedented, with a crowd of more than 22,500 fans attending Auckland's Mt Smart Stadium, making it the biggest international supercross event to ever take place on Kiwi soil.
Featuring the very best international athletes, as well as New Zealand and Australia's best, for the second year running in New Zealand and Australia, the S-X Open FIM Oceania Supercross Championship is the most unique international Supercross Championship outside of the USA, and will be sanctioned by the Fédération Internationale de Motocyclisme with FIM Oceania status and sanctioning.
S-X Open Auckland will also form the fourth round of the Australian Supercross Championship, the first time an event in New Zealand will be a part of the Australian series, and will feature the Triple-Crown Final race format, with non-stop, high-intensity action that will have fans on the edge of their seats for the entire duration of the event.
The 2019 Monster Energy S-X Open Auckland is proudly supported by Auckland Tourism Events & Economic Development (ATEED) and Monster Energy.
© Photo by Andy McGechan, BikesportNZ
Find BikesportNZ.com on FACEBOOK here