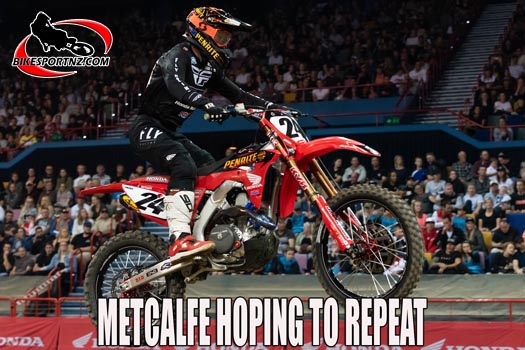 A victory at last year's Adelaide supercross round essentially kick-started local hero Brett Metcalfe's 2018 SX1 Championship campaign.
And with the Australian Supercross Championship heading back to Gillman Speedway in Adelaide for round two of the 2019 series this weekend, the Penrite Honda Factory rider will be looking to claim the trophy once again.
The veteran from Mannum in South Australia has been a dominant force in the national and world off-road motorbike scene which has seen him finish with a raft of top-5 championship results in world supercross and motocross championships over the years.
After a solid 2-5 scorecard at the opening round of the Australian Supercross Championship in Brisbane last weekend, Metcalfe states that he's hungrier than ever for a championship this year, along with backing up his 2018 result in Gillman.
"I'm generally just more motivated than I've been in a long time – really for the Championship and obviously winning my home round.
"Any time you head to your hometown event, the goal is heightened to win. I'll have all my family there, so I'm looking to put my Honda on the top step this Saturday," said Metcalfe.
The likeable South Australian is one of the few active riders in the world to have grown up competing in the tail end of the '90s, which illustrates just how long he's been racing within the sport.
A successful stint on the United States supercross scene from 2002-2015 saw him compete for some of the world's best teams, along with landing strong results against the world's best riders of the last two decades.
Since returning to Australia, Metcalfe has been a force both indoors and out, claiming a close second-place finish in last year's SX1 series behind his Honda factory team-mate, Justin Brayton. After taking out the top honours in Brisbane, Metcalfe identifies Brayton as one of, if not his strongest competitors.
"There's no doubt that the class is stacked this year. Brayton is as solid and fast as he's ever been really, Reardon's back on factory equipment and Luke Clout is entering his prime – there's really no room for mistakes if you want to win the Championship. If you make a mistake, someone else will capitalise," said Metcalfe.
Round two of the Australian Supercross Championship is proudly supported by Fly Racing Presented by Kawasaki, Dunlop, MotorEx, 100%, M2R, Yamaha, FMF, Suzuki, RecoveR8, Honda, Load Ex.
This weekend's Adelaide event is followed by Wollongong on the 9th of November. The series will then cross the pond to New Zealand on the 16th, before concluding in Melbourne at Marvel Stadium on November 30.
This year will see 2018 AMA Supercross Champion Jason Anderson gear up for the S-X Open Auckland on November 16 as he looks to take down two-time World Champion and defending S-X Open Auckland Champion Chad Reed – with both World Supercross Champions locked in to race at Mount Smart Stadium.
For tickets click HERE
Photo by Aaryn Minerds
Find BikesportNZ.com on FACEBOOK here
CHAMPIONSHIP STANDINGS:
SX1 Championship Points After Round 1:
Justin BRAYTON – 25 Pts
Daniel REARDON – 22 Pts
Luke CLOUT – 20 Pts
Brett METCALFE – 18 Pts
Dylan LONG – 16 Pts
Todd WATERS – 15 Pts
Lawson BOPPING – 14 Pts
Richie EVANS – 13 Pts
Jayden RYKERS – 12 Pts
Gradie FEATHERSTONE – 11 Pts
Joel WHIGHTMAN – 10 Pts
Caleb WARD – 9 Pts
Dylan WOOD – 8 Pts
Jesse DOBSON – 7 Pts
Lochie LATIMER – 6 Pts
Cody DYCE – 5 Pts
Blake COBBIN – 4 Pts
SX2 Championship Points After Round 1:
Jacob HAYES – 25 Pts
Aaron TANTI – 22 Pts
Chris BLOSE – 20 Pts
Joshua OSBY – 18 Pts
Jay WILSON – 16 Pts
Bradley TAFT – 15 Pts
Wilson TODD – 14 Pts
Mitchell OLDENBURG – 13 Pts
Dylan WILLS – 12 Pts
Kyle WEBSTER – 11 Pts
Jayce COSFORD – 10 Pts
Morgan FOGARTY – 9 Pts
Ricky LATIMER – 8 Pts
Kaleb BARHAM – 7 Pts
Hugh McKAY – 6 Pts
Jack KUKAS – 5 Pts
85cc Championship Points After Round 1:
Cody KILPATRICK – 25 Pts
Liam OWENS – 22 Pts
Ryder KINGSFORD – 20 Pts
Jyle CAMPBELL – 18 Pts
Ben CAIAFA – 16 Pts
Tyler WIREMU – 15 Pts
Connor TOWILL – 14 Pts
Jonty HATTON – 13 Pts
Blake GALLOWAY – 12 Pts
Will SHEPPARD – 11
2019 Australian Supercross Championship calendar (SX1 and SX2)
Round 1 (October 12) – Honda Round 1, Brisbane Entertainment Centre
Round 2 (October 19) – Fly Racing Round 2, Gillman Speedway, Port Adelaide
Round 3 (November 9) – Yamaha Round 3, WIN Stadium Wollongong
Round 4 (November 16) – Round 4, Monster Energy S-X Open Auckland
Round 5 (November 30) – Round 5, Monster Energy AUS-X Open Melbourne.