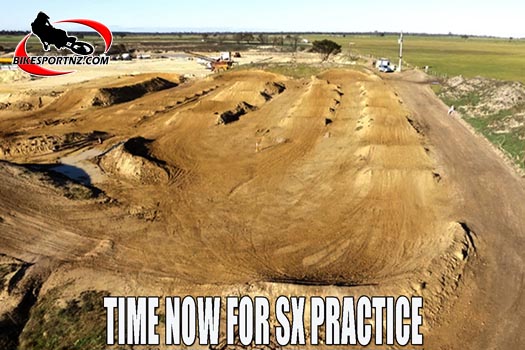 The Australasian supercross season is nearly upon us and so now's the time to make sure you're fully prepared.
The five-round 2019 Australian Supercross Championships kick off in Brisbane on October 12 and, of particular interest to New Zealand riders, round four of the series is set for Mt Smart Stadium, in Auckland, on November 16.
International amateur and professional supercross riders will have the chance to take on the first of several planned Supercross coaching and training days starting next week in both Victoria and Queensland.
Next weekend, September 7 and 8, Krusics Ride Park in Victoria will open the gates to their private Supercross tracks allowing riders of all skill levels the opportunity to attempt Supercross for the first time, or hone their skills in preparation for the upcoming Australian Supercross Championship season.
Krusics has two tracks on offer, one for intermediate riders with tamed down jumps and tabletops and another full-blown pro-level track, Both professionally prepared for the weekend. Saturday will be dedicated to training on the intermediate track with Sunday's riding focussed on the pro track.
Ex-professional Supercross athlete Cameron Taylor (Y-AIM) will be offering tutelage to all skill levels over the weekend and on both tracks, to ensure there's the opportunity to learn regardless of current skill level.
Taylor says the opportunity for riders to access an intermediate track, learn Supercross skills and build confidence before progressing to the full-scale track all in one weekend, is the perfect way to make the transition from Motocross to Supercross.
"This is the first time in Australian Supercross history that I'm aware of, that riders have been given the opportunity to learn Supercross in a safe and controlled environment, by starting on a scaled-down track, positioned right next to a full-scale professional one. This will really give us the chance to ensure riders are feeling comfortable before transitioning to Supercross," said Taylor.
"There's no better feeling than racing on a Supercross track in front of thousands of people. I really look forward to sharing my experiences with riders, to help them build their confidence and hopefully lead them to a career in Supercross racing in the future, or simply help them prepare for this year's Australian Supercross Championship," Taylor added.
Practice Day costs are $100 p/day and riders are required to have an AMA licence. Click here to join secure.motocross.asn.au/join-motocross.
For coaching enquiries and bookings, contact Cam Taylor on 0417 332 457 or email info@camerontaylormx.com.
For riders in the South East Queensland region, Nathan Crawford (00 Standards Elite Rider Training) is holding a coaching and endorsement clinic also on Saturday, September 7, on a private Supercross track near Toowoomba. For more details call or message Nathan on 0401 812 125.
Practice day costs are $220 p/day and riders will need SX suspension and previous riding experience.
Increasing access to practice tracks and professional Supercross coaching has been a major focus for the revamped Australian Supercross Championship and series organisers say this is a crucial step towards the overall goal of increased participation and the development of young riders in the future.
"Access to safe practice facilities and professional coaching has been the number one limiting factor for Australian Supercross riders and their development, for as long as I can remember," stated Adam Bailey.
"In the past, riders that do not have their own private track and property or access to one, have often either tried to compete underprepared or just decided not to take the risk to do Supercross competition.
"We're committed to making that transition to competing in the Australian Supercross Championship, more accessible and safer, for all Aussie riders now and into the future," concluded Bailey.
Both coaches will be able available for Motorcycling Australia Supercross Endorsements over the weekend.
More information on other locations including more tracks in Queensland, Victoria and New South Wales will be announced in the near future.
00 Standards Elite Rider Training Facility open for coaching and endorsement September 7.
Queensland
Where: Toowoomba (Kaleb Barham personal track) *Further details via upon request.
When: 7th September 9am – 4pm
Cost: $220 p/day
Book now: 0401 812 125
*Riders will need SX suspension and previous riding experience.
Victoria
Where: 26 Signboard Lane, DUTSON, Vic, 3851 (Krusics Ride Park)
When: Saturday 7th September 10am – 4pm and Sunday 8th September 10am-4pm
Cost: $100 p/day
Book now: 0477 303 606
https://m.facebook.com/krusicsridepark/
*All other Ride Park Rules & Regulations apply.
For all latest Australian Supercross Championship news and updates, please go to:
Website: www.australiansupercross.com.au
Facebook: https://www.facebook.com/aussupercross
Find BikesportNZ.com on FACEBOOK here
2019 Australian Supercross Championship calendar (SX1 and SX2)
Round 1 (October 12) – Honda Round 1, Brisbane Entertainment Centre
Round 2 (October 19) – Fly Racing Round 2 Gillman Speedway, Port Adelaide
Round 3 (November 9) – Yamaha Round 3 , WIN Stadium Wollongong
Round 4 (November 16) – Round 4 Monster Energy S-X Open Auckland
Round 5 (November 30) – Round 5 Monster Energy AUS-X Open Melbourne