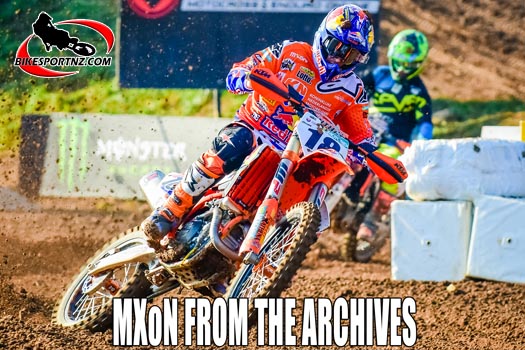 The close fight between Team USA's Jason Anderson and Dutchman Jeffery Herlings was one of the highlights of the 2016 Motocross of Nations in Italy.
And these two will likely go head-to-head again when the 2019 MXoN is staged at Assen, in The Netherlands, on the weekend of September 28-29.
Watch this video clip as Husqvarna rider Anderson and KTM rider Herlings (pictured here) go at it in the Open Class/MX2 race in Italy… but be sure to watch the clip until the end.
Anderson eventually finished the race six seconds ahead of Herlings after the Dutchman crashed.
But, instead of sailing over the blind jump finish line – as he had for every one of his previous laps – Anderson inexplicably slowed to instead roll slowly over the line. Japan's MX2 rider, Chihiro Notsuka, jumped high – just as he and every other rider had done all weekend – and he landed on Anderson's upper body in a bone-jarring collision.
Some would argue that Notsuka should not have jumped, although it has always been advised that riders should race to the very end and also not switch lines or significantly change their actions when being lapped.
It could also be argued that Anderson should have jumped, then landed and ridden off the track safely, to enjoy the deserved acclaim of his fans and team supporters.
Once committed to the jump, Notsuka had nowhere to go.
Fortunately the injury to Anderson was not as serious as it might have been, although it did mean he was unfit to line up for the third and deciding race of the weekend, greatly handicapping his team.
Team France won the 2016 MXoN overall and Team USA ended up third, behind Herlings' team, The Netherlands.
© Words and photos by Andy McGechan, www.BikesportNZ.com
Find BikesportNZ.com on FACEBOOK here