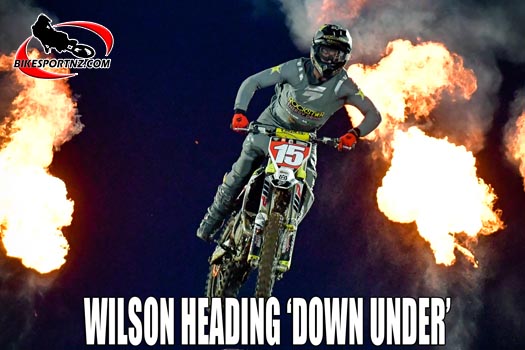 The promoters of the AUS-X Open have confirmed that Dean Wilson will be back for his third consecutive year to compete at this year's Monster Energy AUS-X Open at Marvel Stadium on November 30.
The Scotsman raced at Auckland's Mt Smart Stadium in the inaugural S-X Open Auckland event last November and he will return "Down Under" to race in Melbourne this year.
At this stage, he is not tipped to appear at the 2019 S-X Open Auckland, which is two weeks before the Melbourne event, on November 16.
The 27-year-old Wilson raced to a career-best sixth overall during this year's Monster Energy FIM World Supercross Championships – the AMA supercross nationals in the United States – as well as a third-place finish at the Houston round, but after an injury forced him out of the last two rounds, Wilson says he'll be back for redemption in November and hopes to finish the year off with a bang.
"I'm super excited to be returning to the AUS-X Open again this year, my 2019 season was up and down, but I'll be pushing hard for it in Melbourne, I'll be definitely out there to get my redemption and come out on top," said Wilson.
Wilson, who won the Saturday Main-Event SX1 Final at the 2017 AUS-X Open and came in second at last year's SX1 Final, says he's hungrier than ever to win the AUS-X Open crown and beat the world's best inside Marvel Stadium.
"Obviously I've had some amazing results the past two years at AUS-X winning the Saturday night in 2017, and coming in second last year, I feel like I have what it takes third time around Down Under."
Wilson will head to Melbourne for the first time ever, and go up against what is shaping up to be the best International Supercross line-up Australia has ever seen, consisting of two-time AMA supercross champion Chad Reed and 2018 AMA supercross champion Jason Anderson competing against, AMA No.10 Justin Brayton, AMA No.8 Joey Savatgy and many more local and international stars.
"Australia is such a sick place to visit and this time to be in Melbourne for the first time, I think it will make for the best year of AUS-X yet, the line-up is stacked and I can't wait to take on the world's best," Wilson said.
Not only has Wilson been able to create one of the most engaged fan bases in the sport on social media, but he backs it up with incredibly raw speed which saw him take out second overall in last year's FIM Oceania Championship, making him an absolute all-around superstar.
"We're rapt to have Deano back to compete in this year's Monster Energy AUS-X Open. He's arguably one of the best personalities in the world of motorcycling, with an amazing sense of humour and to cap it off, is an incredibly talented Supercross rider, It's no wonder he is such a fan favourite," commented Event Promoter Adam Bailey.
"Having open lines of communication with our fans is something we really pride ourselves on and want to continue. The past week, it has been fantastic to involve them in the decision to in bringing DeanO back to Australia and it was incredible to see how much passion they had to see him race inside Marvel Stadium on November 30. It's going to be epic!"
Don't miss the world's best in freestyle motocross competition, live music, stunning pyrotechnics, amazing entertainment and fun for all ages in the Monster Energy pit party, where all ticket holders will be able to get up close and personal with their favourite riders and access the international rider autograph signings, one day/night only, November 30.
© Photo by Andy McGechan, BikesportNZ
Find BikesportNZ.com on FACEBOOK here