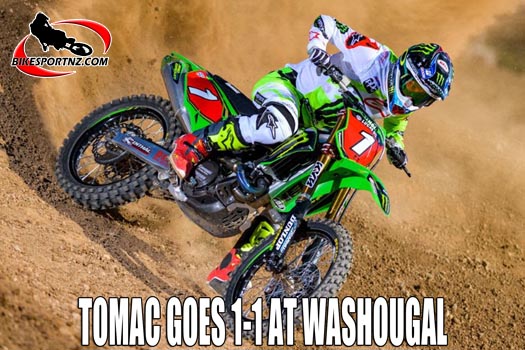 The United States Motocross Championships hit the Pacific Northwest on Saturday, with the ninth round of the 2019 season from the popular Washougal MX Park.
The 39th running of the Washougal National featured near-perfect conditions and a massive crowd packed in and around the tree-lined circuit.
It proved to be a dominant afternoon for reigning 450 class champion Eli Tomac, who enjoyed arguably his best performance of the season aboard his Monster Energy Kawasaki, sweeping the motos en route to his fourth win of the summer. In the 250cc class, Monster Energy/Star/Yamaha Racing's Dylan Ferrandis withstood heavy pressure all afternoon to earn his second victory of the season after a sweep of the motos.
The first 450 class moto got underway with Monster Energy Kawasaki 450cc rookie Joey Savatgy capturing his first holeshot over Cooper Webb and Team Honda HRC's Ken Roczen. While Savatgy was able to clear the field and grab hold of the lead, Roczen was on the move and stormed up into second. The German then closed in on Savatgy for the lead, and while the rookie was able to hold him off to lead his first lap in the 450 class, Roczen pounced to seize control of the moto.
Roczen quickly sprinted out to a multi-second lead over the field, while Savatgy settled into second. Behind them a battle started to form for third, as Webb was under heavy pressure from Marvin Musquin, Jason Anderson and Tomac.
Musquin made multiple attempts to get around his team-mate, but Webb withstood every attack. This allowed Tomac, who passed Anderson for fifth, to close in and make it a three-rider battle. As Webb continued to hold them off, Anderson joined the fray as well. The increased pace of this group eventually allowed them to take big chunks out of their deficit to Savatgy, in second.
Musquin's inability to get by Webb proved costly, as Tomac made the pass for fourth. Shortly thereafter, Anderson dropped the Frenchman to sixth. Tomac was determined to keep his forward charge going, and was soon all over Webb for third. A bobble briefly halted the KTM rider's momentum, which made it easy for Tomac to move into a podium spot. Anderson attempted to follow by Webb as well, but was unsuccessful. With his exceptional pace, it was only a matter of time before Tomac closed in on his team-mate for second, and he easily took control of the runner-up spot. At this point, he sat about eight seconds behind Roczen.
Savatgy continued to lose positions and eventually dropped off the podium, and then out of the top five. Webb moved up into third, Anderson into fourth, and Musquin eventually into fifth. As Webb and Anderson engaged in a captivating battle for the final spot on the podium, Tomac was making his march toward Roczen.
The Kawasaki rider effectively closed to within striking distance of the lead, and with three laps to go he started to look for a way around. Lapped riders brought them even closer together, but as he tried to make a pass, Tomac tipped over.
That gave Roczen some breathing room, but a relentless Tomac closed back in as they approached the white flag. Tomac showed extra aggression as they traversed through the trees on the far section of the track and got alongside Roczen. They made contact, which sent Roczen off the track.
Tomac successfully battled his way from eighth out of the first turn to first, and carried on to the win by 8.4 seconds over Roczen, who recovered to finish in the runner-up spot. Webb and Anderson both endured through late crashes to finish in third and fourth, while Musquin ended up fifth.
As the 450 class field exited the first turn to start race two, it was once again Savatgy, who just narrowly edged out Musquin to sweep the holeshots for the afternoon. Musquin applied the pressure immediately and was able to get around Savatgy for the lead. Behind them, Zach Osborne and Dean Wilson got great starts as well, but they were soon challenged by Roczen, who was making several passes after starting outside the top five. Tomac was mired about mid pack in 15th.
Musquin completed the opening lap with the lead, with Savatgy, Osborne and Roczen in tow. The early pace from Roczen allowed him to pass both Osborne and Savatgy in one section and move into second. He didn't let up and looked for a way around Musquin.
The sport's two international stars went at it, but Musquin was able to withstand the early pressure and open up a lead of more than a second. Behind them, Tomac started to make his move through the field. He needed just a couple laps to break into the top 10, and he soon found himself knocking on the door of the top five behind Osborne.
As the moto neared its halfway point, Anderson made a controversial pass on Savatgy to move up to third, while Tomac made his way around Osborne for fifth shortly after that. Tomac then squared in on his teammate, and Savatgy didn't put up too big of a fight as his teammate made the move for fourth. Free of their slower competition, Anderson and Tomac picked up their pace to try and catch the leaders. An aggressive Tomac didn't waste any time in trying to get by Anderson, and he took control of third coming down one of the track's big downhills.
With about 14 minutes left in the moto, Tomac sat four seconds behind Musquin and Roczen. With 10 minutes to go, Tomac caught Roczen, which initiated a battle for second.
The increased pace of this battle carried both riders to Musquin and soon the top three were all within two seconds of one another. Tomac found an opening as they reached the top of one of the track's uphill sections and took it, which moved him into second. He distanced himself from Roczen almost immediately and put the pressure on Musquin.
The Frenchman was able to counter Tomac's advances and run more defensive lines, which helped him hold Tomac at bay. However, Tomac's patience was tested during this exchange and he didn't relent in the next pass attempt. He forced his way to Musquin's inside and took control of the moto with about three minutes to go. Musquin did well to keep Tomac within reach, but the Kawasaki started to inch away as the race wore on.
Tomac left his rivals behind in the final laps to complete the moto sweep by 11.9 seconds over Musquin. Roczen finished third.
Tomac's class-leading fourth win of the season, and his second 1-1 sweep of the season, gives him sole possession of fifth on the all-time 450 class wins list, with 21 victories, breaking a tie with James Stewart.
"On the bike it was like perfection, other than the starts," said Tomac. "The second moto was pretty much mistake free. Everything was in the right place, at the right time. It's pretty cool when that happens. That was just a good day on a dirt bike."
Roczen's consistent day helped him grab a runner-up finish (2-3), for his first overall podium result since round four at High Point. Musquin rebounded from his slow start to finish third (5-2).
Tomac added even more points to his cushion in the 450 class standings, where he now sits 50 points ahead of Musquin. Roczen continues to hold onto third, 57 points behind Tomac.
The 2019 Lucas Oil Pro Motocross Championship will take its final break in action this summer before returning for its three-round stretch run on Saturday, August 10, at upstate New York's iconic Unadilla MX.
© Photo by Simon Cudby
Find BikesportNZ.com on FACEBOOK here
RESULTS & STANDINGS:
450 Class Overall Results (Moto Finish)
1 Eli Tomac, Cortez, Colo., Kawasaki (1-1)
2 Ken Roczen, Germany, Honda (2-3)
3 Marvin Musquin, France, KTM (5-2)
4 Cooper Webb, Newport, N.C., KTM (3-5)
5 Jason Anderson, Edgewood, N.M., Husqvarna (4-7)
6 Zach Osborne, Abingdon, Va., Husqvarna (9-4)
7 Joey Savatgy, Thomasville, Ga., Kawasaki (6-6)
8 Fredrik Noren, Sweden, Suzuki (8-8)
9 Dean Wilson, Scotland, Husqvarna (7-10)
10 Justin Barcia, Monroe, N.Y., Yamaha (10-9)
450 Class Championship Standings
1 Eli Tomac, Cortez, Colo., Kawasaki – 392 points
2 Marvin Musquin, France, KTM – 342 points
3 Ken Roczen, Germany, Honda – 335 points
4 Cooper Webb, Newport, N.C., KTM – 324 points
5 Jason Anderson, Edgewood, N.M., Husqvarna – 304 points
6 Zach Osborne, Abingdon, Va., Husqvarna – 295 points
7 Justin Barcia, Monroe, N.Y., Yamaha – 221 points
8 Justin Bogle, Cushing, Okla., KTM – 185 points
9 Fredrik Noren, Sweden, Suzuki – 182 points
10 Blake Baggett, Grand Terrace, Calif., KTM – 175 points
250 Class Overall Results (Moto Finish)
1 Dylan Ferrandis, France, Yamaha (1-1)
2 Adam Cianciarulo, Port Orange, Fla., Kawasaki (3-2)
3 Justin Cooper, Cold Spring Harbor, N.Y., Yamaha (2-4)
4 Michael Mosiman, Sebastopol, Calif., Husqvarna (7-3)
5 Chase Sexton, La Moille, Ill., Honda (4-6)
6 RJ Hampshire, Hudson, Fla., Honda (8-5)
7 Cameron McAdoo, Sioux City, Iowa, KTM (6-8)
8 Colt Nichols, Muskogee, Okla., Yamaha (5-9)
9 Alex Martin, Millville, Minn., Suzuki (13-7)
10 Brandon Hartranft, Brick, N.J., Yamaha (9-12)
250 Class Championship Standings
1 Adam Cianciarulo, Port Orange, Fla., Kawasaki – 394 points
2 Dylan Ferrandis, France, Yamaha – 366 points
3 Justin Cooper, Cold Spring Harbor, N.Y., Yamaha – 346 points
4 Colt Nichols, Muskogee, Okla., Yamaha – 261 points
5 RJ Hampshire, Hudson, Fla., Honda – 254 points
6 Hunter Lawrence, Australia, Honda – 233 points
7 Alex Martin, Millville, Minn., Suzuki – 229 points
8 Michael Mosiman, Sebastopol, Calif., Husqvarna – 220 points
9 Chase Sexton, La Moille, Ill., Honda – 214 points
10 Shane McElrath, Canton, N.C., KTM – 181 points