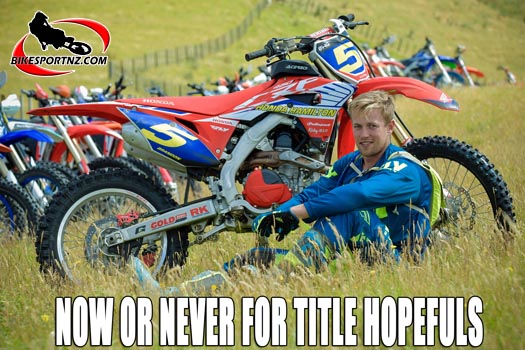 It is make or break time for national title hopefuls this weekend, with time running out for the national cross-country racers.
It is the third round of four in the 2019 New Zealand Cross Country Championships and so far it has been the same individual standing on the top step of the senior podium at the end of the day's racing, Raglan dirt bike ace Jason Dickey the top dog at both rounds one and two of the series, at Norsewood and Mosgiel respectively.
Racing this Sunday is set for Kemp's property, 3938 State Highway 1, Welds Pass, in Marlborough – about 10 minutes' drive south of Blenheim – and it is sure to be another stern test for both rider and machine.
However, with only three of the rounds to be counted, as riders discard their one worst result, it means that someone has to step up and start taking wins off Dickey before it's too late.
Second best on the points table thus far is Whanganui's Seth Reardon, while Glen Murray's Sam Brown, Raglan's Brandon Given (pictured above) and Eketahuna's Charlie Richardson have also threatened Dickey at the earlier rounds.
Spectators will no doubt also be entertained by the junior riders, who have their 90-minute race in the morning, expected to be another exciting curtain-raiser to the afternoon's gruelling three-hour senior battle.
Best of the juniors so far this season have been Eltham's defending national junior champion Adam Loveridge, Raglan's Coby Rooks, Taupo's Wil Yeoman, Morrinsville's Liam Calley and Te Awamutu's Ryan White.
Motorcycling New Zealand cross country commissioner Chris Smyth said the host Marlborough Motorcycle Club had prepared a great track for the weekend.
"A large part of the track has been mown, which means there should not be any problems with clumps of tussock catching riders out.
"They have told me that is has been raining there this week, so dust should not be a problem either, certainly less of an issue than it might otherwise have been.
"The course is quite open and free-flowing, but still in places. There are a few creek crossings too, which will keep the riders on their toes."
The 2019 New Zealand Cross-country Championships will wrap up near Taupo on Saturday, May 25.
The series is supported by The Dirt Guide, Oakley goggles, Bel Ray oils and Michelin tyres.
NZ Cross Country Championships calendar 2019:
Round One: Sunday, February 10 – Central Hawke's Bay MCC
Round Two: Sunday, March 24 – Mosgiel District MCC
Round Three: Sunday, April 14 – Marlborough MCC
Round Four: Saturday May 25 – Taupo MCC
© Words and photo by Andy McGechan, BikesportNZ
Find BikesportNZ.com on FACEBOOK here