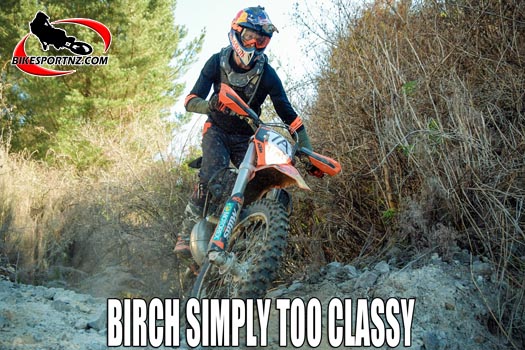 He does not often race at home these days, but, when he does, Thames man Chris Birch simply oozes international class.
The 38-year-old multiple New Zealand Enduro Champion now spends much of his time overseas, conducting his popular training courses or hosting adventure rides over remote terrain in such diverse places as Morocco, South Africa, Canada, Japan and Australia, but when he has a spare weekend at home, he likes to indulge in tackling local events.
It was the third round of seven in this year's Yamaha New Zealand Enduro Championships near Tokoroa on Saturday and another rare opportunity for him to tackle the great Kiwi outdoors.
Birch took his KTM 300EXC to dominate the gruelling event, on forestry land about halfway between Tokoroa and Taupo, finishing the day 44 seconds ahead of fellow KTM rider Tom Buxton.
Helensville's Buxton (KTM 350EXC-F) won round one of the Yamaha and Mitas Tyres-backed series near Whangamata in March, with Cambridge rider Dylan Yearbury (Husqvarna FE250) clinching the win at round two near Porirua two weeks ago.
But there was no heading Birch at Tokoroa on Saturday as he won four of the day's five tightly-timed "terrain tests" and was runner-up to Buxton in the other, the pair completing a KTM 1-2 for the event.
Another infrequent enduro competitor, Tauranga's Ben Townley (Yamaha WR450F), finished 27 seconds behind Buxton to claim the third podium spot.
Yearbury and then Tokoroa's Jake Wightman (KTM 250XCF) rounded out the top five riders on the premier AA course on Saturday.
"It's been great fun to ride here today," said father-of-one Birch.
"It's quite good that there had been a date change with the fixtures allowed me to come and I only realised that last week, so it was a last-minute decision really to come and ride here.
"I've raced here many times in the past and I always try to come to the Tokoroa enduro events because they are just so good. Sean Clarke and his crew do a wonderful job of running this event.
"I had no dramas at all. I had good pace today, but nothing too crazy. These days I always have something or other coming up so I don't want to injure myself. I wasn't sticking my neck out too far today."
He had never planned on doing the whole series this year, so his chances of winning the title outright are virtually impossible, although, after three rounds – and he finished fourth at round one and was overseas for round two – Birch is now ranked fifth overall.
"I got to race at Whangamata and that was good, but I was in Morocco when the Porirua event was on and I'm overseas for the rest of them too, so I won't be a national title contender this year."
So, in terms of the AA championship, Buxton leads by just four points from Yearbury, with Whanganui's Seth Reardon (Yamaha YZ250FX) – who finished sixth on Saturday – third overall for the series after three rounds, 18 points behind Yearbury.
Meanwhile, in the A course action, it was again a see-saw battle between two KTM riders, Tokoroa's Nick Wightman and Thames' Natasha Cairns.
Cairns (KTM 150XCW) won the first two of five A course 'terrain tests' on Saturday, but Wightman (KTM 150XCW) was fastest in the next three and won the day overall by one minute and 25 seconds from Cairns, the pair making it another KTM 1-2.
With three wins from three starts now, Wightman leads the trophy chase for the A course riders, with Cairns and Masterton's Philip Bly (KTM 300XC) second and third overall respectively.
Bly finished the day fourth overall at Whangamata and at Porirua too, but finished the day seventh on the A course at Tokoroa.
Round four of the series is set for Martinborough on June 9.
2019 Yamaha NZ Enduro Champs calendar:
Round 1 – Saturday, March 16 – Thames
Round 2 – Saturday, April 6 – Kapiti
Round 3 – Saturday, April 20 – South Waikato
Round 4 – Sunday, June 9 – Martinborough
Round 5 – Saturday, June 29 – Bideford, Masterton
Round 6 – Friday, July 19 – Hokitika, Westland
Round 7 – Saturday, July 20 – Hokitika, Westland
© Words and photos by Andy McGechan, BikesportNZ.com
Find BikesportNZ.com on FACEBOOK here
Full story and more photos in your next issue of KIWI RIDER magazine.
Check back here on www.BikesportNZ.com during this week as we bring you more words and pictures from the weekend.