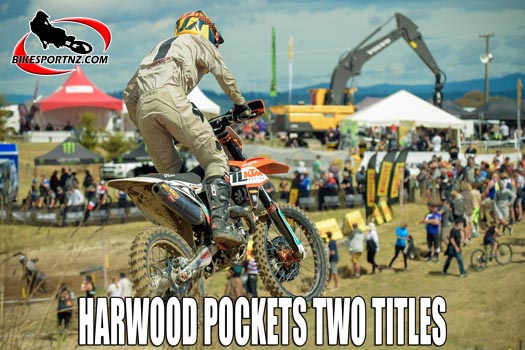 A successful national title defence and an extra title to go with it … it was an immensely satisfying 2019 New Zealand Motocross Championships campaign for West Aucklander Hamish Harwood.
The CML Makita KTM Racing Team rider was virtually unstoppable this season, certainly in the 125cc class, where he won all 12 races over the four-round series, and he can count 2019 as his most successful year to date.
Not only did the 23-year-old builder from Royal Heights win the national 125cc crown – and he did that with two races to spare – but he also extended his MX2 (250cc) class winning streak to four consecutive seasons after he successfully defended that title too, also winning that category with a race up his sleeve.
Taupo hosted the fourth and final round of the Fox-sponsored series on Sunday and Harwood arrived at the sandy circuit in an enviable position – he led the 125cc class by a whopping 57 points from fellow KTM rider Ben Broad, from Ngatea, and was a solid 35 points ahead of Mangakino's Maximus Purvis (Altherm JCR Yamaha) in the MX2 class.
The only thing that could derail Harwood in his two title ambitions would be mechanical failure or perhaps a bolt of lightning.
The faith that Harwood put in his two CML Makita KTM Racing Team bikes was well founded and the two machines never missed a beat all weekend, Harwood celebrating another hat-trick of wins in the 125cc class on Sunday and wrapping up the MX2 class title with a 3-2-1 score-card at the Taupo track.
What was perhaps even more remarkable is that Harwood was one of only two riders contesting more than one bike class this season and, in a brutally-demanding sport where even one class is more than enough for most riders to cope with, Harwood revealed that he was well short of full fitness.
"Both my shoulders require surgery to repair previous injuries," Harwood confirmed. "I'm booked in for the first of those operations next week.
"I have torn ligaments in both shoulder sockets and it made things quite difficult for me to race," he said. "I had to ride with my elbows tucked in. It doesn't seem to affect my speed but it does affect my style," he laughed.
"This is the first time I've won two titles in one season, four in a row for MX2 and now a 125cc title too. I didn't make it easy for myself in the MX2 class. I had a couple of bad starts, but I only finished outside of the top three on one occasion. I had good points lead at the start of racing at Taupo, so I wasn't too concerned about winning every MX2 race today."
Meanwhile, Australian visitor Morgan Fogarty (KTM) finished the day fifth overall in the MX2 class at Taupo, but this was enough for him to rise from second to first in the series' battle-within-a-battle for under-19 age group honours, winning that trophy ahead of Purvis and Hamilton's Reef Wheki (KTM).

Australian Kirk Gibbs (Altherm JCR Yamaha) won the MX1 class on a KTM last year, but he was unable to defend that title, with Mount Maunganui's Cody Cooper (Alpinestars Motul Honda) instead clinching the MX1 title for 2019.
Harwood has announced plans now to challenge Cooper and race the MX1 (open) class next season, on either a 350cc or 450cc KTM.
"That's the plan anyway. I'll do testing and ride both bikes when I've recovered from my surgery and make a decision later in the year," said Harwood.
© Words and photos by Andy McGechan, BikesportNZ
Find BikesportNZ.com on FACEBOOK here
NZ Motocross Champs leading final standings:
MX1 class: 1. Cody Cooper (Mt Maunganui) 285 points; 2, Kirk Gibbs (Australia) 279; 3. Kayne Lamont (Hamilton) 233; 4. Cohen Chase (Taupo) 186; 5. Blake Gillard (Beachlands) 166; 6. Brad Groombridge (Taupo) 151; 7. Hadleigh Knight (Reporoa) 141; 8. Roydon White (Tauranga) 139; 9. Sam Guise (Taupo) 130; 10. Jacob Steel (Te Awamutu) 129.
MX2 class: 1. Hamish Harwood (Royal Heights) 265 points; 2. Wyatt Chase (Taupo) 214; 3. Maximus Purvis (Mangakino) 203; 4. Morgan Fogarty (Australia) 177; 5. Brad Groombridge (Taupo) 157; 6. Wilson Todd (Australia) 153; 7. Ethan Martens (Auckland) 150; 8. Kyle Webster (Australia) 132; 9. Kyle Hartley (Winton) 127; 10. Sam Cuthbertson (Dunedin) 122.
125cc class: 1. Hamish Harwood (Royal Heights) 300 points (maximum); 2. Ben Broad (Ngatea) 234; 3. Joshua Bourke Palmer (Rotorua) 221; 4. Tommy Watts (Wairoa) 215; 5. Jack Dunlop (Pukekawa) 172; 6. Scott Barr-Smith (Tauranga) 143; 7. Charlie Richardson (Eketahuna) 116; 8. Ethan Waters (Nelson) 113; 9. Cam Dillon (Kinloch) 111; 10. Joseph Andrell (Auckland) 103.
Under-19: 1. Morgan Fogarty (Australia) 260 points; 2. Maximus Purvis (Mangakino) 258; 3. Reef Wheki (Hamilton) 222.
Full story and more photos in your next issue of KIWI RIDER magazine.
Check back here on www.BikesportNZ.com during this week as we bring you more words and photos from the weekend.