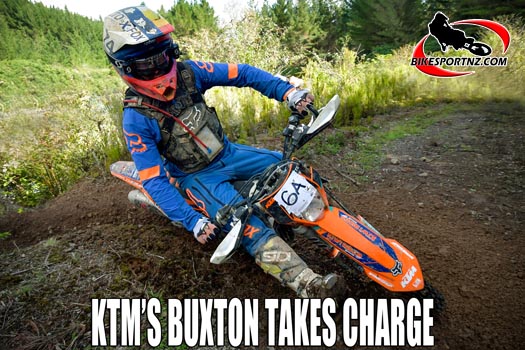 Helensville's Tom Buxton is back to his same old tricks, winning national enduro championship races, and it's a shame he can't be a contender for the New Zealand title again this season.
The 2019 New Zealand Enduro Championships kicked off in the Thames-Coromandel District at the weekend with Buxton (KTM 350 EXC-F) quick to take charge on the AA course, just as he did at the same venue for the corresponding series opener last season.
However, he is once again unable to contest the full series in New Zealand this year as international racing assignments call him away.
The 20-year-old bull farmer will be packing his bags for Austria and Romania later this year and that will force him to withdraw from the seven-round domestic competition.
KTM's Buxton finished an impressive 28 seconds ahead of Cambridge's Dylan Yearbury (Husqvarna) on Saturday, with Thames rider Jason Davis (Husqvarna) coming out of retirement to finish the day third overall, just another five seconds further back.
Another KTM rider, also a former New Zealand enduro champion, Glen Eden's Chris Birch, finished the day fourth overall on Saturday, but this Kiwi international will also not be staying at home to contest the full national series this season.
Leading riders on the A course on Saturday were Tokoroa's Jake Wightman, Thames rider Natasha Cairns, Te Hauautu's Elliot 'Superman' Kent, Masterton's Philip Bly and Putaruru's Phil Skinner.
It's interesting to note that Buxton's dad, John Buxton (KTM 300EXC), finished sixth overall in the A course on Saturday, the sport obviously a real family affair for them.
"The track was very dry and dusty and that caused a few problems," said Buxton afterwards.
"I tried to put a gap between me and the other riders as quickly as I could to break free from the dust. In the end, it wasn't too bad and I managed okay.
"The bike was perfect all day. It's a 350cc four-stroke KTM and I use it for both cross-country and enduro racing. It's great for both, so much fun to ride.
"I head off to the Erzberg enduro in Austria at the end of May and then I go to the Red Bull Romaniacs enduro in Romania at the beginning of August. That's what I did last year too, so it means I'll only be able to contest the first three rounds of the New Zealand Enduro Champs."
Buxton won the opening three rounds of the national last season, before leaving for Europe, and it could well be a similar scenario this year too.
The New Zealand Enduro Championships continue with round two on the Kapiti Coast on April 6.
2019 Yamaha NZ Enduro Champs calendar:
Round 1 – Saturday, March 16 – Thames
Round 2 – Saturday, April 6 – Kapiti
Round 3 – Saturday, April 20 – South Waikato
Round 4 – Sunday, June 9 – Martinborough
Round 5 – Saturday, June 29 – Bideford, Masterton
Round 6 – Friday, July 19 – Hokitika, Westland
Round 7 – Saturday, July 20 – Hokitika, Westland
© Words and photo by Andy McGechan, BikesportNZ.com
Find BikesportNZ.com on FACEBOOK here