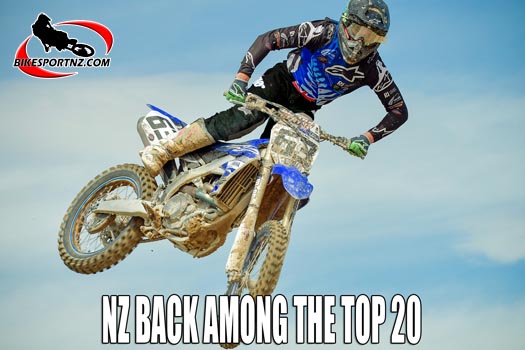 New Zealand is back among the top 20 nations in the motocross world after a brave performance in difficult conditions in the United States at the weekend.
The 72nd annual Motocross of Nations – an event often referred to as the Olympic Games of motocross – was packed with drama throughout the two days of qualification and points race action at the damp Red Bud circuit at Buchanan, in Michigan, but the Penny Homes-supported three-rider team from New Zealand battled through to finish up 18th out of the 30 countries represented.
Mount Maunganui's Cody Cooper was Team NZ's designated MXGP class rider and he finished 11th and 32nd in his two outings.
Auckland-based former Takaka man Hamish Harwood, the team's MX2 (250cc) class rider, was forced to withdraw from the first of his two races when his bike's engine overheated, but he returned for the next race and finished 29th out of the 38 riders who had started.
New Zealand's Open Class rider, Mount Maunganui's Rhys Carter, crashed early on Sunday morning, suffering a nasty haematoma on his leg. He refused to admit defeat, however, and lined up regardless for the afternoon's races.
Rather than not start, and therefore accrue maximum penalty points, Carter chose to "circulate and gain valuable points" and his 37th and 35th placings were enough to help boost New Zealand above several of the other qualifying countries.
The trio of riders representing France – Gautier Paulin, Jordi Tixier and Dylan Ferrandis – won the event outright, now making it five consecutive years that the French have claimed the coveted Chamberlain Trophy.
Runners-up were Team Italy, with the trio from The Netherlands claiming the third podium spot. The host Americans were well beaten on their home turf, forced to settle for sixth overall.
"New Zealand can feel extremely proud of what our riders achieved," said Team New Zealand co-manager Bevan Weal.
"We could possibly have done better, but there can be no faulting the determination and commitment shown by everyone and the amount of work put in by (co-manager) Shayne King was tremendous. We were helped too by the American who loaned us the pit truck for the weekend, David Eller, and he was a real fan of the Kiwis."
He said the backing Team New Zealand received this year from New Zealand building company Penny Homes was also invaluable.
"When Rhys (Carter) fell and injured his leg, he burst a blood vessel, but he simply put in his mouth-guard, bit down on it, and circulated for points. Although obviously in pain, he still finished both of his races."
Weal said the bravery shown by Carter was impressive.
"Coops (Cody Cooper) didn't get the best of starts in his second race, the last race of the weekend, the MXGP and Open class riders out on the track together, and that made it very difficult for him."
The pace of this deciding race was incredibly hot, with fulltime professional riders such as the MXGP World champion Jeffery Herlings (from The Netherlands), multi-time former world champion Antonio Cairoli (Italy) and American national champion Eli Tomac all battling hard.
"It may have been home turf for the Americans but they really just didn't fire," said Weal. "There are a few glum Americans around here right now."
Team New Zealand finished just seven points behind the 17th-ranked team from Brazil, but ahead of the teams from Puerto Rico, Switzerland, Portugal, Japan, Argentina, South Africa, Iceland, Mexico, Ukraine, Guatemala, Philippines and Israel.
Next year's Motocross of Nations is set for the infield of the Dutch road-race facility at Assen.
© Words and photo by Andy McGechan, BikesportNZ
Find BikesportNZ.com on FACEBOOK here
RESULTS:
MXoN Race 1 top ten:
1. Jeffrey Herlings (NED, KTM), 36:14.743; 2. Gautier Paulin (FRA, Husqvarna), +0:25.416; 3. Jorge Prado (ESP, KTM), +0:31.483; 4. Eli Tomac (USA, Kawasaki), +0:40.195; 5. Clement Desalle (BEL, Kawasaki), +0:51.878; 6. Antonio Cairoli (ITA, KTM), +0:57.900; 7. Dylan Ferrandis (FRA, Yamaha), +1:00.029; 8. Hunter Lawrence (AUS, Honda), +1:03.066; 9. Colton Facciotti (CAN, Honda), +1:51.758; 10. Michele Cervellin (ITA, Yamaha), +1:54.397.
Nations top ten after race one:
France, Italy, Belgium, Spain, USA, Australia, Canada, Estonia, The Netherlands, Austria.
MXoN Race 2 top ten:
1. Glenn Coldenhoff (NED, KTM), 34:28.308; 2. Hunter Lawrence (AUS, Honda), +0:16.063; 3. Jorge Prado (ESP, KTM), +0:20.510; 4. Ben Watson (GBR, Yamaha), +0:21.458; 5. Jeremy Seewer (SUI, Yamaha), +0:23.272; 6. Jeremy Van Horebeek (BEL, Yamaha), +0:28.847; 7. Harri Kullas (EST, Husqvarna), +0:32.905; 8. Dylan Ferrandis (FRA, Yamaha), +0:37.022; 9. Justin Barcia (USA, Yamaha), +0:59.661; 10. Mitchell Evans (AUS, KTM), +1:09.475.
Nations top ten after race two:
Australia, Belgium, Italy, Spain, USA, France, Estonia, Great Britain, Canada, Austria.
MXoN Race 3 top ten:
1. Glenn Coldenhoff (NED, KTM), 35:53.888; 2. Jeffrey Herlings (NED, KTM), +0:03.970; 3. Gautier Paulin (FRA, Husqvarna), +1:03.687; 4. Antonio Cairoli (ITA, KTM), +1:05.191; 5. Alessandro Lupino (ITA, Kawasaki), +1:11.582; 6. Max Anstie (GBR, Husqvarna), +1:12.469; 7. Eli Tomac (USA, Kawasaki), +1:12.820; 8. Maximilian Nagl (GER, TM), +1:27.271; 9. Ken Roczen (GER, Honda), +1:44.294; 10. Tommy Searle (GBR, Kawasaki), +1:50.621.
Nations final top ten:
1. France, 35 points; 2. Italy, 37; 3. The Netherlands, 41; 4. Australia, 48; 5. Great Britain, 48; 6. USA, 49; 7. Belgium, 53; 8. Spain, 63; 9. Estonia, 71; 10. Germany, 78.