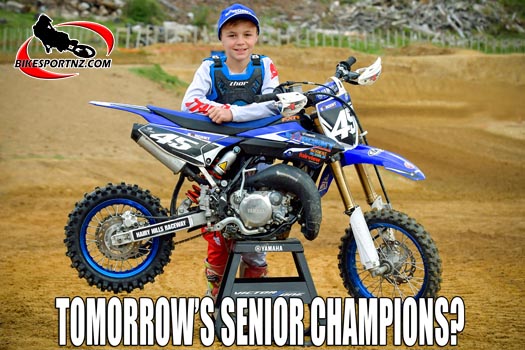 There were plenty of fresh faces on the various podiums at the 2018 New Zealand Mini Motocross Championships near Porirua at the weekend.
The more than 160 riders who had entered this year's TSS Red Baron Motorcycles and Friday Homes-sponsored mini nationals were greeted by an immaculately-prepared track at Moonshine, about halfway between Lower Hutt and Porirua, and the weather played its part too, with forecast Sunday afternoon showers staying away.
This helped to produce some of the closest and most exciting mini racing in years, with new champions being crowned in seven of the eight separate categories.
The only repeat title winner was Cambridge's William Pluck, who successfully defended his 7-11 years' small trail bike class.
Top rider for the weekend was Featherston's Teddy Shaw (pictured above), who won the premier 9-11 years' 65cc class after a weekend-long battle with Richmond's Wills Harvey, although several other riders also featured with race wins to their credit, including Waipukurau's Jordan Coles, Taradale's Boston Scott and Pahiatua's Maz Parkes.
Harvey was just five points adrift of Shaw at the start of the weekend's final 9-11 years' race, but Shaw managed to stay ahead of Harvey throughout the seven-lap affair and the title was therefore settled in Shaw's favour.
Third overall in this class was Coles, who finished 24 points behind Harvey.
"I just knew I needed to win or at least finish ahead of Wills Harvey in that last race," said Shaw, a year seven pupil at Martinborough School.
"I was just trying to not make any mistakes."
"It was frustrating for me when I lost so many points in the first race today (Sunday). I had a terrible start and managed to get back up to 11th at the end of the race," he said, that 11th placing the only time he didn't finish either first or second all weekend."
Shaw beat Harvey by seven points in the final analysis and, if the talented South Island rider had not crashed twice, both times while leading the way, in the first two 9-11 years' 65cc class races on Saturday, their respective final rankings could so easily have been reversed.
It's still a remarkable improvement for Harvey, who last season raced a 2009-model Kawasaki KX65 to finish ninth overall in the same class.
Parkes, who won the 6-8 years' 50cc class title last season, stepped up to the bigger class this year and certainly showed he had successfully made the transition by winning the final 9-11 years' 65cc class race of the weekend, crossing the line just ahead of Shaw and Harvey.
However, bad luck earlier in the weekend meant Parkes eventually had to settle only for 10th overall, certainly no reflection on his ability.
"This is my first ever New Zealand title and actually the first time I've raced the nationals too," said Shaw.
"I've been racing since I was aged four but I'd been going a lot faster lately and just thought it was about time I did the nationals."
Meanwhile, Pirongia's Jacob Beattie won the 7-8 years' 65cc class in what was another series of cut-and-thrust battles, with Temuka's Hudson Swete quickly emerging as his main rival.
The close racing in this class also featured impressive performances from New Plymouth's Travis Taylor, Tauranga's Arama Te Whetu and Ashhurst's Korbin McConchie, among others.
Swete finished the championship just eight points behind Beattie, with Taylor clinching the third podium spot, 13 points further back.
The president of the host Kapi Mana Motorcycle Club, Shane Doherty, said he was "blown away by how it all came together".
"It was, I believe, the largest number of entries for a mini nationals in more than 10 years. The kids and the parents loved the track and we even gave it a few tweaks through the weekend to create fresh opportunities for passing, pushing the bunting out in some places to brings a few more berms into play."
Other class winners were Maddox Swanson (Carterton, 6-8 years' 50cc class); Levi McMaster (Christchurch, 4-7 years' 50cc class); Harry Pluck (Cambridge, 6-8 years' 50cc trail bike class); Paddy Parkes (Pahiatua, 4-5 years' 50cc trail bike class) and Luke Denby (Ashhurst, 7-11 years' big trail bike class).
© Words and photos by Andy McGechan, BikesportNZ
Find BikesportNZ.com on FACEBOOK here
Check back here on www.BikesportNZ.com during this week as we bring you more words and pictures from the weekend.