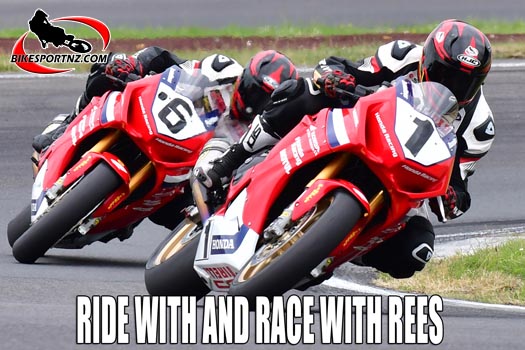 Here's your chance to share the race track with Honda's 2017 New Zealand superbike champion Tony Rees.
It's also your chance to celebrate with the Motorcycling New Zealand Hall of Fame inductee, to learn from him, to race him and, if all things go perfectly for you, your chance also to beat him fair and square in a proper race.
The chance of beating Bay of Plenty man Rees are usually quite remote – only the very best have ever done it – but, with the man himself offering tips and tricks to do just that, it is a possibility.
This weekend (September 29 and 30) is the second of five Honda Track Days and the venue is Bruce McLaren Motorsport Park near Taupo and these events are not just for Honda bike owners, with riders of all makes and models welcome.
This weekend will be a special two-day event because, in addition to the regular track day sessions on Saturday, including introductory track sessions for novices, there is a drinks and dinner evening that night, with Rees and several special guests in attendance.
On Sunday there are two races planned, a two-hour endurance race for Pro Twin 650cc riders, Junior Bears (non-Japanese) bikes, Formula Three and 300cc production bikes, followed by a three-hour endurance race for Formula One, Formula Two (600cc) and Senior Bears riders.
Cash and prizes, not to mention bragging rights, are at stake.
Aside from Whakatane's Tony Rees, other high-profile riders expected to make the trip include Rees' two sons, current national superbike No.2 Mitch and former national 600cc champion Damon, former Superbike World Championship contender Aaron Slight, nine-time national superbike champion Andrew Stroud, Wellington's 2018 national superbike champion Sloan Frost, Taupo's national superbike title contender Scotty Moir, former national 600cc frontrunners Daniel Mettam and Toby Summers, and former national superbike champion Chris Haldane, among others.
"It's going to be a fun weekend and that's the point of this really," said Rees. "There will be a lot of fast riders coming, but it's not really about them.
"It's also a good chance to have a big hit-out before the national superbike championship season kicks off and so that's another reason these top riders are coming."
The Carl Cox Motorsport Honda race team bikes will also be on display at Bruce McLaren Motorsport Park this weekend.
The first of this season's popular Honda Track Days was staged at Manfeild, on the outskirts of Feilding, on September 8, and this was a great success.
After this weekend's two-day extravaganza at Taupo, the Honda Track Days will continue with three separate events at Hampton Downs – on December 1, February 23 and April 27.
Don't miss out, pre-register for the upcoming Hampton Downs events HERE
© Words and photo by Andy McGechan, BikesportNZ
Find BikesportNZ.com on FACEBOOK here