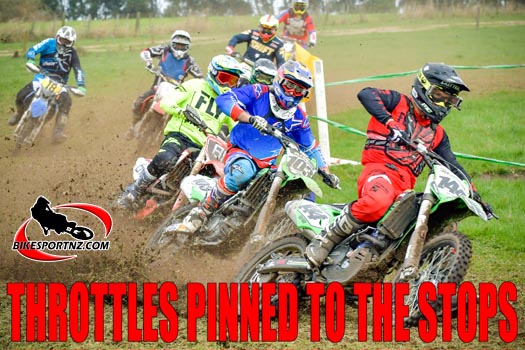 Bikes were pushed to breaking point at the annual New Zealand Mini TT Championships near Taupiri at the weekend, with riders twisting throttles to the stops in a bid for title glory.
All competitors relished the perfect riding conditions over the two days, thrilled also to see the event back on the calendar again after a one-year hiatus and this was thanks to sponsorship from Kawasaki New Zealand, the generosity of land-owner Mark Fuller and the excellent combined work put in by officials from the separate Huntly and Patetonga motorcycle clubs.
In terms of actual race action, there were several dominant performances, with Taupo's Cohen Chase almost unbeatable in the premier MX1 bike class, West Auckland's Hayden Smith totally untouchable in the MX2 (250cc) bike class and Te Awamutu's Rachael Archer in command of the women's grade.
The 20-year-old Chase showed he was quickly getting to grips with the 450cc bike class, his 1-1-1-2-1 score-card in the MX1 class at the weekend a massive step up from the seventh overall result he achieved in his rookie MX1 appearance in the motocross nationals earlier this year.
"I kind of knew I'd do okay this weekend. In fact, I thought I would have had more of a fight on my hands," he said.
His one "poor" result was after he had been shunted into a berm and crashed, dropping him back to fifth position. He battled back to settle for a runner-up finish in that race, behind Taupo's Brad Groombridge, and he won the title comfortably in the end, taking the crown by nine points from former national TT champion Groombridge.
One class that did go down to the wire was the Senior 125cc bike class, where Bay of Plenty's former world motocross champion Ben Townley ruled proceedings on day one, but then had issues with a failing spark plug in the first of Sunday's three races in the class, dropping him back to finish only seventh in that race.
This opened the door for the surprise fastest qualifier in this class, Orewa's Joseph Andrell, to take over the championship lead.
But Townley was back to his best in winning the final two Senior 125cc races of the weekend and he eventually clinched the trophy by just one point from Andrell.
Hamilton's Reef Wheki won all five races in the combined Junior 12-16 years' 125cc and 14-16 years' 250cc class, while Oparau's Hunter Scott cleaned up in the Junior 13-16 years' 85cc class and Cambridge's Jared Hannon was similarly dominant in winning five races from five starts in the Junior 8-12 years' 85cc class.
Former national motocross champion David Furze, of New Plymouth, finished with a 1-1-2-2-1 score-card in the Enduro class to take that title from Pukekohe's Nigel Gainfort, while Taupo's Jake Tomblin edged out Kumeu's Logan Maddren in winning the Classic Bikes class.
The two Veterans' classes – for riders aged between 35 and 45 years or riders aged over 45 years – were won respectively by Cambridge's Damien King and New Plymouth's Mitch Rowe.
It came as no real surprise that 2015 national ATV motocross champion Scott Keegan, from Stratford, won the Premier ATV class, while Patea's Tyler Campbell overcame an initial hiccup, when he finished only fourth in the first 450cc Production ATV of the weekend, bouncing back to win the four races that followed. Stratford's Nicola Reid won the Veterans (over-40) ATV title.
LEADING STANDINGS:
Leading results from the 2018 Kawasaki-sponsored New Zealand Mini TT Championships near Taupiri at the weekend:
MX1 class: 1. Cohen Chase (Taupo) 122 points; 2. Brad Groombridge (Taupo) 113; 3. Logan Blackburn (Te Puke) 90.
MX2 class: 1. Hayden Smith (Massey) 125 points; 2. Brad Groombridge (Taupo) 106; 3. Blake Gillard (Beachlands) 104.
Senior 125cc class: 1. Ben Townley (Oropi) 114 points; 2. Joseph Andrell (Orewa) 113; 3. Zak Fuller (Taupiri) 88.
Women: 1. Rachael Archer (Te Awamutu) 122 points; 2. Shelby Catley (Tauranga) 107; 3. Amie Roberts (Hamilton) 104.
Junior 12-16 years 125cc and 14-16 years 250cc: 1. Reef Wheki (Hamilton) 125 points; 2. Zac Jillings (Rongotea) 108; 3. Zak Fuller (Taupiri) 94.
Junior 13-16 years 85cc: 1. Hunter Scott (Oparau) 125 points; 2. Ashton Whyte (Paeroa) 110; 3. Billee Fuller (Taupiri) 100.
Junior 8-12 years 85cc: 1. Jared Hannon (Cambridge) 125 points; 2. Troy Holmes (Waitoki) 108; 3. Alex Garland (Napier) 96.
Clubmen and Enduro class: 1. David Furze (New Plymouth) 119 points; 2. Nigel Gainfort (Pukekohe) 107; 3. Brad Groombridge (Taupo) 101.
Classics bikes class: 1. Jake Tomblin (Taupo) 119 points; 2. Logan Maddren (Kumeu) 108; 3. Phillip Bryan (Taupiri) 104.
Veterans 35-44 years: 1. Damien King (Cambridge) 122 points; 2. Andrew Hansen (Taupiri) 96; 3. Sam Hamilton (Stratford) 92.
Veterans over-45 years: 1. Mitch Rowe (New Plymouth) 117 points; 2. Darren Capill (Whakatane) 111; 3. David Furze (New Plymouth) 101.
ATV premier: 1. Scott Keegan (Stratford) 122 points; 2. Shane Robinson (Otorohanga) 107; 3. Corey Whitelock (Egmont Village) 102.
ATV 450cc production: 1. Tyler Campbell (Patea) 11 points; 2. David Henderson (Tauranga) 106; 3. Jono Gibson (New Plymouth) 44.
ATV Veterans (over-40 years): 1. Nicola Reid (Stratford) 116 points; 2. Chris Cox (Stratford) 97.
© Words and photos by Andy McGechan, www.BikesportNZ.com
Find BikesportNZ.com on FACEBOOK here
Full story and more photos in your next issue of KIWI RIDER magazine.
Check back here on www.BikesportNZ.com during this week as we bring you more words and pictures from the weekend.