JUNIOR MX CHAMPS THIS WEEKEND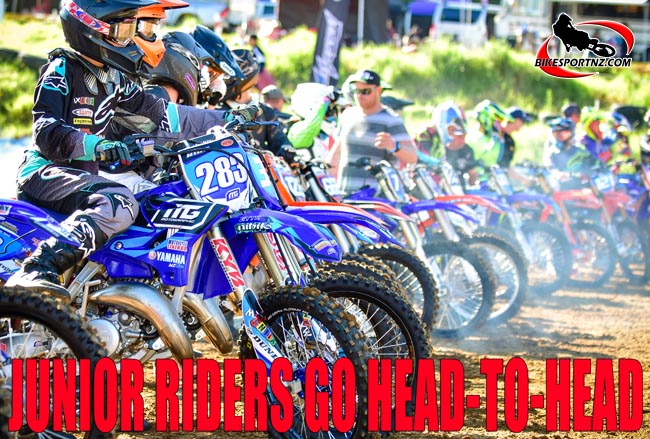 There is perhaps no better launch-pad for young Kiwi racers hoping to achieve international motocross fame and fortune than the New Zealand Junior Motocross Championships and this weekend should be no exception.
It will be all about young racers stepping up to be counted when the 2018 junior motocross nationals blast off near Mosgiel this Saturday and Sunday.
A traditional breeding ground for the sport, this year's Backflips-sponsored junior nationals should again offer a few clues as to where the senior champions of the future will come from and, if several notable past examples are taken into account, it could also hint at which individuals might even go on to become world champions in the years to come.
World class riders such as Taranaki brothers Darryll, Shayne and Damien King, Motueka's Josh Coppins and Bay of Plenty's Ben Townley, all now retired, and current Kiwi internationals such as Hamilton's Josiah Natzke, Christchurch's Dylan Walsh and Otago's Courtney Duncan can all trace their beginnings back to their junior motocross days in New Zealand.
At least two of last season's junior motocross nationals frontrunners – Mangakino's Maximus Purvis and Oparau's James Scott – will not be racing at Mosgiel this weekend because they too are now focussed on racing overseas this year, in Australia and Europe respectively.
The pathway to the top is clear and so plenty could be at stake for the future racing careers of young championship hopefuls this weekend.
Wairoa's Tommy Watts is one rider who will be expected to step up and be counted at Mosgiel.
Watts finished overall runner-up in the Senior 125cc nationals, which wrapped up in Taupo in March, and he will be firm favourite to win the junior 15-16 years' 125cc title in Mosgiel this weekend.
However, he can expect to be pushed by multi-time former national junior champion Grason Veitch, of Dunedin, and perhaps riders such as Rongotea's Zac Jillings too.
Veitch, who won the 12-14 years' 125cc crown back-to-back, in 2016 and again last year, now steps up to the 15-16 years' 125cc division and will also this year tackle the 14-16 years' 250cc class.
The 250cc class title is the most coveted of all and Veitch will have his work cut out facing riders such as Palmerston North's Toby Winiata, Patea's Leroy Gwynn, Te Awamutu's Daniel White, Lincoln's Trent Garland and Rangiora's Korban Paget, to name just a few.
The 12-14 years' 125cc class should belong to Tauranga's Brodie Connolly, the young man who won the 13-16 years' 85cc class at the nationals last year and who was unbeaten in this 125cc class at the annual Woodville GP in January.
The eldest of the 85cc classes, for riders aged between 13 and 16 years, is again bulging with talent this season, with riders such as Rangiora's Cobie Bourke, Rongotea's Seth Henson, Ashburton's Ben Wall, Rongotea's Rhys Jillings, Hamilton's Nick Westgate, Tuakau's Tyler Brown and Invercargill's Jack Symon among the many who could be expected to shine.
Henson won the 11-12 years' 85cc title last season, but he has since had a birthday and therefore moves up an age division.
Others to watch for this weekend include Ashburton's Mitchell Stocker, New Plymouth's Logan Kerrisk, Darfield's Tyler Wiremu, Tokaui's Mitchell Weir, Cambridge's Jared Hannon and Leeston brothers Kobe and Kase Thoms.
Wiremu won the 9-11 years' 65cc title at the mini nationals last year but now steps up to the junior 11-12 years' 85cc grade.
Venue for racing this weekend is Scorgies Property, Lee Stream Road, on State Highway 87 at Outram.
© Words and photos by Andy McGechan, www.BikesportNZ.com
Find BikesportNZ.com on FACEBOOK here