SUCCESS BREEDS SUCCESS IN MX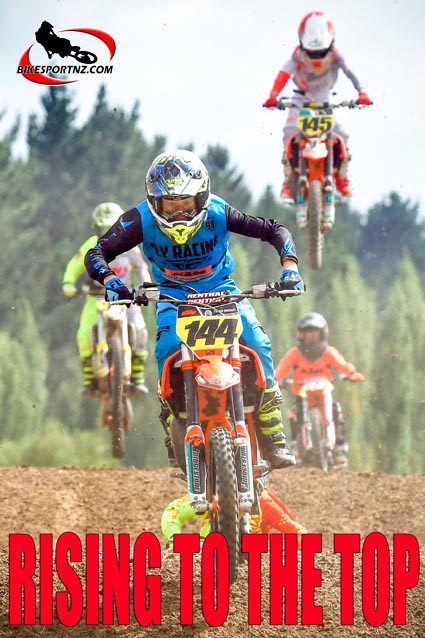 It's true that success breeds success and Pukekawa's Tyler Brown is a final example of that.
With his father Craig – formerly a top rider on the senior scene and still a frontrunner in the veterans' ranks – to mentor him, young Tyler Brown was simply stunning on his debut at the weekend's big annual Honda New Zealand Motocross Grand Prix at Woodville.
The popular annual stand-alone event was again a magnet for the cream of New Zealand motocross talent, the two-day affair featuring former and current national champions across all the various categories.
And, it's probably fair to say, a few future champions also revealed themselves at Woodville, the 12-year-old Brown among them.
Brown took his 85cc KTM to dominate the junior 11-12 years' 85cc class on Saturday, qualifying fastest, nearly three seconds a lap quicker that nearest rival Jack Symon, from Invercargill, and then Brown followed that up by scoring a hat-trick of wins that afternoon.
"It was my first time racing at the Woodville GP and also the first time I've scored a hat-trick like this," said Brown, who will start the New Year as a year eight pupil at Onewhero Area School.
Symon (KTM) finished runner-up in each of the three races, with 2017 national mini 9-11 year's champion Tyler Wiremu (KTM), from Darfield, near Christchurch, claiming the third podium spot.
"It was the first time I'd raced against Jack Symon, but he finished quite a bit behind me in all three races," said Brown.
Brown finished a whopping 11.3 seconds ahead of Symon in race one, increased the winning margin to 14.2 seconds in race two and wrapped it by eclipsing Symon by 10.9 second in the final race of the day.
Brown credits his dad for much of his success, although he admits he was too young to see his father race when he was in his prime.
"I've seen him racing in the veterans' class and of course he's given me lots of riding tips over the years … 'stand up on the pegs, keep the corner speed up and flow with the track'. Actually, both mum and dad have been great supporters and I could not have done this without them."
Brown finished sixth overall in the 11-12 years' class at the New Zealand Junior Motocross Championships in Taranaki in April, and modestly pointed out that "all the good guys moved up to the next age category and this made it a bit easier for me at Woodville". But Brown will himself shortly be stepping up to the next level, the 13-16 years 85cc class.
"I'm hoping for a top five finish in this year's junior nationals (set for Mosgiel in April)."
In other junior results at Woodville on Saturday, Melbourne's Bailey Malkiewicz (Yamaha) won the 14-16 years' 250cc class; Melbourne's Mason Semmens (KTM) won the 15-16 years' 125cc class; Tauranga's Brodie Connolly (KTM) won the 12-14 years' 125cc class; Australian Brad West (Kawasaki) won the 13-16 years' 85cc class and Christchurch's Kobe Thoms (KTM) won the 8-10 years' 85cc class.
Brown is supported by MR Motorcycles in Pukekohe, Shoei helmets, Fly Racing, Young Contracting, Oakley goggles, Renthal handlebars, Classical Doors Ltd, Bel Ray oils and Crown Kiwi Enterprises.
© Words and photo by Andy McGechan, www.BikesportNZ.com
Find BikesportNZ.com on FACEBOOK here