STILL LIGHTING UP THE TARMAC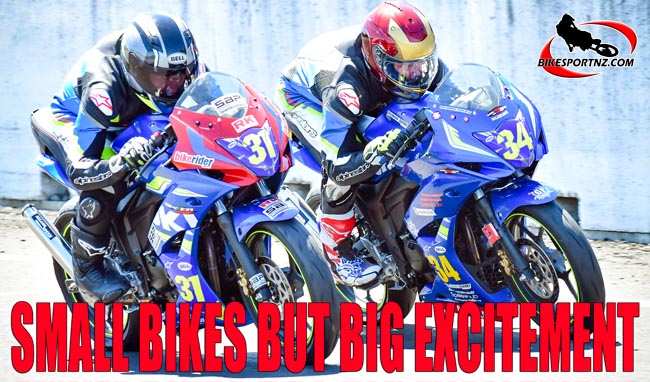 They may be about as far removed from fire-breathing superbikes as they could be, and certainly among the smallest motorcycles to feature on the race track, but the new GIXXER Cup class has been lighting up the tarmac since before Christmas.
Reserved exclusively for riders aged between 14 and 21 years, this inaugural GIXXER Cup competition is a seven-round affair, the first three rounds having been an integral part of the Suzuki Series pre-nationals competition, which wrapped up on Boxing Day.
This fledgling cup competition continues on through the four-round New Zealand Superbike Championships, the first round of which was staged at Mike Pero Motorsport Park in Christchurch last weekend.
Round two of the superbike nationals is at Levels Raceway, near Timaru, this weekend, the event therefore also signifying round five of the GIXXER Cup.
It was intended that the GIXXER Cup racing would be intense, a level playing field being an ideal environment for the stars of tomorrow to learn their craft and spread their wings, as so it has proved after the three-round Suzuki Series and also after the opening round of the superbike nationals.
Riders to impress the most so far include Whanganui 19-year-old Tarbon Walker, Pukekohe's Thomas Newton and Paeroa's Blake Ross, with the 14-year-old Greymouth rider dubbed the "West Coast Warrior", former motocross and speedway exponent Clark Fountain, Taupiri dirt bike hero Zak Fuller and Invercargill's Michael Wilson also proving themselves title contenders.
Meanwhile, at the other end of the horsepower spectrum, in the premier Superbikes class, the action has been equally close, with the three riders on top after last weekend's nationals series opener – Wellington's Sloan Frost (Suzuki), Glen Eden's Daniel Mettam (Suzuki) and Whakatane's Mitchell Rees (Honda) – separated by just one point.
The handful of riders immediately behind them – Christchurch's Alastair Hoogenboezem (BMW), New Plymouth's Hayden Fitzgerald (Yamaha), Tauranga's Jay Lawrence (Suzuki), Taupo's Connor London (Kawasaki) and Invercargill's Jeremy Holmes (Honda) – also showed flashes of brilliance at Mike Pero Motorsport Park and should be respected too at Levels this weekend.
In the 600cc Supersport class, Christchurch's James Hoogenboezem (Triumph) was in devastating form at Christchurch, qualifying fastest and then taking a hat-trick of wins.
Fellow Canterbury man Jake Lewis (Triumph) finished runner-up each time, but he is already now 16 points behind Hoogenboezem and will be hoping for a solid weekend at Levels to make up that lost ground.
Leaders in the other bike categories are Tauranga's Regan Phibbs (Supersport 300, Yamaha); Hamilton's Jordan Burley (650 Pro Twins, Suzuki); Christchurch's Nick Cain (250cc Production, Kawasaki); Christchurch's Dennis Charlett (Superlites, Suzuki); Rodney's Blayes Heaven (125GP, Honda); and Auckland's Peter Goodwin and Kendall Dunlop (Sidecars), but nothing is secure and all the classes could be given a shake-up at Levels this weekend.
After Sunday, the riders will cross Cook Strait for the second half of the season in the North Island.
North Waikato hosts round three at Hampton Downs Motorsport Park, near Meremere, on March 3-4, before it all wraps up at Bruce McLaren Motorsport Park in Taupo on March 17-18.
The 2018 New Zealand Superbike Championships are supported by Honda Cars, providing safety/medical vehicles, Pirelli tyres, Corprint, CTAS and MX Timing and the inaugural GIXXER Cup is supported by Suzuki New Zealand.
© Words and photos by Andy McGechan, www.BikesportNZ.com
Find BikesportNZ.com on FACEBOOK here