WOODVILLE MX NOW OCEANIA EVENT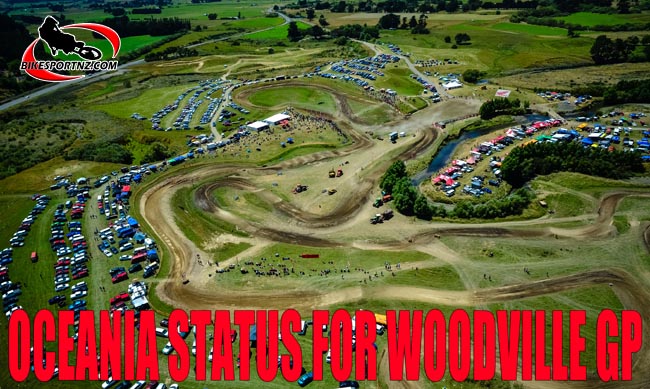 It is already the biggest and most prestigious motocross event on the Kiwi race calendar, but now the Woodville GP is set to get even bigger.
The 57th annual Honda-sponsored New Zealand Motocross Grand Prix at Woodville on January 27-28 has now been accorded FIM Oceania status.
The spectacular two-day event has always attracted huge international interest, but the 2018 New Zealand Motocross Grand Prix at Woodville, in just six weeks' time, will be further enhanced with an FIM Oceania Challenge element added to the weekend's race programme.
The FIM Oceania Challenge will include competition for both junior and senior riders, with many of Australia's finest booked to arrive and all of them keen to take on their Kiwi counterparts.
Motorcycling New Zealand president Glen Williams, who is also the president of FIM Oceania, said he was thrilled to reveal this latest development.
"FIM Oceania is looking to grow its profile across our sport," said Williams.
"FIM Oceania is pleased to be supporting the Woodville event. A healthy sporting rivalry between Australia and New Zealand has always existed and FIM Oceania is happy to keep that going in motocross too. It helps build the relationship between the two countries."
MNZ general manager Virginia Henderson was also enthusiastic about the news.
"As an organisation, Oceania provided support for 14 New Zealand riders to attend the Junior Motocross Championship in Horsham Downs earlier this year and it has a clear strategy to support grass roots within the sport across all disciplines," she said.
"I am thrilled to be on the board of FIM Oceania, to be supporting the investment of grass roots and to be revitalising the Oceania competition."
The Manawatu Orion Motorcycle Club (MOMCC) has hosted the Woodville GP every year since its inception in 1961 and is proud to be chosen to stage this FIM Oceania competition.
"We are always trying to improve the Woodville GP and this is another step in the right direction," said MOMCC president Brett Wistrand.
"We want to give the crowd great entertainment, something they can really get behind and there really is nothing better than the sporting rivalry that exists between Australia and New Zealand."
© Words and photos by Andy McGechan, www.BikesportNZ.com
Find BikesportNZ.com on FACEBOOK here