GISLER STILL AN MX CHAMPION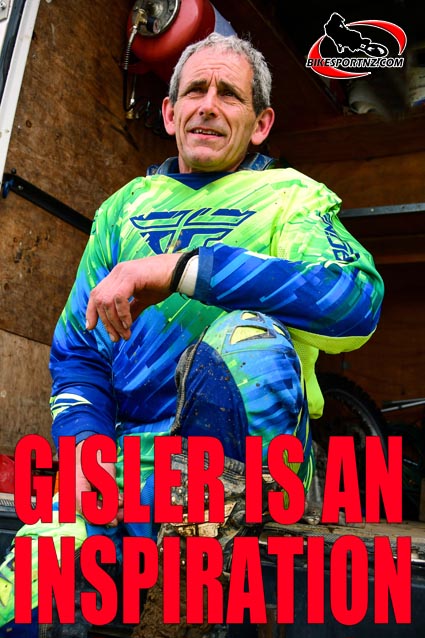 A former Swiss motocross international, Aucklander Gaudenz Gisler now considers himself a Kiwi through and through, although his pathway to a settled life in Tuakau does have the hint of fairytale about it.
Gisler first came to New Zealand as an international star, to race the Kiwi motocross nationals in the 1988 and 1989 seasons – where he respectively finished fifth and then sixth overall in the open class – and he competed in New Zealand again in 1990, this time on the tarmac (racing a modified dirt bike in the super moto class).
"I fell in love with New Zealand. I also met my wife, Ursula, in New Zealand. She's Swiss but I actually met her here," said the now 58-year-old Gisler.
"It's a funny story actually … her bike broke down and she called into the local Honda shop to see if they could repair it. She said she was Swiss and the guys there mentioned that there was a Swiss man, me, in the country to race the motocross nationals. She hired a bicycle and cycled to the track to meet me. We met up but lost sight of one another again after that, until we caught up again a few years later."
The couple were married in Switzerland in 1992 and returned to New Zealand to live 22 years ago (in November 1995). The former Grand Prix racing hero settled in Tuakau and nurtured his growing young family, working mostly as a mechanic, fitter/turner, engineer and suspension tuner, and he's a permanent resident now.
"I suppose it was meant to be. I had 'NZ' in my name (Gaudenz) already didn't I?" he laughed.
Though now settled here, Gisler has many fond memories of his younger days in Switzerland and recalls the strange path he took to reach the top rungs of the sport internationally.
The eldest of eight children, Gisler said he used to joke that he "lived in a child care centre … but at least I had my own army for fights at school".
"My first bike was a 400cc 1970 model Husqvarna, with a right-hand side gear shift lever. It cost me 700 Swiss francs.
"I had to hide my bike from my dad, stashed under wood in a shed, because dad didn't like motorbikes.
"I had no intentions to race Grand Prix motocross, but I was able to enter what they called the debutant class."
When he finished 10th in a 'promotion' race one year, Gisler was able to step up to the intermediate grade and then the GPs proper.
He eventually raced the motocross world championships for 10 years, between 1983 and 1993 – his best result was finishing 48th overall in the 1988 world championships.
"They were tough times. In those days they only allocated points down to 10th place … and at so many GPs I was finishing 11th.
Gisler represented Switzerland on four separate occasions at the Motocross of Nations, commonly referred to as the "Olympic Games of motocross".
Gisler has long continued his love affair with racing dirt bikes, many years after his being the victim of a scary accident that probably should have killed any passion he had for the sport.
Gisler broke his back in a racing incident in New Zealand in 1998 when he over-jumped an obstacle and landed hard.
"I couldn't walk for two months and, after several operations, I managed to slowly recover. I couldn't ride a bike for seven years after that crash."
He returned to racing, on a super moto bike on the road circuits again, in 2005 and hasn't looked back since, now a regular competitor at veteran motocross events.
"I think the bike riding helped with my recovery from injury."
And now he is a national motocross champion yet again.
Gisler romped to five wins from five starts at the recent New Zealand Veterans' Motocross Championships near Eltham, easily dominating the 55-59 years' all-capacities class.
"I am not as strong as I once was. They termed my back injury an 'incomplete paralysis', so being able to race and win again means so much more to me now.
"I even had trouble climbing up onto the podium at Eltham. I had to be helped up to the step."
Gisler's determination and grit should be an inspiration to fellow racers, old and young, and he vows he'll be back to defend his title next year.
His previous national title win came when he clinched the New Zealand veterans' motocross crown in the 35-39 years' class in 1997.
© Words and photos by Andy McGechan, www.BikesportNZ.com
Find BikesportNZ.com on FACEBOOK here