BRILLIANT START TO SEASON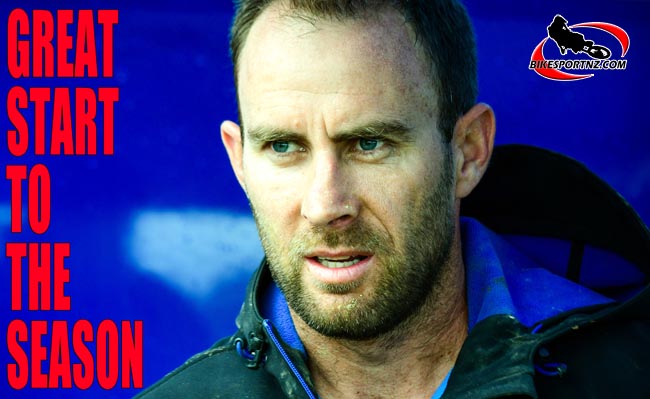 It has been a thrilling start to the season for the Altherm JCR Yamaha Racing Team.
It all kicked off just over a week ago at the traditional season opener, at Taupo's big annual Labour Weekend MX Fest extravaganza, with the team's MX1 rider, Mangakino's Kayne Lamont, winning both the Saturday evening Speedcross spectacle and then also winning the MX1 class at the main motocross event the following day.
The only blight on proceedings, as far at the Yamaha crew were concerned anyway, was the high-speed crash that saw their MX2 (250cc) class rider Maxiumus Purvis smack into the dirt, forcing his withdrawal.
The just-turned 17-year-old Mangakino rider – the 2017 national junior 14-16 years' 250cc class and 15-16 years' 125cc class champion – had been challenging for senior MX2 class honours at the time.
That left team boss Josh Coppins with a problem – Purvis' Yamaha YZ250F bike was now parked up in the pits and needing a rider for the opening round of the New Zealand Supercross Championships in Tokoroa on the Monday of that Labour Weekend.
So up stepped Coppins, the 40-year-old a former Grand Prix motocross racer and former New Zealand motocross and supercross champion still with the talent and determination to succeed as a rider.
And so it proved, with Coppins dominating the SX2 (250cc) class at Tokoroa. Lamont, meanwhile, mounted a serious challenge for the SX1 class crown and finished up at Tokoroa a close second to multi-time former New Zealand champion Cody Cooper (Honda Racing Team CRF450).
And so the team headed for the supercross series finale at the "world's southernmost supercross track" at Winton, just north of Invercargill, on Saturday in an enviable position, ideally positioned in two separate categories.
Coppins (Altherm JCR Yamaha YZ250F) finished the job he had started a week earlier, registering a 1-2-1 score-card in his three outings at Winton and taking the title by a comfortable 29 points from Tauranga-based former Rangiora rider Micah McGoldrick (Honda Racing Team CRF250).
Third overall in the SX2 class this year was Kotemaori cross-country ace Reece Lister (Bike Worx KTM).
Mount Maunganui's Cooper emerged as the top SX1 class rider at the Winton event and wrapped up the national title, although not without a massive challenge from Lamont, who won the last race of the series.
Eventual third overall in the SX1 class this season was Ngatea's Ben Broad (Whyteline Kawasaki KX450F).
"It was beautiful weather in Winton … quite a contrast to Tokoroa the week before," said Coppins afterwards.
"It was one of the best events in the country and I'm sure everyone left there very happy.
"I had no intention for myself to be racing this series and I had nothing scheduled until racing in the super motard class at the Nelson Street Races, so I wasn't really prepared for this. But I guess it is a good way to start the season.
"Maximus will be back in action for the team in three weeks' time, at the Auckland Motocross Championships (at Tuakau) and we will continue to build up for the nationals (starting in February)."
Leading final standings in the 2017 New Zealand Supercross Championships:
SX1: 1. Cody Cooper (Mount Maunganui) 117 points; 2. Kayne Lamont (Mangakino) 105; 3. Ben Broad (Ngatea) 86.
SX2 (250cc): 1. Josh Coppins (Motueka) 117 points; 2. Micah McGoldrick (Tauranga) 88; 3. Reece Lister (Kotemaori) 84.
Junior 125/250: 1. Grason Veitch (Dunedin) 109; 2. Marshall Phillips (Christchurch) 95; 3. Mitchell Stocker (Ashburton) 73.
Junior Lites (85cc): 1. Ben Wall (Ashburton) 100; 2. Rhys Jillings (Palmerston North) 88; 3. Jack Symon (Invercargill) 74.
© Words and photo by Andy McGechan, www.BikesportNZ.com
Find BikesportNZ.com on FACEBOOK here