EVERTS ENJOYS KIWI EXPERIENCE
From the moment Belgium's Liam Everts decided to follow in his father's wheel-tracks, it has possibly been quite a pressure-cooker environment for him, particularly so in the European hot-bed of the sport.
As offspring of the world's most-decorated motocross Grand Prix rider, 10-time world champion Stefan Everts, the eyes of the dirt bike world were always going to be fixed on him.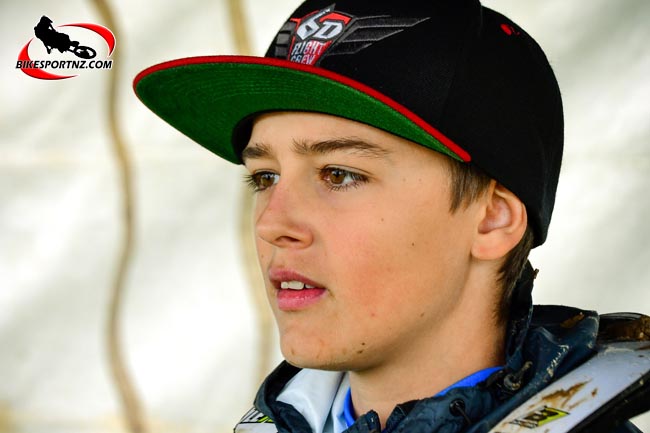 So a trip to far-off New Zealand, to train under the guidance of Stefan Everts' friend and former GP rival Ben Townley, must have sounded like a pretty good idea.
"I've done a couple of similar training experiences, one with a Japanese rider and also with some Australian kids. It's something I've been building on to create options for them," said Townley.
"Liam does a lot of riding all over Europe but for him to travel away from home and have the benefit of being able to ride while Europe is in its winter is a good thing.
"It's a good time of the year for him to come over and do some racing. He arrived at the end of September and, in total, he'll be here for three months. He'll be here until Christmas.
"He's got nine races to go to in an 11-week period.
"He's just raced the MX Fest at Taupo and he's got regional events like the Waikato Champs and then the Auckland Champs to do as well. Then he'll also race a few club days.
"Liam races the 85cc class in Europe and he raced at the Junior World Championships this year. He's not top of the tree, that's for sure, but it's definitely in his blood (to be a top rider one day). His grand-father (four-time world champion Harry Everts) was very good and his dad was very good.
"The potential is ingrained in him really, but he certainly has a lot of work to do. He finished just top 15 at the Junior Worlds, so it gives you some idea of the depth in Europe."
The 13-year-old Liam Everts has certainly enjoyed his visit to New Zealand so far.
"It's been a good time. The tracks are very different though," said Everts.
"At home we have a lot of sand tracks. I thought the Taupo track (venue for MX Fest at Labour Weekend) was really nice, although my bike broke for the last moto.
"The main thing I've learned while I'm here is New Zealand has been my foot positioning. My foot was sticking out too much in the corners. I've got it sorted now and I feel more comfortable. It's helped me improve my cornering speed."
Everts lined up for the 12-16 years' 85cc class at MX Fest and, although he could only finish three of the four races, he managed fifth overall for the day, the class won by Ashburton's Ben Wall, with Matamata's Brodie Connolly finishing runner-up.
© Words and photos by Andy McGechan, www.BikesportNZ.com
Find BikesportNZ.com on FACEBOOK here