TELFORD ON PODIUM IN ITALY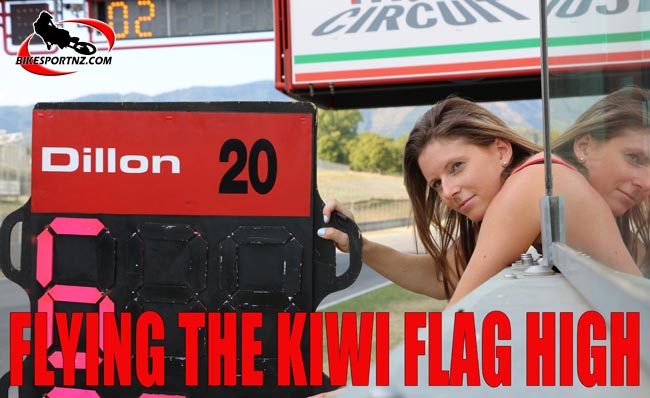 Otaki's Dillon Telford made it to the top step of the podium at the Mugello race circuit, in Italy, last weekend.
The Carl Cox Motorsport rider was racing an Aprilia Tuono V4 machine in the 600-1000cc naked class at the Trofeo Italia race meeting at this famous circuit and was an experience he'll never forget, particularly since he won the class.
"Given the opportunity to race the Gabro Racing Team Aprilia Tuono 1000cc in Italy is an honour by itself and to put it on pole position in qualifying at Mugello Circuit is the best feeling," said Telford, as he shared the joy with pit crew Jo Taylor and Gabro Malara.
"To get the race win and best lap award is just the trifecta of awesome for this Kiwi Duo team, who have sold nearly everything, and sacrificed a lot to go racing in Italy for the Northern Hemisphere summer.
"But to achieve these results makes the hard times all worth it.
"Jumping onto the Gabro Racing Team Aprilia Tuono was a different beast, one that required me to change a lot in how I normally ride," he said.
"All weekend I was adapting more learning how to move and steer the bike, how to tuck in as much as possible and I even got my RST elbows sliding on the ground.
"Everything came together and it was magic – pole position with a personal best of 1:58.5, only 1.6-secs a lap off my best time on my RFW.
"Then to take the hole shot into turn one then the race win with also being awarded the best lap time award was just perfect.
"The special moment of standing on that top step where many of the world's best riders have stood and to hear our New Zealand national anthem sound throughout the stadium of Mugello was unexpectedly emotional or maybe it was the dust in the air … I dunno.
"To look back just a couple of months, to the crossroads of our season, and almost going home due the lack of a funds, it was a stressful and hard time for us both, having to pull out from the Italian KRT Team, due to not being able to pay for their support and help was a hard call. We budgeted and guesstimated how cheaply we could compete the rest of the season, then put it out to the public.
"We can't thank everyone enough for their support and donations to help us continue, and we thank Carl Cox Motorsport so much for opening the door to us."
Find BikesportNZ.com on FACEBOOK here